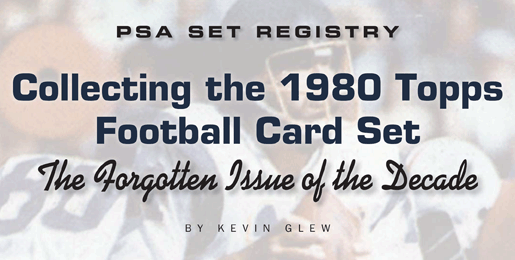 The 1980 Topps Football set suffers from an identity crisis.
At 35 years old, is it a vintage set or a modern set?
And without a single Hall of Famer rookie in it, hobbyists can't link it to a specific gridiron legend.
So why bother pursuing this 528-card issue?
Well, hardcore football card enthusiasts will tell you it's affordable, it boasts non-rookie cards of more than 30 Hall of Famers and it's surprisingly challenging to assemble in high grade.
"I personally like this set more than others, although it's definitely not as popular as other 1980s sets because it doesn't have any Hall of Famer rookies," explained Jeremy Murphy, owner of Brave Puppy Sports Cards in Lake Mary, Florida. "But it does have over 30 regular Hall of Famer cards. So there's a good selection of Hall of Famers in there. I also like it because the production was horrible that year [meaning it's a challenging set to compile in high grade]... I've opened entire boxes without obtaining one gradable card out of them. It's not only the ink and the color, but they were not cut very well either."
Kevin Roberson, who owns the No. 1, 1980 Topps Football set on the PSA Set Registry, shares similar observations.
"It's a pretty fun set because of the difficulty," he said. "I think the biggest problem with these cards is the centering. A lot of the cards are really off center and then there are certain cards where all of the examples have [print] stains on them."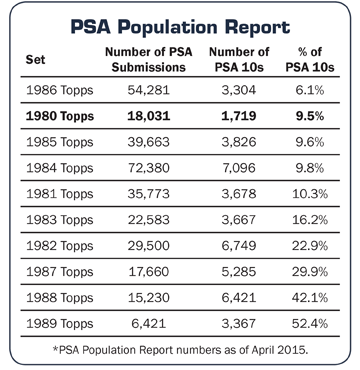 The PSA Population Report backs up these assertions. When you compare the percentage of submissions that have been deemed PSA GEM-MT 10s from this offering to other Topps Football sets from the same decade, this set is second only to the green-bordered 1986 Topps set in terms of difficulty. (See accompanying chart.)
The fronts of the regular player cards in the 1980 offering showcase large photos that are mostly sideline shots. Team logos are once again airbrushed out of the photos. Each picture is surrounded by a color frame and white borders. The player's team and position are highlighted in a football design near the bottom with the player's name displayed in a rectangular block running through it. All-Pro players from 1979 are designated as such by a rectangular black bar near the top.
"I like the pictures in this set more than the pictures in the 1979 or 1981 sets just because they're so large," noted Murphy. "There's not a lot of clutter on the front of the card. It's really just a wide picture with the name below it."
Murphy adds that these cards have a "retro look."
"It feels a little more vintage than some of the other sets from that era," he said.
The horizontal card backs present the player's name and position at the top, above the card number and vitals (e.g., Height, Weight, College, etc.). A cartoon illustrating a fact about the player's team adorns the left side, while yearly statistics (for offensive players) and short biographical information (if there's room) are displayed on the right.
This set also houses several subsets, including 1979 record breakers (#1 to #6), league leaders (#331 to #336) and playoff cards (#492 to #494). Team Leader cards are scattered throughout the set. The fronts of these cards highlight the team's offensive and defensive leaders, while their backs serve as checklists.
The 1980 Topps Football cards were distributed in 12-card/25-cent wax packs with a stick of gum. They were also available in 36-card grocery rack packs and 48-card regular racks, as well as in two types of cellos. One cello pack harbored 22 cards and a stick of gum and sold for 39 cents, while another 59-cent "Super Pack" boasted 28 cards and three slabs of "Super Bazooka" gum. Five-hundred card vending boxes were also produced.
"I think the grocery racks were probably the last to be released because I've gotten my worst results from them, as far as quality goes," said Murphy.

The veteran hobbyist says unopened 1980 Topps Football products have dried up in recent years, and he believes fewer cards may have been produced in 1980 than in 1979 or 1981.
Collectors opening these products today may not be able to pull a Hall of Famer rookie, but they can still uncover the debut pasteboards of players being considered for busts in Canton.
The Phil Simms rookie (#225) is a good example of this. As a quarterback, Simms led the New York Giants to two Super Bowl titles and has since established himself as a highly respected TV analyst. His rookie is the most coveted in this offering. Of the 1,049 Simms rookies submitted, there have been just 17 PSA 10s, one of which fetched $909 on eBay in December 2013.
Lester Hayes, a two-time Super Bowl champ and five-time Pro Bowler with the Raiders, also makes his cardboard debut (#195) in this offering. There are just eight PSA 10 Hayes rookies and one sold for $338 in July 2014. Three other prominent NFLers - Otis Anderson (#170), Clay Matthews (#418) and Dave Butz (#499) - also make their first cardboard appearances. The sole PSA 10 Butz rookie garnered $650 on eBay in November 2014.
As noted earlier, there are more than 30 Hall of Famers featured in this set. Some of the most notable are Bob Griese (#35), Walter Payton (#160), Terry Bradshaw (#200), Tony Dorsett (#330), Franco Harris (#400), Steve Largent (#450) and Dan Fouts (#520). Second-year singles of James Lofton (#78) and Ozzie Newsome (#110) are also included.
Not surprisingly, the Payton card (#160) is the most sought-after Hall of Famer single. Of the 799 submitted, there are 26 PSA 10s. One PSA 10 sold for $500 on eBay in September 2014.
One of the toughest Hall of Famer cards to obtain in flawless form has been the Jack Ham (#10). The sole PSA 10 (out of 89 submissions) reportedly fetched $1,200 in a private transaction in November 2014.
"The Steeler cards [like the Ham] in this set are generally tougher," said Murphy. "I think it was an ink issue. There was a lot of [print] snow on the black jerseys."
Roberson points out that the Ahmad Rashad single (#467) is also elusive in top condition. Eighteen have been submitted and the three PSA MINT 9s represent the highest graded examples.
But some of the commons are even more evasive in tip-top shape. For example, there's just one PSA 9 (and no PSA 10s) of the Sherman White card (#106). This card is located on the top-right edge of a print sheet, a position that generally makes cards vulnerable to condition woes such as miscuts.
Roberson points out that the Scott Dierking card (#144) is also tough to track down in gem-mint grade. Like the White card, there has yet to be a PSA 10 and there are four PSA 9s. And in Roberson's experience, the Tony Reed (#173) and Don Hasselbeck (#311) singles almost always have ink stains on them from the printing process. There are just three and four PSA 9s respectively.
With these evasive, low population singles and its strong selection of Hall of Famers - albeit no rookies - the 1980 Topps Football set may soon overcome its identity crisis and become more widely known as a challenging and quality issue.
"Overall, I think it can only go up in value just based strictly on the scarcity of great examples [that exist] from this set," said Murphy. "Anybody who wants to put together a run of years is going to have a really hard time finding some of these cards in [PSA] 10, but hey, that's what makes it fun - the challenge."
---
Please feel free to contact Kevin Glew at [email protected] if you have any additional information or comments. Thanks to Kevin Roberson for providing cards for this article. Please note that the Population Report figures quoted and Set Registry rankings reported are those as of April 2015.