Nearly 4,000 lots now open for bidding in massive auction event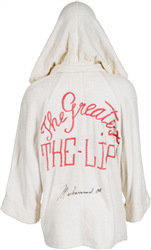 DALLAS, TX — Just weeks after breaking multiple hobby records with more than $9.8 million realized in its February 2015 New York Platinum Night auction, Heritage storms back into the hobby headlines with its May 2015 Signature® auction featuring nearly 4,000 lots of rare trading cards and sports memorabilia.
The auction is divided into three sessions, presented on consecutive evenings between May 14th and 16th, all of which end in Extended Bidding format.
"By volume alone," said Chris Ivy, Director of Sports Auctions at Heritage, "the sale represents the single largest major sports collectibles event of the decade."
The first session, which enters extended bidding at 10 pm on May 14th, represents one of the most extensive and important trading card offerings ever presented, featuring over 30 Sets on the PSA Set Registry including N28, N43, N162, E90-1, M110, T202, T207, 1914 Cracker Jack, and 1933 Sport King offerings. In addition, Session 1 will feature hundreds of rare and high-grade single cards and scores of group lots spanning all eras, sports and issuing bodies.
Notable lots include the number three ranked 1914 Cracker Jack set, one of the era's most challenging rarities, rare and high-grade Babe Ruth representations from his 1916 Weil Baking rookie to his famous 1933 Goudey, and a complete 1986 Fleer Basketball wax box, arguably the most desirable issue of the past three decades.
Session Two, focusing on Memorabilia, further burnishes Heritage's reputation as the leading source for elite Muhammad Ali artifacts, as the robe the young Cassius Clay wore into the ring to claim his first Heavyweight Championship in a historic 1964 upset of Sonny Liston opens for bidding. Yet another installment of the incredible John Kindler Collection provides top-tier game worn jerseys and helmets from the collegiate and professional gridiron.
Collectors of game-used baseball bats will mark the May auction as a "can't miss" event as an unprecedented flood of game-used lumber makes the May auction memorable. An early 1920s Babe Ruth bat leads the way, followed by the only known example from Hall of Fame umpire Jocko Conlan, and a Triple Crown-season gamer from Frank Robinson counted among the multitudes. A treasure chest of Championship rings from all four sports and beyond will tempt collectors looking to share in athletic glory, and – as always – a wide array of autographs, game used material, programs and tickets, and all manner of sporting ephemera are on offer.
All levels of collector will take notice of the Session Three offerings, the final session of the auction, which features more modestly-priced material from both the trading card and memorabilia realms.

Other highlights of this auction include, but are not limited to:
1958 Topps Bob Clemente, White Letters #52 PSA Gem Mint 10 - The Finest Example Known to the Hobby
1933 Goudey Sport Kings Ty Cobb #1 PSA NM-MT 8
1912 T202 Hassan Ty Cobb Steals Third Cobb/Moriarity PSA NM-MT+ 8.5 - The Highest Graded Example
1952 Topps Mickey Mantle #311 PSA NM-MT 8
1952 Red Man Willie Mays #15 PSA Mint 9 - The Finest PSA Example
1951 Bowman Mickey Mantle #253 PSA NM 7
1986 Fleer Michael Jordan #57 PSA Gem Mint 10
1975-76 "Pistol Pete" Maravich Game Worn New Orleans Jazz Jersey with Photo Match
1952 Oslo Winter Olympics Torch
1971 Ali vs. Frazier Full Suite of Fifteen Etchings by LeRoy Neiman--Each Signed by Both Boxers and the Artist
1961-62 New York Yankees Oversized Promotional Nodder, 14-inches, one of two known
1969 New York Mets World Series Championship Ring
2009 World Series Game Six Used Pitching Rubber Signed by Mariano Rivera, the Championship Clincher
1994 Fidel Castro Single Signed Baseball with Video of Signing
1934 Tour of Japan Team Signed Baseballs--Both the American and Japanese Teams