It's the "Honus Wagner" of boxing cards.
And that's not a description that hobby experts use lightly.
But that's how rare, mysterious and desirable the 1948 Leaf Rocky Graziano card (#50) has become.
"The Graziano card is far and away the most valuable, most special, most iconic boxing card rarity, and I think that it is the Honus Wagner of boxing cards," said Rob Lifson, president of Robert Edward Auctions, who sold a PSA EX 5 example for $41,125 in 2011.
Mile High Card Company president Brian Drent, who auctioned cards from the No. 1, 1948 Leaf Boxing set on the PSA Set Registry in October 2012, shares similar thoughts about the Graziano card.
"It is the marquee card of boxing cards for sure," said Drent, whose company sold a PSA VG-EX 4 for $23,477.51 in October 2012. "I mean it's an extraordinarily difficult card. That's the only time I've ever owned one. It's one of those cards that just grabs your attention."
Less than 10 Graziano singles have surfaced and six have been graded by PSA.
Why there are so few Graziano cards is one of those great hobby mysteries. Ted Zanidakis, who collected 1948 Leaf Boxing cards when they first came out, was told that Graziano asked for his card to be removed from the set.
"He didn't want his picture on the cards, so he told them to remove it pretty quickly," said Zanidakis. "I was told that the Graziano card was in the lower-most [right] corner of the sheet and that they replaced him with Arturo Godoy."
Lifson, who researched the card extensively when he was preparing to auction the PSA 5 example, offers a similar explanation.
"We speculated in the [auction catalog] write-up that perhaps it was because Graziano wanted money to appear in the set," explained Lifson. "Part of the reason why we speculated that is because he did not appear in the 1951 Topps Ringside set. We don't think that is a coincidence. He was a really big name and he had marketing power. He was paid to endorse products and maybe they [the card manufacturers] weren't paying anything, or maybe what they were paying was too nominal for his agents to accept."
Drent and his Mile High staff also researched the Graziano card thoroughly when they sold their PSA 4 example. He has heard all kinds of theories about this card, ranging from it potentially being a salesman's sample that was distributed around New York to it being on the original print sheet until a dispute (likely over money) erupted between Graziano and Leaf that led to Graziano being replaced in the set.
Lifson has heard similar theories. He believes that the Graziano may have been part of an early test run of the series.
"If the [1948 Leaf Boxing cards] were printed on sheets of 49 cards and that's how they were made, where do you get the Graziano? Where do you get that 50th card?" questioned Lifson. "The answer is that Graziano probably was originally on the sheet and was in a very limited, preliminary test run of some kind. And before they went into larger production quantities, they had to dot their i's and cross their t's and Graziano's camp was not cooperating, so they replaced Graziano with another card."
If what Zanidakis heard about the Graziano originally being located on the bottom right-edge of the sheet is correct, that would help explain why the few Graziano cards that have been uncovered have centering issues. Cards located on the edge of a print sheet - especially a bottom-corner position - are generally more susceptible to miscuts. A PSA EX-MT+ 6.5 has been the highest graded copy so far.
The good thing about having a rare and iconic card like the Graziano in a set is that it brings prestige to the issue. The bad thing is that the Graziano is so valuable and elusive that some collectors may never be able to find or afford one.
"I'm not giving up on the Graziano card, but it might have to wait until I'm retirement age," said Dave Williams, whose No. 8 Current Finest, 1948 Leaf Boxing set on the PSA Set Registry is missing this iconic card. "Right now I have all kinds of expenses and I have grandkids, so I'm not sure that I could justify spending tens of thousands of dollars on a Graziano at this point."
But even without the Graziano single, this 50-card set - the first full-scale boxing set after World War II - still offers a fascinating glimpse into boxing history.
"There's a great selection of boxers in this set," noted Zanidakis. "They go all the way back to the earliest part of the 20th century. They go back almost five decades."
Measuring 2-3/8" by 2-7/8" each, the 1948 Leaf Boxing cards are similar to Leaf's baseball and football pasteboards from the same year. Most of the white-bordered fronts present a boxer's likeness against a bright red or blue background, with their name highlighted in a rectangular strip across the bottom.
The backs of the cards highlight the card number in black text at the top, beside the boxer's name and above a list of the titles they have held. The boxer's vitals (e.g., Best Weight, Born, Height, etc.) ensue, followed by biographical information that in some cases revealed the boxer's real name. For example, the card backs of Jackie Fields (#18) and Kid Chocolate (#19) indicate that their true identities are Jacob Finklestein and Eligio Sardinas, respectively.
The card backs also house some interesting trivia about the boxers. You'll discover, for example, that Beau Jack (#13) was once a shoe shine boy in an Atlanta golf club and that John Sullivan (#102) earned only $125,000 in the ring, but "more than a million on theatrical and lecture tours."
The bottoms of the card backs showcase an ad that encourages collectors to amass five wrappers and send those, along with 25 cents, to a Leaf address in Chicago to receive a "beautiful, specially designed" 32-page album to store their cards.
It's important to note that the backs can be found in either white or gray stock. Robert Edward Auctions sold one 49-card set (no Graziano) of each (white backs and gray backs) for $12,925 in 2011. Zanidakis believes that the white backs were printed in 1948 and the gray backs were produced in 1949.
"My theory on why they exist in both the white and gray cardboard is because in 1949 Leaf switched to a gray colored stock," said Zanidakis. "And I think they went and printed the entire set again in 1949 because the cards were so popular."
Zanidakis says neither back is particularly difficult to find. And it doesn't matter if the card backs are white, gray or a combination of both for the Basic Set on the PSA Set Registry.
The 1948 Leaf Boxing cards can also be found with wrong backs.
"There are all kinds of wrong backs," noted Zanidakis. "Leaf was notorious for having wrong backs. All three sports sets [1948 Leaf Baseball, Football and Boxing] are notorious for misprints, wrong backs, blank backs and all kinds of things like that."
The 1948 Leaf Boxing cards were printed on 49-card (seven rows of seven cards) sheets. Zanidakis remembers opening one-cent packs as a kid. The packs are branded "Knock Out" in large, red lettering and the cards were released in one series. But the fact that the cards were skip-numbered complicated matters. Though there are only 50 cards, the card numbers on the backs range from #1 to #102.
"They were skip-numbered like the [1948 Leaf] baseball series, which made it very difficult to collect them because you didn't know how many you needed to collect," explained Zanidakis. "It was a neat trick that Leaf pulled."
Whether intentionally or unintentionally, Leaf further misled collectors through the ad on the card backs. This ad states that the album "can display 168 different Knock-Out cards." After reading this, how many young collectors thought they needed to hunt down 168 cards to complete the set?
Also, if you read the backs closely, you can approximate the time of the year that these cards were initially released. For example, the backs of the Bob Montgomery (#44) and Ray Robinson (#64) cards highlight the boxers' records "through" the "summer of 1948." From that, it can be deduced that these cards weren't unveiled until at least the fall of 1948.
Aside from the iconic Graziano single, the Jack Dempsey card (#1) is one of the key cards in the set. Because it was the first card and placed on top of collector piles, it was subjected to additional wear and tear. Compounding its condition woes was the fact that it was located on the top-right corner of the print sheet, an edge-sheet position that tends to make cards susceptible to flaws. So it's not surprising that this card is often found poorly centered.
"Dempsey is, without question, the second hardest card to get in high grade just because it's in the No. 1 position," noted Drent.
Of the 196 submitted, there have been two PSA NM-MT 8s, one of which sold for $4,118.59 in a Mile High Card Company auction in October 2012.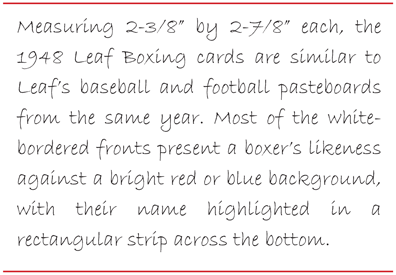 The Jake La Motta single - the last card in the set - suffers from similar condition issues. It's located on the bottom-left edge of the print sheet. There's just one PSA MINT 9 and two PSA 8s. The sole PSA 9 sold for $11,494 in Memory Lane's online "I Own It Now" sale in the winter of 2014.
Williams says the Joe Louis card (#48) is also highly coveted. There's one PSA 9 and 15 PSA 8s. One of the PSA 8s garnered $2,670.36 in a Mile High Card Company auction in October 2012.
Some of the other notable boxers featured in this set include James J. Jeffries (#9), Tony Zale (#15), Jack Johnson (#17), Abe Attell (#25), Max Schmeling (#32), James J. Corbett (#55), Bob L. Fitzsimmons (#63), Gene Tunney (#73) and Max Baer (#93).
Two of the most difficult cards to uncover in mint condition are Sammy Angott (#2) and Arturo Godoy (#8). There's just one PSA 8 Angott and two PSA 8s and one PSA NM-MT+ 8.5 of Godoy. Not surprisingly, both cards are located in edge-sheet positions: Angott the top row, middle card and Godoy on the bottom-right corner.
But if you're looking to assemble this set in high-grade, most of the cards are going to be tough to track down. There has yet to be a PSA GEM-MT 10 example of any card in this offering and there are just 39 PSA 9s.
Williams, whose set boasts a 6.44 GPA, can attest to how elusive these cards are in top grade.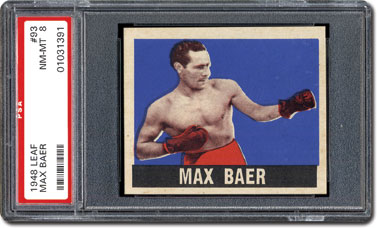 "You might find cards that are in good physical condition, but for some reason, this set seems to have discoloration on the white borders," he said. "There wasn't consistency in the production, and there are centering issues with quite a few of the cards."
Drent shares similar observations.
"You just don't find these cards in great condition," he said. "They're very difficult to find in high-grade."
As a result, competition for high-grade cards can get heated.
"The bidding certainly gets up there when you're going after high-grade examples of the harder- to-find cards," said Williams. "There are not many PSA 9 cards from this set, period. And the ones that are PSA 9s sell for a lot."
And there's no telling what a PSA 9 of Graziano - the "Honus Wagner" of boxing cards - might sell for. But even without the Graziano, this set still offers a good lesson in boxing history.
"I know a lot more about football and baseball, so I think part of the reason I wanted to put this set together was because I didn't really know a lot about the boxers and I've always been a student of history," said Williams.
---
Please feel free to contact Kevin Glew at [email protected] if you have any additional information or comments. Thanks to Robert Edward Auctions, Mile High Card Company and Dave Williams for providing images for this article. Please note that the Population Report figures quoted and Set Registry rankings reported are those as of February 2015.