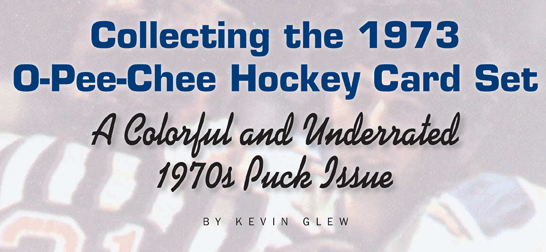 Bobby, Billy and Big Bird are the keys to the 1973 O-Pee-Chee Hockey set.
Any Bobby Orr single is, of course, going to be highly coveted, but this offering also boasts the rookies of Hall of Famers Billy Smith and Larry "Big Bird" Robinson.
And if that isn't enough, this series also features the first-year pasteboards of Hall of Famer Bill Barber and legendary enforcers Dave Schultz and Terry O'Reilly.
Distributed in two, 132-card series, these standard-sized singles represent the second consecutive O-Pee-Chee issue to fashion colored borders. First-series cards (#1 to #132) possess red borders, while second-series pasteboards (#133 to #264) showcase green borders.
After their 340-card, 1972 effort that included WHA cards, O-Pee-Chee returned to 264 pasteboards for this issue. The fronts of the player cards present either posed or action photos.
"I really like the design," said Dean Bouley, who owns the No. 4 Current Finest, 1973 O-Pee-Chee Hockey set on the PSA Set Registry. "It reminds me of old-time hockey. There's almost a picture frame around the photos and I really like the fact that there are a lot of action shots."
Among the standout action shots is one that many consider to be the first card to showcase a hockey fight. Card No. 3 features St. Louis Blues left winger Phil Roberto tangling with a New York Rangers player.
Rob and Will Elms, who have amassed the registry's No. 7 Current Finest set, say the Gary Unger card (#15) is one of their favorites. "It looks like he's [Unger] winding up to shoot the puck, and he's got this long, blonde hair that takes you right back to 1973," noted Will Elms.
One of Bouley's favorite cards is the Cesare Maniago (#127). Horizontally aligned, this single presents the Minnesota North Stars netminder desperately trying to clear a path in front of his net.
Rob Elms says another interesting card is Tracy Pratt (#54), which features the Buffalo Sabres defenceman against a red background on a red-bordered card. "It appears like there's no border at all on the card," he said.
The 1973 O-Pee-Chee Hockey card fronts also highlight the player's team name in a white banner across the bottom of the photo, with their name and position below that.
The horizontal backs exhibit the card number on the top left with the player's team and position to right of it and player name below it. The player's vitals (e.g., Home, Shoots, Born, Height, Weight, 1st Pro Season) grace the left side of the card. A hockey stick design separates the vitals from biographical information in both English and French. A cartoon illustrating trivia about the player is situated on the far left, while 1972-73 stats and copyright information are indicated along the bottom of the card.
The backs can be found in either light (beige) or dark (gray) stock. Rob Elms says there's approximately one dark back for every 10 light backs in his set. David Susko, who owns the registry's top set, has had a similar experience.
"The light backs are more common than the dark backs. I'd say that light back cards likely outnumber dark back ones [by] at least eight to 10 to one," he said.
It's rumored that the dark backs are tougher to find because they were only included in wax packs, while the lighter backs were available in wax packs and vending boxes. The registry set doesn't require the backs to be the same color, but a set with all of the same colored backs would likely command a premium.
There are also reports that some of the cards that came out of vending boxes were cut short, and as a result, cannot be graded by PSA.
Both series were distributed in eight-card, 10-cent wax packs with a piece of gum and an insert. One of 17 NHL team crests was inserted in first-series packs, while one of 17 cardboard team rings was included in second-series packs.
"The first-series packs are a lot more difficult to find than the second series," noted Bobby Burrell, author of Vintage Hockey Collector.
Burrell has not seen uncut sheets for this issue, but it's likely that each series was printed on one 132-card sheet (12 rows of 11 cards) with no double prints.
Unlike previous O-Pee-Chee issues, there weren't separate All-Star cards in this set. The player's All-Star designation was incorporated into the design of their regular card. This year also represented the first year that O-Pee-Chee included a photo of every team (#92 to #107). League Leader cards (#133 to #138) and Playoff cards (#191 to #198) were also part of this issue.
Of the aforementioned rookies, the Robinson (#237) ranks near the top in terms of value, despite the fact that it's not particularly difficult to find in top condition. Three PSA GEM-MT 10s, 29 PSA MINT 9s, seven PSA NM-MT+ 8.5s and 188 PSA NM-MT 8s exist. One PSA 10 fetched $1,387.54 in a Mile High Card Company auction in May 2012.
Will Elms says the Smith rookie (#142) was more difficult to uncover in top condition than the Robinson. Of the 166 Smith cards submitted, there has been just one PSA 10 and 18 PSA 9s.
 "The Smith was a hard card to find even back when these cards first came out," said Rob Elms.
Bouley says the O'Reilly rookie (#254) is frequently found off-center. There has yet to be a PSA 10 and there are just two PSA 9s. One PSA 8 sold for $130 on eBay in May 2013.
As mentioned, the Orr card (#30) is also highly sought-after. Burrell says he has seen some Orr cards very badly miscut. There has yet to be a PSA 10 and there are just eight PSA 9s.
But while Orr is the most prominent star in this issue, this set also houses desirable pasteboards of Hall of Famers Marcel Dionne (#17), Bobby Clarke (#50), Bernie Parent (#66), Gilbert Perreault (#70), Guy Lafleur (#72) and Tony Esposito (#90). The most elusive Hall of Famer card in this series in mint condition, however, is Darryl Sittler (#132).
"The problem with that card is the size," explained Bouley. "It's a hard card to find in the correct size. A lot of the Sittler cards out there are undersized. "
The highest graded Sittler card is a solitary PSA 9.
With just 22 and 23 submissions each respectively, the two lowest population cards from this set are Dan Maloney (#32) and Gilles Villemure (#119).
Bouley is still looking to upgrade his PSA NM 7 examples of the Larry Johnston (#251) and third-series checklist (#263). He says both cards are difficult to find centered.
Poor centering is a common condition issue with cards from this set, but Rob and Will Elms say the card stock is also less durable than other years.
"It seems like the paper that was used for this issue wasn't as good as [that of the] 1972 [set]," said Rob Elms. "The 1972 cards seemed to be more robust."
Will Elms adds that the colored borders also chip easily on these cards.
But despite these condition challenges, this set remains relatively affordable to assemble in higher grade.
"This is a great set to start collecting if you want an early 1970s O-Pee-Chee Hockey set," said Susko.
Rob and Will Elms agree.
"I think it's an underappreciated set," said Will Elms. "There are a lot of tough cards in it, and you have rookies like Robinson, Barber and Billy Smith."
His brother, Rob, agrees.
"It's an underappreciated set. And when I took out and scanned my cards [for this article], it was the first time I had ever looked at some of the cards that closely before. I thought, 'Geez, these are really nice looking cards.'"
---
Please feel free to contact Kevin Glew at [email protected] if you have any additional information or comments. Thanks to Rob and Will Elms for providing scans to go with this article. Please note that the Population Report figures quoted and Set Registry rankings reported are those as of December 2014.