Auction Features a Rod Gilbert 1970s New York Rangers Game-Worn Jersey, a Ted Williams 1955 All Star Game-Used Cap, Signed Little League Baseballs and Trophies from Derek Jeter's Youth and a Fringed Suede Vest and Belt Worn by Music Icon Janis Joplin. Red Pollard's Seabiscuit Saddle and Horseshoes from the Iconic Thoroughbred's Most Famous Races, the Personal Collections of Lou Brock and Bob Gibson, the Joe Brown Family Historic Signed Baseball Collection and Shoeless Joe Jackson's Personal Scrapbooks.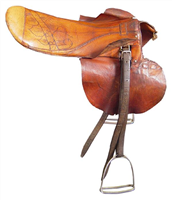 New York, NY (Dec. 22, 2014) – Seabiscuit jockey Red Pollard's race-worn saddle, which he wore upon the back of the famed champion racehorse, along with the personal collections of Baseball Hall of Famers Lou Brock and Bob Gibson, the Joe L. Brown Signed Baseball Collection, and Shoeless Joe Jackson's personal scrapbooks are among the one-of-a-kind sports memorabilia being offered as part of the Lelands.com Vintage Sports 2014 Catalog Auction, which closes Jan. 16, 2015.
The auction at www.lelands.com features more than 150 Seabiscuit items, including a glass-encased presentation case containing two race-worn horseshoes, one of which he wore when he beat Triple Crown winner War Admiral in their 1948 winner-take-all match race – considered the greatest horse race in history – the other from his famed 1940 Santa Anita Handicap win. Original race programs, signed photos and etchings, oil paintings, advertising material, artwork, rare books, prints, and glass and chinaware are among the other spectacular Seabiscuit memorabilia up for auction.
Among the single signed baseballs from the family of famed actor Joe E. Brown and his son, former Pittsburgh Pirates GM Joe L. Brown, up for auction include ones signed by Ty Cobb, Eppa Rixey, Satchel Paige, George Sister, Casey Stengel, Roger Maris, a special Roberto Roberto Clemente Forbes Field "Last Game" signed baseball and numerous others.
Another auction highlight is the personal scrapbooks of Shoeless Joe Jackson, the legendary outfielder who was involved in the infamous 1919 Black Sox scandal. This treasure trove features his 1924 back-pay lawsuit against the White Sox in which he answered "no" to all questions about whether he threw the series or took money to do just that, and a 1917 typed gambling "dope" letter from a writer who refers to himself only as "your unknown friend," congratulates Jackson on getting three straights hits in Game 2 of the Series and clearly references inside information for gambling purposes, specifically requesting "a line from you on what is the dope that is going on up there in Chicago." The scrapbooks also include a never-before-seen in-painting photo of Jackson in catcher's gear, the award presented to him for "the longest throw in heaving contest between All Stars and Boston Red Sox" and several 1920s Joe Jackson barnstorming broadsides after he was banned from Major League Baseball.
Additional baseball memorabilia up for auction include a cap worn by Red Sox legend Ted Williams during the 1955 All-Star Game, baseballs signed by a then eight-year-old Derek Jeter and his Oakwood Little League (Kalamazoo, MI) teammates along with team photos and championship trophies, as well as the only known 1908 Honus Wagner Rose Postcard with "Greenfield's Chocolates" Ad Back, and a collection of 1915-16 Fatima Tobacco Baseball advertising posters with a 1916 Babe Ruth Boston Red Sox spring training poster.
"From the one-of-a-kind Seabiscuit memorabilia and the unrivaled collection of single signed baseballs to Joe Jackson's personal scrapbooks and the hundreds of other spectacular sports memorabilia, this auction has it all," said Lelands.com founder and chairman Joshua Evans.
The auction also includes a blood-stained 1970s game-worn jersey used by New York Rangers Hall of Famer Rod Gilbert and a one-of-a-kind James Naismith signed 1893 basketball handbook – considered the second most important signed basketball document.
In addition, the Lelands.com Vintage Sports 2014 Catalog Auction features a 1964 World Champion Cleveland Browns player's ring, a pristine 1890s Reach black leather strap football helmet in its original box, the first Harvard-Yale football game program from 1875, a collection of Aqua five Triple Crown race-worn winning saddle cloths and a copy of the 1908 book by Moses Fleetwood Walker – the first African-American pro baseball player – entitled "Our Home Colony: A Treatise on the Past, Present and Future of the Negro Race in America."
Lelands.com will also be selling an array of vintage music and Americana memorabilia, headlined by a fringed suede vest and art nouveau coin belt worn by iconic singer Janis Joplin as well as a signed calendar book and ticket stubs. The consignor was a then 14-year-old girl who, along with her parents, befriended Joplin when the legendary rocker performed in concert at the University of Alabama in 1969, just 10 months before Joplin's death. The girl and her parents first met Joplin's band tossing around a football, then with Joplin herself at local motel. Immediately, Joplin took the teen under her wing and gave her cooler clothes when Joplin changed, along with special "reserved" section tickets to replace the girl's less desirable seats. All of this material is the result of that once-in-a-lifetime encounter.
The auction also includes The Beatles white matte Gold Record Award for "Let it Be," a life-size 1964 Beatles monochrome promo by Dezo Hoffman, a John Lennon 1972 signed "Grapfruit" with splendid caricature, and an 1818 Declaration of Independence by Benjamin Owen Tyler.
Highlights from the Lelands.com Vintage Sports 2014 Catalog Auction include, among others:
1908 Honus Wagner PC760 Rose Postcard with "Greenfield's Chocolates" Overprint Only One Known
The Bob Gibson Collection
Exemplary full-color catalogue available free of charge. Auction ends January 16, 2015.
Be sure to register and bid today at Lelands.com