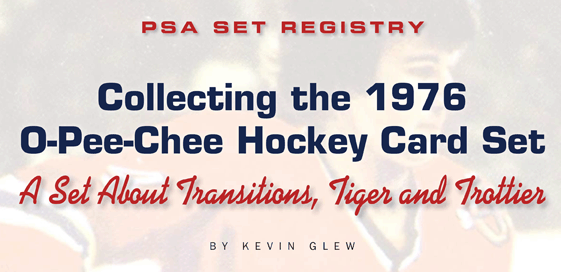 Transition is a prevailing theme in the 1976 O-Pee-Chee Hockey set.
In the months leading up to its release, the struggling Kansas City Scouts and California Golden Seals became the Colorado Rockies and Cleveland Barons, respectively, marking the first time that NHL franchises had been relocated since 1935.
This issue also illustrates Bobby Orr's transition to the Chicago Blackhawks. The superstar defenseman, who left the Boston Bruins for a five-year, $3-million contract in the Windy City, is highlighted on his first card (#213) with his new team.
And the design of this 396-card offering reflects a shift to a flashier, more colorful look than its plain O-Pee-Chee predecessor.
But these transitions didn't all go smoothly for the Canadian company. The photo on the Orr card, for example, appears to have been altered in some form, giving it an almost cartoonish quality.
The relocation of the Scouts and Seals in the summer of 1976 also left O-Pee-Chee scrambling to add notations to the affected players' cards. The bulk of these players are pictured in their Scouts or Seals uniforms with an accompanying message that reads, "Team transferred to Colorado/Cleveland." But O-Pee-Chee mistakenly printed, "Team transferred to Colorado" on the pasteboard of former Seals goalie Gary Simmons (#176). The Seals were actually transferred to Cleveland. There's a second version of this card with the wording clumsily erased, leaving black print residue, and yet a third incarnation that has no evidence of the notation at all. So far, none of these variations have commanded a premium.
Overall, the 1976 O-Pee-Chee Hockey set is one of the more dazzling issues of the decade. The fronts of the regular player cards present a photo, with the team name in large, tilted lettering (the names are color coordinated for each team) and a team logo at the top. The player's name and position are highlighted across the bottom.
"I really like the design," said Mike Cable, who owns the No. 2 Current Finest, 1976 O-Pee-Chee WHA Hockey set on the PSA Set Registry. "The team names being in different colors really stand out to me, and I like the fact that there are some action shots in this series versus previous years where there are more standard poses or face shots."
Rob Elms, who has assembled the registry's No. 15 Current Finest set, also likes the layout.
"I think the logo at the top gives the cards a really nice look," he said. "And there seems to be quite a few action shots. It's a pretty striking set of cards from the 1970s."
The horizontal card backs showcase blue and white print on a green background. The statistical information is listed at the top, followed by the card number in a puck design and the player's name and vitals (e.g., Height, Weight, Shoots, etc.). The bottom is divided into two sections. The left side presents biographical information in English and French, as well as copyright data, while the right side exhibits a cartoon illustrating a fact about the player.
Like the 1975 O-Pee-Chee Hockey set, this offering boasts League Leader cards (#1 to #6), team cards (#132 to #149) and team leader cards (#379 to #396). The 1976 set also introduces Record Breakers (#65 to #68) and cards depicting five of the NHL's best line combinations (#214 to #218). All-Star designations are featured on the players' regular cards in this issue.
Bobby Burrell, author of Vintage Hockey Collector, notes that this series represented the last time that O-Pee-Chee issued cards in eight-card, 10-cent wax packs. The following year the Canadian company transitioned to 12-card, 15-cent packs. Burrell doesn't see a lot of unopened 1976 O-Pee-Chee packs, but they're not as difficult to track down as the 1975 packs.
Bryan Trottier's cardboard debut (#115) represents the sole Hall of Famer rookie in this offering. Joe Henninger, who owns the registry's top 1976 O-Pee-Chee set, says this card sometimes has white print snow on the photo. Of the 289 submitted, there have been three PSA GEM-MT 10s and 26 PSA MINT 9s. One PSA 10 fetched $2,551.99 on eBay in November 2012.
Hobbyists seem to agree that the Dave "Tiger" Williams single (#373) is the second-most sought-after rookie.
"He wasn't the goal scorer that Trottier was, but people loved him for his fighting ability," explained Cable. "His PSA 9s can go for a couple hundred dollars."
The Williams rookie was also located on the far left-edge of a print sheet (fifth row, first card on the left), a position that generally makes cards susceptible to flaws (e.g., miscuts) during the production process. There has been just one PSA 10 and 16 PSA 9s. One PSA 9 sold for $234.50 on eBay in July 2013.
This set also features first-year singles of a number of other notable NHLers, including Mel Bridgman (#26), Bob MacMillan (#38), Dennis Maruk (#86), Bob Murray (#134), Tim Young (#158), Dave Maloney (#181), Doug Halward (#306), Bob Sauve (#308), Doug Jarvis (#313), Guy Chouinard (#316), John Van Boxmeer (#330) and Pat Boutette (#367).
Despite alterations to the photo, the Orr card (#213) remains highly coveted by collectors.
"That card is either airbrushed or it's a really bad photo," noted Cable.
Even the color of Orr's hair seems off on this card. Nevertheless, one of the four PSA 10s sold for $756.84 in a Mile High Card Company auction in December 2013.
The Ken Dryden card (#200) is one of the set's most attractive cards. The photo on his single captures the legendary Montreal Canadiens goalie in full gear, including his blue, red and white mask.
"The Dryden is a tough card to find in a [PSA] 9," said Cable.
There are just three PSA 10s and 18 PSA 9s. One PSA 10 fetched $250 on eBay in July 2010.
Another Hall of Fame goalie with an attractive pasteboard in this issue is Tony Esposito (#100). This card pictures the Hawks netminder in full gear, kneeling just outside of his crease. The sole PSA 10 example sold for $198.50 on eBay in May 2010.
Other Hall of Famers in this offering include Bobby Clarke (#70), Marcel Dionne (#91), Larry Robinson (#151), Guy Lafleur (#163), Darryl Sittler (#207), Stan Mikita (#225) and Phil Esposito (#245).
Elms points out that you can see a white Olympic patch on the shoulder of Lafleur's jersey on his card. This patch commemorated the 1976 Summer Olympics which took place in Montreal. That patch is also visible on Robinson's card. With just two PSA 9s (and no examples grading higher), the Robinson is the toughest Hall of Famer single to obtain in top condition.
"I have some Robinson cards that have PD [print defect] on them," said Henninger. "That's a card that oftentimes has the [print] snow on it."
The sole 1976 O-Pee-Chee card without a PSA 9 (unqualified) example is the Vic Hadfield (#226). This card is often hampered by poor left-to-right centering and print snow on the photo. There's also just one PSA 9 example of the second checklist (#258).
"The hardest card in the set to me is the No. 258 checklist," noted Henninger. "That's a card that's just always off-center, and then you've got kids checking them off and stuff like that. That card is always tough."
One PSA NM-MT 8 sold for $125.50 on eBay in December 2013.
There are also two uncorrected errors in this issue: Bill McKenzie's last name is misspelled "KcKenzie" on the front of his single (#267) and Lanny McDonald's last name is spelled "MacDonald" on his card (#348).
Cable says print snow is one of the most common condition issues with cards from this series.
"A lot of these cards had print defects on them," said Henninger. "And what I mean by that is that you'll see a lot of little white spots. I've seen them on the Trottier rookie a lot. It's weird. It's like print snow."
The green backs are also susceptible to chipping, and storing these cards in boxes for several years can also create condition woes. Cable has seen little green pieces of material stuck to the front of these cards. He believes this comes from the cards that were positioned in front of them while stored in the boxes.
"They're very small pieces, but they're enough that you can feel them if you run your finger over the card," he said. "And sometimes when you go to take the pieces off, you take the color of the card off with it."
Elms says the centering on these cards is generally pretty good.
"The centering seems to be much better than say the 1974 O-Pee-Chee cards," he said.
In 1976, O-Pee-Chee also released a 132-card WHA set that features pasteboards of Bobby Hull and Gordie Howe. The 1976 Topps Hockey set is comprised of the first 264 cards of the O-Pee-Chee set. These cards employ the same design as the O-Pee-Chee cards on the front, but have darker backs and showcase English text only.
In general, however, hockey collectors still prefer the O-Pee-Chee cards to their Topps counterparts.
"The cards in the 1976 [O-Pee-Chee] set seem to be more affordable than the early 1970s sets," said Cable. "When I started collecting the set about seven years ago, there was only a couple of people collecting the set on the registry, but if you look at the registry right now, there are 21 people working on it. And as far as late-1970s hockey sets go, I think it's one of the most attractive sets."
Henninger shares similar observations.
"There's a lot of interest in this set. I think that's because there are a lot of high-grade examples and it's not overly expensive to collect," he said. "If you look at the registry, there are a handful of guys that are looking for [PSA] 9s. They're calling and emailing me asking for my doubles. There's also a rise in the number of collectors that are trying to do a complete 1970s O-Pee-Chee run. I think the future looks pretty bright for all of the 1970s [hockey] sets."
---
Please feel free to contact Kevin Glew at [email protected] if you have any additional information or comments. Thanks to Rob and Will Elms and Mike Cable for providing images for this article. Please note that the Population Report figures quoted and Set Registry rankings reported are those as of November 2014.