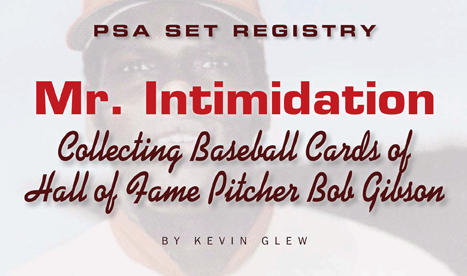 He's the Mr. October of the mound.
Nobody was more intimidating from 60 feet, six inches than Bob Gibson. The intense right-hander browbeat batters with his icy stare throughout his 17-year big league career.
So surly was the Cards ace on the hill that he once told catcher Tim McCarver, who had strolled out to offer encouragement: "The only thing you know about pitching is you can't hit it. Get back behind the plate, unless you want the medic to carry you back to the dugout."
On top of his menacing presence, the 6-foot-1, 195-pound hurler boasted a lethal pitching arsenal that included a fastball, slider and curve. In 1968, he won 22 games and recorded a remarkable 1.12 ERA, a performance so dominating that the pitcher's mound was lowered by five inches the following year.
But Gibson was at his best in the post-season. Having already recorded two complete-game victories and being named the MVP of the 1964 Fall Classic, the gruff workhorse topped that in 1967. It was 47 years ago this fall that Gibson registered an incredible three complete game wins in the 1967 World Series. The legendary righty would make it six consecutive World Series complete games when he struck out a record 17 Tigers in the opening game of the 1968 fall showdown.
"I remember his 1968 year. I don't think any pitcher in modern baseball has ever come close to what he accomplished," said Bob Couser, who requested that the Gibson set be added to the PSA Registry and owns the No. 2 Basic and Master Sets.
Bob Beck, who runs Bob Becks Sports Collectibles in Livingston, New Jersey, and owns the No. 3 Current Finest Master Set, agrees.
"When I first started watching baseball, I was seven years old and [the Cardinals] lost the 1968 World Series. Since then, I just kind of latched onto [Gibson]. Because of his grittiness and tenacity, I became a big Bob Gibson fan," he said, adding that he also named his childhood dog after Gibson.
Christopher Bond, who owns the No. 7 Current Finest Master Set, also marvels at Gibson's 1968 campaign.
"I was collecting Hall of Fame cards of the 1960s and into the mid-1970s, and as I read about that time, Gibson really stood out as a presence. This is a guy for whom they actually changed the rules. Pitching was so dominant in 1968 that they lowered the mound for everyone. Gibson was the most dominant," he said.
And the increasing number of hobbyists pursuing Gibson's Basic (18 cards) and Master (149 cards) Sets on the PSA Registry indicates that the Cards legend has inspired others as well.
The key to a Gibson collection is his rookie card (1959 Topps, #514). John Erwin, who sold and retired his No. 7 All-Time Finest Gibson Basic Set in 2007, once purchased a PSA MINT 9 rookie in a Mile High Card Company auction for just over $5,000. In 2013, however, one PSA 9 sold for $8,218.
Reflecting on his own purchase price, Erwin shared, "I feel I got a pretty good deal on it. [It's a] very beautiful card: excellent centering, [excellent] corners, no print dots - which is notorious on that card," he said.
Couser adds that the price of Gibson's rookie is often driven up because so many different collectors - from 1959 set collectors to Hall of Fame collectors - covet it. Of the 2,631, 1959 Topps Gibsons submitted to PSA, there have been 27 PSA 9s and three PSA GEM-MT 10s.
Though not talked about as much as his rookie, Gibson's 1960 Topps card (#73) is - at least statistically - more elusive in high-grade than his rookie. Of the 1,357 evaluated by PSA, none have been deemed PSA 10s and there are only 11 PSA 9s.
The 1962 Topps Gibson (#530), with its fragile, wood grain borders, is also difficult to uncover in top condition. Compounding its elusiveness is the fact that it's a high-number, short-printed single.
"I've seen that card go for huge amounts. I've seen it go over $1,000 [in PSA NM-MT 8]," said Beck.
A few years ago, Couser found a nice, raw example at a card show near Detroit. He submitted it and received a PSA 9 grade. His card is one of only 22 to garner such a grade. There has also been only one PSA 10 graded to date, and it just sold for $7,409 earlier this year.
Another evasive card in high-grade is Gibson's 1963 Fleer card (#61). Cards from this set are notorious for poor centering and chipping on the green borders on the backs. Of the 761 submitted to PSA, there are 30 PSA 9s and a single PSA 10.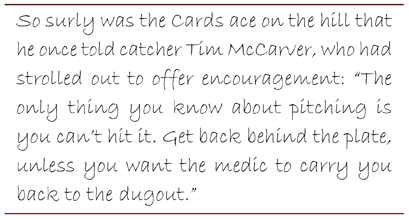 "Any time [a 1963 Fleer Gibson] sells on eBay or in auction, it always demands a premium," said Erwin. The sole PSA 10 sold for $10,267 in 2010.
But Beck believes the toughest regular issue Gibson card to find in pristine condition is his 1969 Topps (#200). There are 31 PSA 9s and three PSA 10 copies.
"It's just very tough to find without a diamond cut or some sort of centering problem. Even though they might be in [PSA] 8 holders, it's tough to get a really centered 1969 Gibson," he said.
To complete the Master Set, you'll have to track down Gibson's Venezuela Topps cards. Printed on flimsy paper stock and in significantly smaller quantities than the regular Topps cards, these are extremely difficult to find.
"The Venezuela cards are really hard to track down. You'll never find them in great condition, but to find them [at all] is really difficult... if you find them, you just buy them," said Couser, who owns a 1966 Gibson Venezuela card.
Beck agrees.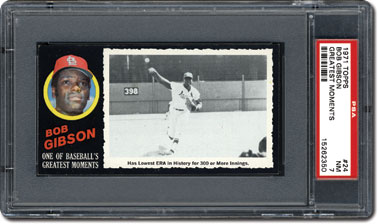 "I think when you locate them, you typically find them in low grades," he said.
Also tough to find in high-grade is Gibson's 1971 Topps Greatest Moments (#24) single. Plagued by fragile black borders, centering problems and diamond cuts, cards from this test issue are difficult to uncover in mint condition. There has never been a PSA 10 example of any card from this set. The highest graded Gibson example has been a PSA 8.
"That's a really tough card to find," said Couser.
Couser won the PSA Set Registry Awards for his Gibson Basic and Master Sets. The object of his collection also collected his share of hardware over the course of his career. Gibson won two Cy Young Awards, two World Series MVPs and nine Gold Gloves. He was elected to the National Baseball Hall of Fame in 1981.
But, perhaps, the most fitting accolade Gibson received was when he was named the Most Intimidating Pitcher of All-Time in 2004 on the Fox Sports Net series, The Sports List, proving that even 29 years after his retirement, memories of his icy stare are still fresh.
---
Please feel free to contact Kevin Glew at [email protected] if you have any additional information or comments. Please note that the Population Report figures quoted and Set Registry rankings reported are those as of October 2014.