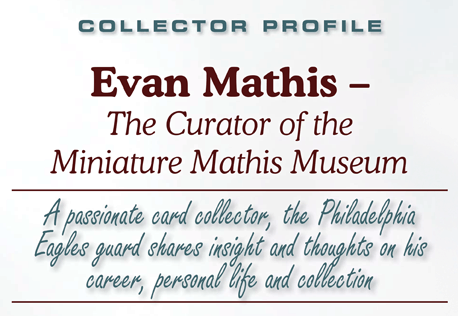 Philadelphia Eagles guard Evan Mathis has a life filled with a lot of loves. Topping that list is his family that consists of his wife, daughter and two little dogs. He also loves playing professional football; eating Little Caesar's Crazy Bread, Fruity Pebbles cereal and at Chipotle; watching professional wrestling, Breaking Bad and Thundercats; listening to (are you ready?) Miley Cyrus; and working out at Zone Athletic Performance, a training facility he founded in Scottsdale, Arizona, in 2009.
He also loves collecting sportscards, a hobby he has been obsessed with since he was a kid growing up in Alabama.
A wrestler who won the Alabama 6A heavyweight championship in 2000, and a member of the Patriots football team at Homewood High School, Mathis says he always dreamed of a career in professional sports.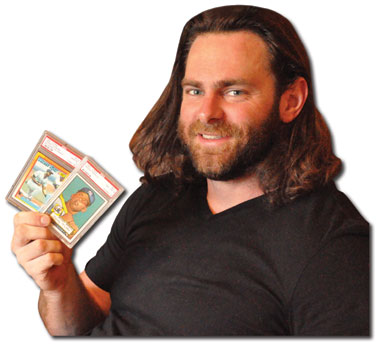 "I wasn't very good [in football] until my senior year in high school," Mathis reveals. "I was always working to improve every day."
With the hope of playing professional football as his goal (and with sights on becoming a professional wrestler named "Rage" as his back-up plan), Mathis became serious about pursuing his dream as he closed out his high school career. He began an intense workout regime, bulked up by over 30 pounds and matriculated to the University of Alabama, where for four seasons he was a starter on the Crimson Tide's offensive line. Having handled the right tackle spot for his first three years, he was shifted to the left guard position as a senior.
Mathis' collegiate career saw him start in 47 consecutive games (beginning in the fourth game of his redshirted freshman year) and named the 2001 Paul Crane Most Improved Offensive Lineman. He also received first-team All-Southeastern Conference honors during his final year as he helped the Tide's offensive backfield post outstanding conference rushing stats.
On to the Pros
Drafted by the Carolina Panthers in the third round of the 2005 NFL Draft, Mathis went on to play, briefly, for the Miami Dolphins, where his uncle, Bob Baumhower, had been a member of the Fin's Killer B defense in the late-1970s and early-1980s.
In 2008, Mathis left Miami to don a Cincinnati Bengals uniform. During his time with the Bengals he didn't allow one sack during the 2009 and 2010 seasons.
Just prior to the 2011 pre-season, the Philadelphia Eagles signed Mathis to a one-year contract. Proving himself before the official 2011 campaign began, Mathis won the starting job at left guard where he played a major role on an offensive line that saw the Bird's set franchise records in total net yards and first downs.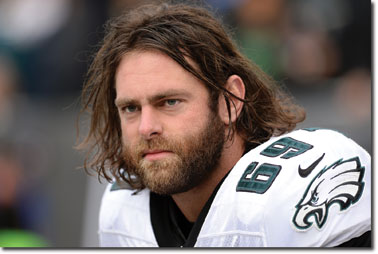 The 2012 season saw Mathis become the only Eagle offensive lineman to start in every game; help pave the way for running back Bryce Brown to run for a team rookie record of 178 yards in a game against the Panthers; be named to the Pro Football Focus All-Pro Team and the USA Today Sports' All-Joe Team; and garner CBS Sports.com All-Pro honors.
The following season really saw Mathis come into his own as a pro. Starting in every game, he helped clear the path for running back LeSean McCoy to rush for a franchise best of 1,607 yards and assisted the team in setting Eagles offensive records of 442 points scored and 6,676 total net yards covered. That year also saw him named to the Pro Bowl and garner AP first-team All-Pro honors.
Meeting Up with Mathis
Sports Market Report recently caught up with Mathis to get some insight on his career, personal life and his beloved card collection. We began our chat by asking him about his early days, growing up in Alabama.
Evan Mathis (EM): I grew up in Birmingham and had family in various parts of the state. That allowed me to get exposure to both the city life and country life. My parents worked hard to provide for my brother and me, and they taught us a great work ethic.
Sports Market Report (SMR): You have said you never really got serious about playing sports until your last year of high school. Did you just have natural athletic ability as a kid?
EM: I loved sports but was a terrible athlete as a kid. I started playing baseball when I was 12 and got better with time, but I was barely above average. I started football and wrestling in middle school and progressed slowly over time.
My entire athletic career has been about steady improvement and just trying to be a better athlete than I was the day before. I wasn't any good at football until my senior year in high school. Luckily, that was just in time to get a scholarship offer to the University of Alabama, which was a lifelong dream. And then, later that year, I also won the heavyweight state wrestling championship.
SMR: Were you a card collector as a kid?
EM: I was six when I got my first card. It was a 1988 Topps Bo Jackson card. From then on, for the next few years, I was obsessed with collecting Bo Jackson cards. My whole collecting focus was on having as many Bo Jackson cards as possible.
Then, in 1991, Bo had suffered his injury and my focus shifted to Frank Thomas. By that time, I was also collecting all sports. I had a great time going through price guides, going to card shops, buying cards, trading cards and talking about cards. Then, I got out of the hobby as I entered high school, jumped back in briefly in college and came back for good a few years into my NFL career.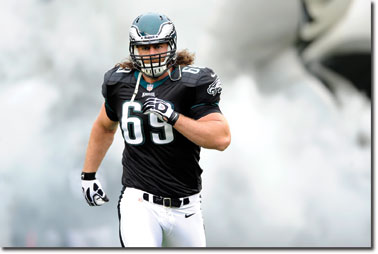 SMR: We, of course, want to ask you more about your card collection, but before we get away from your pre-NFL days, can we ask you to share some thoughts on being a part of the great Crimson Tide dynasty?
EM: There is a strong sense of tradition and culture surrounding the University of Alabama. My uncle, Bob Baumhower, was an All American at Bama before he went on to play nine years for the Miami Dolphins. That's part of the reason my blood was crimson from the start. I enjoyed my years there, even though things weren't going quite as well as they are currently.
When I signed to play at Bama they had just won the SEC Championship and were pre-season ranked number three my freshman year. I redshirted that year and watched us go three-and-eight. It was the beginning of an intense and emotional roller coaster ride. When it was all said and done, I had played for four head coaches in five years.
A few years after I left, Nick Saban arrived and things turned around as they went on to win multiple National Championships. I'm still very thankful for the experiences, lessons and relationships from my years at Bama.
SMR: Before we get to your card collection, can you give our readers, who may not know much about you personally, a glimpse into your off-field life?
EM: My wife, Katelynn, and I met when I was visiting friends in California. She was born and raised there. We have a two-year-old daughter named Ila [pronounced eye-luh]. She is a ton of fun and we've thoroughly enjoyed parenthood thus far.
We have two dogs, a two-year-old Chihuahua named Thor, and his son, Bill. We went to Alabama to visit family one off-season and Thor decided to get cozy with my grandmother's Yorkie. That's how we ended up with Bill - the Chorkie.
We spend the off-seasons in Scottsdale, Arizona, and also visit family and take weekend trips. In 2010 I started a training facility called Zone Athletic Performance in Scottsdale. My brother, Adam, runs the place and is also a personal trainer there. Your readers can check it out by visiting our website at www.ZoneAP.com.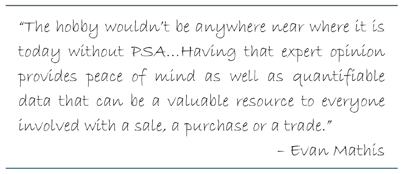 SMR: When you're at home in Arizona, what is a typical day like for you during the off-season?
EM: The entire family wakes up around 7:30 and we have breakfast. Then Kate heads to Zone to get her workout in and run any errands she needs to do. I usually stay at home with Ila and the pups and hang out until mommy gets back around 11. Then I'll I head out to get lunch, which ends up being Chipotle 90 percent of the time.
After lunch, I'm at Zone on the computer playing around on eBay, auction house sites and the PSA site until my workout. I finish my workout, spend a little more time playing around on the sites and head home to the family to do whatever activities we have planned for the day. That's our typical off-season day.
SMR: When you are perusing the websites, what is it that you are specifically looking for?
EM: My collecting focus is on vintage unopened packs and high-grade rookies in all sports.
SMR: What is it about collecting that attracts you?
EM: When I got back into collecting, a few years into my professional career, I would buy unopened boxes from years when there were nice rookies to chase. I would get them and just rip into everything. It was a whole lot of fun. But I learned, quickly, just how rare gem mint cards are.
Finding a card that has survived all these years was one thing, but finding one that was centered properly with great color and smooth printing was another. I eventually shifted to just buying the high-grade rookies that I wanted.
I kept buying unopened stuff, but I stopped opening them. I love the way unopened material presents. Having packs and boxes from various years and various sports lined up next to each other is a beautiful sight to me.
SMR: What are some of your collecting goals?
EM: In baseball, I'm trying to build a run of something unopened from Topps - packs and boxes from 1952 to 1980. I already have a lot of years covered and it's a very fun project. But there are some years that are just very hard to find. The chase is all part of the fun though.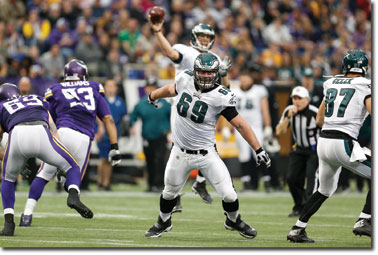 SMR: Along with searching for cards, you also do a lot of research on the hobby. What does the Evan Mathis crystal ball have to say about the hobby's future?
EM: Barring a major recession, I think high-grade Hall of Fame rookies will continue to rise. I think that football Hall of Fame rookies especially have a lot of room to grow. It will also be very interesting to see how the unopened market plays out. There have been incredible price increases over the past year or two for unopened material. Currently, a lot of people have determined that they have been priced out of opening and grading a good deal of material.
I would much rather have a complete unopened box of 1986 Fleer Basketball cards than trying to crack it and make money. Currently, those boxes sell for roughly $25,000 and will yield three to four of the release's most-prized card - the Michael Jordan rookie. A PSA GEM-MT 10 Jordan is a $10,000+ card right now, but not even two percent of the Jordan cards that have been graded have received the PSA 10 designation.
I love that card, and I love Fleer Basketball cards from that year in general. But, for me, it has been my preference to buy the complete box and keep it unopened and then buy the PSA 10 Jordan without trying to find one in a pack.
I also think that, over the next few years, there could possibly be a surge in high-grade rookie prices that would, in turn, open the doors for more people to decide to rip into unopened stuff, see what they have and get them graded. This can only happen if the unopened market levels off, but, as of right now, the stuff is on fire.
SMR: Evan, how large is your personal collection?
EM: As a kid I, easily, had more than 50,000 cards. As time went by, I kept a handful of those cards and donated the rest. Today, other than my unopened stuff, my collection is relatively small. I now collect with a greater focus on quality rather than quantity.
SMR: That, of course, is where PSA and PSA/DNA come into play. With the advent of PSA, how has the hobby changed for you since you had all those cards as a kid back in the pre-PSA days?
EM: The hobby wouldn't be anywhere near where it is today without PSA. Having a card authenticated and graded by PSA is accepted as the standard. Having that expert opinion provides peace of mind as well as quantifiable data that can be a valuable resource to everyone involved with a sale, a purchase or a trade.
The Set Registry and Population Report are also tremendous tools in that they allow for a global look at the hobby and help many people, like myself, make far better decisions on the focus of our personal collection, what we purchase, sell or trade and what prices we pay.
At times, I find myself spending what I consider to be too much money on cards. When I catch myself doing that, I try to sharpen my focus, trade or sell anything that doesn't belong in my collection and move along.
Trading and selling are both things I've enjoyed doing since I was a kid, so it's all a part of the hobby to me. Focus is key for me. If I don't have a focus, I will just end up buying everything because I love too much stuff. I've met a lot of collectors that are the same way.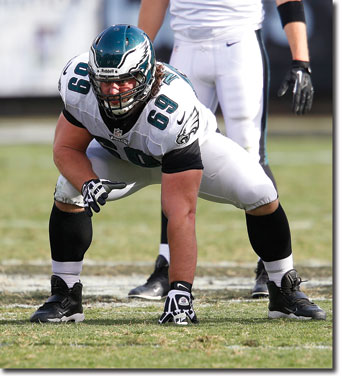 SMR: Even though it's the age-old question, we have to ask, because collectors are always interested - what are the personal favorites in your collection?
EM: I do have a few favorites. My PSA NM-MT 8 1952 Topps Mickey Mantle card, a few unopened boxes of 1986 Fleer Basketball cards and my PSA 10 1990 Topps Frank Thomas NNOF card [the # 414A is an error card that was printed without Thomas' name on the front, as well as portions of the black borders being omitted]. I also love my PSA 10 1980 Topps Bird/Erving/Magic card.
SMR: Just like our readers, you are passionate about those little printed pieces of cardboard we all love. Have you ever just stepped back and thought about what it is that so deeply attracts you to collecting cards?
EM: I'm into collecting because I appreciate the many qualities behind a piece of history. There's a story that goes along with every object from the past. Each individual collector's collection - whatever it is that they collect - is like a miniature museum. I not only personally enjoy the items in my miniature museum, but I love sharing them and their stories with others.
---
Photos courtesy Derek Boyko, © Philadelphia Eagles