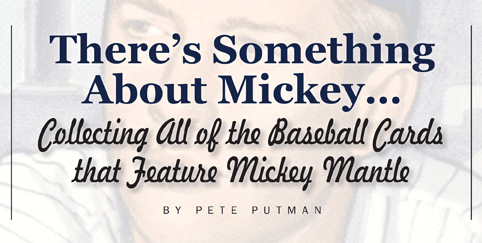 Looking for a Registry Set that's a real challenge to complete? Step up to the plate and try the Mickey Mantle Master Set.
Let's face it; nobody does baseball better than the good old U.S.A. We invented the sport here, created the first professional teams and leagues over 130 years ago, and eventually exported baseball to countries like Cuba, Japan and Venezuela.
But if there's one thing we do better than baseball, it's merchandising. No one promotes and markets their actors, athletes, musicians and movies like Americans do. For many of today's ball players, endorsements and merchandise sales are just as important as batting averages and ERAs.
It doesn't take much to get the hype train rolling. A rookie player has a "hot" year and finds himself visiting amusement parks, endorsing cars and restaurants, and even waltzing around in name-brand underwear. A coveted pitcher from Japan not only signs lucrative advertising deals in his own country, but also winds up on everything from cereal boxes to billboards on this side of the Pacific.
And it's been this way for over a century. Want to sell more cigarettes? Get a prominent ballplayer to pose with your product between their fingers. How about soap or shaving cream? Tires? Fishing tackle? Dairy products? Gasoline? Hotels? Hot dogs? Dog food? All of these have been huckstered by baseball players over the years.
The most obvious endorsement is a bubble gum card. Sure, you coughed up those hard-earned nickels and quarters in the hopes of getting a picture card of your hero - but you also chewed the gum, thanks to Al Kaline, Ernie Banks, Willie Mays and Cal Ripken.
Maybe you bought a particular type of cereal because it had baseball cards on it. (As a kid, I practically lived on Alpha-Bits for that reason!) Or you asked your mom to buy a certain type of milk or chocolate drink to go with your cereal, because your hero was on the carton. Or you nagged your parents to shop at a specific fast food restaurant, department store or gas station in hopes of getting a baseball-related premium with their purchase.
Recommended By ...
Not surprisingly, all of this endorsement activity has resulted in a lot of collectibles that have outlived their subjects! The more famous the ballplayer, the greater the potential trove of treasure. And perhaps no player has had more endorsement "collectibles" in circulation than the Commerce Comet - Mickey Mantle.
Granted, the most famous baseball celebrity of all time was Babe Ruth, and his likeness appeared on a wide range of collectibles, from pins and clothing ads to pennants, cereal boxes and sporting goods. And other outsized legends of the game like Ted Williams, Willie Mays, Stan Musial and Hank Aaron had their share of lucrative endorsement deals during and after their careers.
But Mantle grew up alongside television, bringing him even more national exposure outside of the stadium. It also helped tremendously that Mickey played in New York, the #1 advertising market. By the 1960s, the average person in Peoria, Illinois, or Plano, Texas, had surely heard Mantle's name at some point and knew who he was, even though that person might never have been to a baseball game - thanks to national TV broadcasts and news media coverage.
Mantle's long career (18 seasons), his frequent World Series appearances and his three MVP awards combined with his rugged, All-American looks, ear-to-ear grin and Midwest upbringing to create the ideal celebrity athlete endorser, at least in the minds of Madison Avenue. Just four years into his career, Mickey's portrait had already appeared on decals sold with dairy products (1950), packages of meats (1953) and potato chips (1954) - plus numerous bubble gum cards.
Over the years, Mantle's likeness and/or autograph have adorned 45 rpm records, plastic coins, pins, pennants, postcards, miniature statues, whiffle ball sets, baseball glove boxes, table games, stamps and even radios! It's almost impossible to keep track of all this merchandise, and a lot of it is lost forever to the dustbins of history.
Still, enough of it shows up at shows, in garage sales and at flea markets every year to help collectors build collections of Mantle memorabilia. But trying to determine just how many of these trinkets were created is like trying to count the stars at night: You give up after the first hundred!
Collecting Mantle-Abilia
While things like radios, whiffle bats and statues aren't all that easy to store, flat items such as bubble gum cards, postcards, photos, decals and small boxes are. And if the item can be stored flat and fits into a protective holder, than it can become graded or authenticated and part of a registered set. (See where I'm going with this?)
Hence, the Mickey Mantle Master Registry Set was created by PSA. And it's a doozy, with 222 separate items currently listed, plus some additional "not part of the set, but still nice to have" pieces. Just looking at the list will make your head spin, as some of the items have real population scarcities.
How scarce? Unlike other sets, not a single one of the 83 current Mantle Master Set registrants is 100% complete - and may never be. And forget about building a high-grade collection: The Current Finest Mantle Master Set (707 Sportscards - LTD - #7) has a weighted GPA of just 6.20 and a rating of 6.04. (It's 96% complete.)
The #2 Current Finest set has a weighted GPA of 5.54, a rating of 5.04 and is 94% complete, while the #3 set is only 72% complete with a weighted GPA of 5.72 and a rating of 4.00. Clearly, assembling a Mantle Master Set is far from a walk in the park - but if you really enjoy the thrill of the chase, then you can't pass up this challenge. (Note that this set only includes items from his playing days.)
The Set
Where to begin? As mentioned earlier, the oldest item in this set is a 1950 Dairylea Mickey Mantle Reflector decal, of which exactly sixteen examples reside in the Set Registry. Good luck finding one of those! You'll also see eight different 1947-1966 Exhibits cards, four of which show Mantle in batting and portrait poses, with his name outlined or not outlined. The other four show the Yankees team in 1951, 1952, 1955 and 1956.
All of Mantle's regular issue baseball cards are in this set, including the coveted 1951 Bowman and 1952 Topps rookies. But those are commonplace compared to his 1951 Wheaties Premium Photos (47 copies encapsulated), 1953 Stahl-Meyer Franks issue (40 copies) and 1955 Stahl-Meyer (13 copies).
There are lots of scarcities in the 1950s Mantle issues. In 1958, a California soda bottling company (Mission) made a Mantle premium photo available. It's part of the Mantle Master Set, and exactly one copy currently sits in the Set Registry. That same year, you could also pick up two different Holiday Inn postcards, showing Mantle batting (he had an interest in a Holiday Inn in Joplin, Missouri).
The 1955-1957 Yankees Picture Pack photo of Mantle batting is a part of the set, and only two have been submitted to PSA as of this writing. In contrast, the 1956 Yellow Basepath PM15 Pin is easier to find - well, sort of. Thirty have been graded by PSA. And although there are over 300 copies of the 1954 Dan-Dee Mantle card in the PSA Population Report (made available inside bags of potato chips), four additional copies exist without the protective wax coating.
Scarcities continue into the 1960s. Although it's an optional part of the set, the 1960 Post Cereal (Grape-Nuts) portrait of Mantle is represented in the Population Report by one copy. A 1960 Bazooka hand-cut panel is part of the set, and a lone PSA NM-MT 8 copy exists on the registry. How many 1965 Bazooka Gum complete boxes are there, with the rear panel showing Mantle, Chuck Hinton and Larry Jackson? Just one. How about a 1964 Rawlings Baseball Glove Box card of Mantle? Only seven have been registered.
Mantle's likeness popped up on several board games during the 1960s, so keep your eyes out for his player card from the 1964 Challenge the Yankees game (25 in the Registry), the follow-up version of this game from 1965 (nine in the Registry) and his 1969 Transogram player card (34).
For collectors of the tough Venezuelan Topps cards, there are five Mantle entries in this set - and not surprisingly, they're usually found in mid-to-low grade condition. Start with Mantle's 1959 Topps Venezuela #10 card, of which 14 have been graded and the highest grade awarded is a PSA VG-EX 4. Then, move to his 1964 offering, of which 33 copies have been graded by PSA with none higher than PSA EX 5 (population two).
Still up for the chase? Perhaps you'll unearth a copy of his 1966 Venezuela card, of which 48 copies have been encapsulated; none higher than a solitary PSA NM 7. Skip ahead a year to 1967 (population 24 with nothing higher than a solitary PSA 7) and finish off your sub-set with Mantle's 1968 Venezuelan card; the scarcest of all with just 12 graded examples in the PSA Population Report and none grading higher than a pair of PSA 5 copies.
Are you having fun yet? If you really want to go off on a wild goose chase, set your sights on Mantle's 1964 Meadowgold Dairy card, found on milk cartons. There are nine of these listed in the PSA Population Report and condition is very, very tough with four entries deemed Authentic and nothing grading higher than a solitary PSA 5 among the remainder.
The obscure Topps Plaks test issue from 1968 has gotten plenty of attention in recent auctions. And the Checklist #1 card from this test set is equally tough to locate; only thirteen have been graded according to the PSA Population Report. The sole PSA 7 copy, which is also the highest graded example, sits atop the hill on the Mantle Master Set registry.
How about a 1968 American Oil premium card, featuring Mantle and Green Bay Packers quarterback Bart Starr? Out of the 12 graded copies, only a single PSA 8 copy exists in the PSA Population Report with none graded higher. The same goes for the 1967 Topps Punch-Out card of Mantle (one PSA 8 out of seven copies). Or what about a 1966 Bazooka Complete Box, showing Mantle, Ed Kranepool and Leon Wagner: There are five in the Population Report with a single PSA 7 awarded.
Maybe you'll have a bit more luck digging up a 1966-1967 Dexter Press card of Mickey. Nineteen are listed in the PSA Population Report with only one PSA 7, PSA 7.5 and PSA 8, respectively, having been awarded thus far. Mantle's 1965 O-Pee-Chee #134 "Clutch Home Run" card is considerably scarcer than the corresponding Topps issue, as only 14 of these have earned PSA 8 designations with just three copies graded higher.
In contrast, the last entry in the Mantle Master Set - 1969 Transogram game, hand-cut side panel - is represented by just seven copies, two of which are graded PSA 8. The panel with Mantle alone on it is much easier to find and has been submitted 35 times, with five PSA MT 9 examples logged into PSA's records.
Off The Books
As of this writing, there are seven additional Mantle collectibles that aren't part of the Master Set, but they will still amaze and impress your collector friends. Two of them are Topps Salesman's Panels from 1959 and 1964. Seven examples of the 1959 strips are in the PSA Population Report, but only one shows Mantle, along with Bob Cerv and Jim Bolger.
Five sample strips from 1964 are listed in the Population Report, with one of them showing Mantle along with Boog Powell and Jim Davenport and the remainder displaying the reverse of Mantle's #50 card. (Mantle also appeared on a 1953 Topps Salesman's Panel, but I've only seen one copy of this issue several years ago and someone had already cut the three cards apart. Dang!)
The aforementioned Meadowgold Dairy card also exists as part of a four-card panel that includes Sandy Koufax, Willie Mays and Bill Mazerowski; only three of these show up in the PSA Population Report. And there's a single 1968 Bazooka hand-cut panel showing Mantle, Curt Flood, Jim Lonborg, Jimmy Wynn and Joel Horlen. That's right, just one in the entire Population Report.
Finish off your optional Master Set pieces with a pair of the most obscure Mantle collectibles, the 1967 and 1968 Topps Test Discs. Three of the 1967 varieties have passed through PSA's facility to be placed in Authentic holders, accompanied by two from the 1968 issue. Although not endorsed or considered advertising products, these "test" products are fun to chase... and chase... and chase...
It's All About The Chase
If you've gotten bored putting together T205 and 1952 Topps sets, or building a collection of 1933 Goudeys feels too mundane to you, then you're ready to tackle a Mickey Mantle Master Set. WARNING: Be prepared to spend years looking for many of the items, and also be prepared to jump on one when you find it - don't expect to haggle if it turns up at a card and collectibles show.
But don't hesitate also to check out garage sales and flea markets, especially for items like Mantle-related board games, records and dairy/gasoline/food premiums. It's a safe bet that plenty of these items still sit in garages, attics, basements, shoeboxes and even old scrapbooks. And when you find one, you may be surprised at how inexpensively you can acquire it. Finally, there's no need to stop with the Master Set - you can augment your collection with those previously mentioned whiffle ball sets, statues and even a radio. (Just like I have!)
---
Thanks to Levi Bleam for providing a large number of the images for this article. Please note that the Population Report figures quoted and Set Registry rankings reported are those as of September 2014.