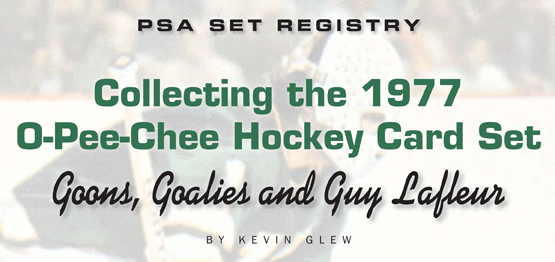 If you like goons, goalies and Guy Lafleur, the 1977 O-Pee-Chee Hockey set is the one for you.
Among the 396 cards that comprise this offering are the first pasteboards of tough guys Willi Plett (#17), Mike Milbury (#134), Stan Jonathan (#270) and Paul Holmgren (#307). And if you prefer goalies to goons, this set also houses the cardboard debuts of notable netminders Don Edwards (#201) and Mike Palmateer (#211), not to mention some of the best goalie action shots in hockey card history.
"I think my favorite card in the set is [St. Louis Blues goalie] Ed Staniowski (#54)," said Mike Cable, owner of the No. 1, 1977 O-Pee-Chee Hockey Set on the PSA Set Registry. "It's a full body shot that shows him crouched over in his net, watching the puck."
Cable is also fond of the card featuring New York Rangers goalie John Davidson (#28).
But if you prefer scorers and superstars to goons and goalies, this set possesses eight cards that feature legendary right-winger Guy Lafleur. "The Flower" is highlighted on four leader cards, three Record Breaker singles and a regular issue pasteboard (#200).
"In 1977, I was in my senior year of high school and Guy Lafleur was a special player back then," recalled Joe Henninger, who owns the registry's No. 4 Current Finest, 1977 O-Pee-Chee Hockey set.
Cable adds that Lafleur's regular issue card (#200) has been difficult to find in PSA MINT 9 condition.
"I've been looking for that one in a [PSA] 9 for a long time," he said. "Lafleur was a great player and the 1970s were his glory years. That's the one card that I've been pursuing more than any other in a [PSA] 9, but on the [raw] examples I've seen, the centering is keeping it from being a [PSA] 9."
So while critics might dismiss the 1977 O-Pee-Chee Hockey issue because it doesn't showcase any Hall of Famer rookies, there are still plenty of reasons to collect it. Measuring 2-1/2" by 3-1/2" each, the white-bordered regular player cards present a large photo framed by a thin black border.
"It's kind of an ordinary design, but what this set has going for it are the action shots," said Cable. "There are a lot of really good action shots versus just a face photo or a simple or pre-planned pose with a backdrop behind it."
The card fronts also highlight the player's name and position in small print below the photo, followed by the team logo and team nickname, which is emblazoned in a bold, slanted contemporary font.
The vertical card backs present brown and blue print on off-white stock. The player's name is indicated in brown at the top, followed by a blue rectangle that shares the player's position, card number and vitals (e.g., Height, Weight, Shoots, etc.). The middle portion fashions yearly stats and biographical information, in both English and French, via a bullet-point format, while a cartoon illustrating a fact about the player graces the bottom. A hockey stick design also extends all the way down the left side.
Five subsets are also part of this issue: leaders (#1 to #8), team checklists (#71 to #88), Record Breakers (#214 to #218) and team logo cards (#322 to #339). All-star designations are incorporated into the design of the applicable regular player cards.
With the 1977 series, O-Pee-Chee upped the price of wax packs from 10 cents to 15 cents from their previous issue, but they also increased the number of cards from eight to 12.
For the first time in four years, O-Pee-Chee included a bonus insert in each pack. When collectors ripped open their packs, they discovered one of 22 glossy photo cards. The fronts of these cards feature a large photo of a player and their facsimile autograph. The backs are white and showcase the player's name, team, position, card number and copyright information. These inserts can be found with square or rounded corners. Despite an impressive player selection - 13 of the 22 players featured are now in the Hockey Hall of Fame - these inserts have never enjoyed widespread popularity.
As mentioned earlier, there are no Hall of Famer rookies in this set, but the first-year single of former Toronto Maple Leafs goalie Mike Palmateer (#211) seems to command the most attention.
"There are a handful of cards that just don't pop up in [PSA] 9s and one of them is Mike Palmateer. That's a difficult card. I still have a [PSA NM-MT] 8," said Cable.
There has yet to be a PSA GEM-MT 10 Palmateer rookie and there are just 10 PSA 9s.
The Milbury rookie (#134) is the most popular "goon" card - although the longtime Bruins defenseman could certainly do more than fight. After a solid playing career, he became the general manager of the New York Islanders and he's now an outspoken analyst on NBC's hockey broadcasts.
Cable is still looking for a PSA 9 Milbury card.
"There have been a few of them available. I remember the first one that popped up; it was maybe two years ago and it sold in the $150 range," recalled Cable. "Since then, there have been a few more. The price has come down a bit with the higher population, but for years, that was one of the harder cards to find."
Four PSA 10 Milbury cards have been uncovered, one of which garnered $157 on eBay in October 2013.
This set also boasts Bobby Orr's second-last Basic Set card (#251).
"The Bobby Orr card is the key card in any 1970s set," noted Peter Leonard, who has assembled the registry's No. 2 Current Finest, 1977 O-Pee-Chee Hockey set.
eonard, who has assembled the registry's No. 2 Current Finest, 1977 O-Pee-Chee Hockey set.
Henninger points out that the Orr card is, by far, the most submitted card from this issue. Of the 228 evaluated, there are just two PSA 10s and 43 PSA 9s. One PSA 10 sold for $568 on eBay a few years ago.
Several other Hall of Famers are also featured in this offering, including Denis Potvin (#10), Larry Robinson (#30), Phil Esposito (#55), Ken Dryden (#100), Bryan Trottier (#105), Tony Esposito (#170) and Marcel Dionne (#240). But Leonard says the Bernie Parent single (#65) is one of the most elusive Hall of Famer cards to track down in mint condition. Of the 20 submitted, there has yet to be a PSA 10 and there are just two PSA 9s.
"I've seen that card with print dots and print marks," said Henninger of the Parent single.
Another tough card is the Harvey Bennett (#282). Only ten cards have been evaluated by PSA: there are five PSA 8s, one PSA 9 and one PSA 10.
"It's one of the last few cards that I need to get a [PSA] 9 in and it's [usually] horribly centered," noted Cable. "I don't know where it falls on the sheet, but it's definitely one of the most difficult cards to get in high grade."
Leonard says the centering on the Gary Smith single (#184) is also often problematic. The Smith is one of five cards (Denis Herron (#119), Eric Vail (#168), Dave Farrish (#179) and Harvey Bennett (#282) are the others) that have only one, non-qualified PSA 9 example recorded.
In general, however, cards from the 1977 O-Pee-Chee Hockey set aren't difficult to track down in top condition. The PSA Population Report indicates that this set has the highest percentage of PSA 9 and PSA 10 submissions of any O-Pee-Chee Hockey set from the 1970s.
"The cards have large borders and it just made it easy to get them in really high grade," said Henninger.
Cable shares similar observations.
"Honestly, this hasn't been a terribly difficult set to put together," he said. "There are a lot of these cards in circulation that are PSA worthy, whether they're [PSA] 8s, 9s or 10s."
O-Pee-Chee also released a 66-card WHA set in 1977 and Topps unveiled a puck issue that consisted of the first 264 cards of the O-Pee-Chee set with a couple of exceptions. Card #203 in the O-Pee-Chee set features Bob Paradise, while the Topps card showcases Stan Gilbertson. Also, Bob Girard is the subject of card #255 in the O-Pee-Chee set, while the equivalent Topps single highlights Bill Fairbairn.
But the O-Pee-Chee cards still tend to fetch a premium over the Topps cards.
"I've noticed that a lot more collectors are trying to collect this [1977 O-Pee-Chee Hockey] set and I've actually sold a lot of my extras," said Cable. "I think what some people are trying to do - as I myself tried at one time - is create a mega set by collecting every O-Pee-Chee Hockey set from the 1970s."
So while it might be easy to dismiss the 1977 O-Pee-Chee Hockey set because it doesn't house any Hall of Famer rookies, there's plenty to like about it if you look closer - especially if you're into goons, goalies and Guy Lafleur.
Hall of Famer Bernie Federko's Real Rookie Card?
If you look closely, you'll notice that the 1977 O-Pee-Chee set also features Bernie Federko's first appearance on a card.
Though his 1978 O-Pee-Chee single is widely recognized as his rookie card, Federko is mistakenly pictured on the 1977 card of his Blues teammate Rick Bourbonnais (#312).
After this photo was taken, Federko blossomed into a prolific scorer, racking up 1,130 points in his 14-year NHL career, enough to earn him induction into the Hockey Hall of Fame in 2002. Bourbonnais' career, on the other hand, was not nearly as illustrious. He appeared in just 71 games over parts of three NHL seasons. Unfortunately, the 1977 O-Pee-Chee card was also Bourbonnais' only card.
"The poor guy got on one card and it's not even him in the photo," noted Henninger.
And this isn't the only card in this set that O-Pee-Chee used the wrong photo on. Bill Collins is mistakenly pictured on Washington Capitals defenseman Jack Lynch's single (#369).
O-Pee-Chee also made a mistake on the last checklist (#381). This card can also be found with or without a Topps heading along the bottom of the front. The version without the Topps heading is much tougher to find.
---
Please feel free to contact Kevin Glew at [email protected] if you have any additional information or comments. Thanks to Mike Cable for providing images for this article. Please note that the Population Report figures quoted and Set Registry rankings reported are those as of September 2014.