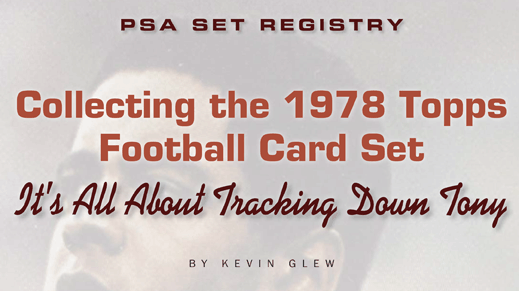 The NFL seemed to be focused on providing more in 1978.
The popular gridiron circuit had added two more games to each team's regular season schedule (teams would now play 16 games rather than 14) and one more wild-card team was added to the playoff mix for each conference.
So it was only fitting that Topps would follow suit and include more cards in its wax packs. Their 1978 packs housed 14 cards, up from 10 the previous year. Unfortunately, more cards also meant more money and the pack price climbed from 15 to 20 cents.
Overall, however, collectors weren't required to track down more cards to complete their sets. For the sixth consecutive year, Topps created a 528-card set. Similar to the 1977 Topps Football offering, the fronts of the 1978 regular player singles showcase white borders and a large photo.
"It's certainly not the most exciting set," said Kevin Roberson, who owns the No. 1, 1978 Topps Football set on the PSA Set Registry. "From a design perspective, it's just kind of a boring set. I wouldn't say it's a bad design. It's just very common for a set from that era. There wasn't a lot of change up or anything like that."
Carlos Aponte, who owns the No. 2 Current Finest, 1978 Topps Football set, says the photos on the cards are the strength of this set.
"It's a simple design," said Aponte, "and that simplicity lends itself more to [placing the focus on] the photographs, and I like that."
Aponte says his favorite photograph on a football card is in this issue.
"It's card No. 316, Greg Landry, a quarterback. He's throwing the ball and he's covered in mud. The photo on that card is just amazing. I've always loved that card," he said. "The borders on the card are not taking away from the picture. I wish more card photos were like that."
A frame that's color coordinated for each team surrounds the photos. This frame is thicker on the left side because it houses the team name and there's a break in the frame at the top for the player's name. The player's position is indicated inside a football design at the bottom of the photo.
Offering black text against a green and gray background, the card backs are divided into three sections. A banner to the right of the card number at the top spells out the player's name, team, position and vitals (e.g., Height, Weight, College, etc.). While the middle and lower portion of the left side presents a cartoon illustrating a fact about the player with an accompanying explanation. The mid-to-right portion (below the banner) harbors the player's yearly stats (some defensive players don't have stats), biographical information (if there's room) and copyright information.
This set also features four subsets: Highlights (#1 to #6), playoff cards (#166 to #168), league leaders (#331 to #336) and team leaders/checklists (#501 to #528). For the first time in a Topps football issue, the fronts of the team checklists boast photos of the team leaders in offensive and defensive categories. An All-Pro designation was incorporated into the design of the applicable regular player cards.
These cards were distributed in one series, primarily in the aforementioned 14-card, 20-cent wax packs. But they were also disseminated in 18-card, 30-cent cellos, 39-card, 59-cent rack packs, wax trays and 500-card vending boxes.
While the focus of the NFL and Topps seemed to be on providing more in 1978, this offering doesn't offer more Hall of Famer rookies than the 1977 Topps issue (see accompanying chart). Fred Dean (#217), Tony Dorsett (#315) and John Stallworth (#320) are the only players to debut who have busts in Canton.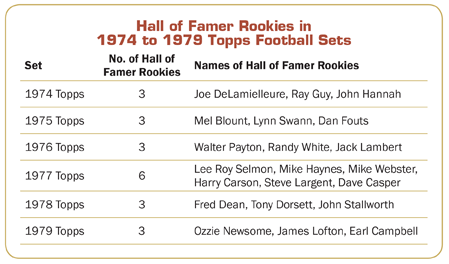 "The Tony Dorsett and John Stallworth rookie cards are kind of the benchmarks of the set," explained Aponte. "It also plays into the Steelers versus Cowboys rivalry of the 1970s. These are two significant rookie cards of impactful players from those respective teams."
The Dorsett (#315) is more difficult to track down in top grade. Of the 2,157 submitted, there have been just 10 PSA GEM-MT 10s, one of which sold for $3,800 on eBay in May 2012.
In contrast, there are 32 PSA 10 Stallworth singles (#320) and they command significantly less. One fetched $700 on eBay in February 2014.
This set also boasts the cardboard debuts of several other notable NFLers, including Reggie Williams (#229), Randy Cross (#231), Tom Jackson (#240), Joe Klecko (#287), Wesley Walker (#327) and Stanley Morgan (#361). The first-year card of former Heisman Trophy winner Johnny Rodgers (#63) is also part of this set.
Roberson notes that one of the best things about this set is that Walter Payton is featured on five cards. The legendary Chicago Bears running back can be seen on a Highlights card (#3), his regular issue single (#200), two leaders cards (Rushing Leaders (#333) and Scoring Leaders (#334)) and the Bears team leaders single (#504).
"Dorsett is certainly the biggest card in this set, but the interesting thing is that the second highest weighted card [on the PSA Set Registry] isn't even the second Hall of Fame rookie card [Stallworth]. It's Walter Payton's third-year card (#200)," shared Roberson. "The Payton card is weighted an 8, and it's a very expensive and tough card to get."
Of the 1,031 regular issue Payton cards evaluated, there have been 16 PSA 10s, one of which garnered $1,000 on eBay in February 2014.
On top of Payton and the Hall of Famer rookies mentioned earlier, several other players that have been honored in Canton are featured in this set, most notably Terry Bradshaw (#65), Fran Tarkenton (#100), Jack Lambert (#165), Roger Staubach (#290), Joe Greene (#295), O.J. Simpson (#400), Steve Largent (#443) and Dan Fouts (#499).
This set also marked the first Topps set that Hall of Famer Lynn Swann was absent from during his career. The Steelers wide receiver appeared in Topps issues from 1975 to 1977 then abruptly disappeared from subsequent releases. It's believed that a contractual dispute between Swann and Topps is the reason he stopped appearing.
Both Roberson and Aponte note that the first two checklists (#107, #257) are evasive in pristine condition.
"The checklists are definitely going to be up there in the top 10 most difficult cards in the set," said Roberson. "Some of them got checked off."
Aponte, who owns a PSA NM-MT 8 of the first checklist and a PSA NM 7 of the second, agrees.
"The raw checklists that I had were off-center," he said.
Eighteen examples of the first checklist (#107) have been sent to PSA and there are six PSA MINT 9s (no PSA 10s), while there's one PSA 10 and three PSA 9s of #257.
With just three PSA 9s (and no PSA 10s), the Gerald Irons single (#73) is also one of the set's most elusive cards in pristine condition. One of the PSA 9s fetched $69.99 on eBay in January 2014.
But both Roberson and Aponte cite the Harold McLinton (#436) as the set's most elusive card in flawless form.
"That's my lowest graded card in the set," said Aponte. "I only have that in a [PSA] 7. It has been very difficult for me to find that card either raw or graded in decent condition. Centering has been the big issue with that card. The centering can be off both side-to-side and top-to-bottom."
There are two PSA 9s and these represent the highest graded examples. Neither has surfaced for sale in recent years.
Relatively speaking, however, this set is not difficult to assemble in top condition. PSA Population Report statistics indicate that it's one of the easiest 1970s Topps Football sets in which to find PSA 9s and 10s.
"What's really interesting is that there are more PSA 9s than [PSA] 8s, so it's not a condition sensitive set," said Roberson.
One of the benefits of this is that it's not terribly expensive to assemble in high-grade.
"This is a set that you could probably put together in [PSA] 9s at a very, very reasonable price," said Aponte. "It doesn't have the glitz and the glamour that some of the other sets have, especially those from the 1970s, but I would strongly encourage people to get involved because it's an affordable set in high grade. And at the end of the day, I don't think they would be disappointed if they collected it."
---
Please feel free to contact Kevin Glew at [email protected] if you have any additional information or comments. Thanks to Kevin Roberson and Carlos Aponte for providing cards for this article. Please note that the Population Report figures quoted and Set Registry rankings reported are those as of August 2014.