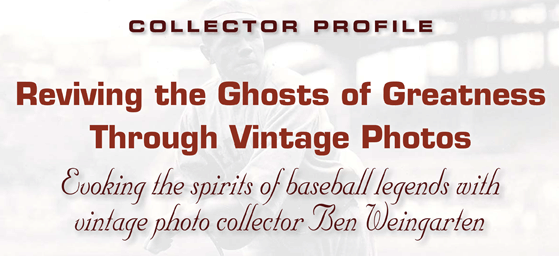 The word photography derives from the Greek words "phos," which means "illumination," and "graphé," which means "to represent or communicate something by the drawing of lines."
While in today's world we causally capture digital photographic images and send them around the globe in seconds via e-mail and social media, the actual process of creating a photographic image is less than 200 years old and it would have been done, for the most part, only by a trained professional up until about the 1920s.
Among the subjects that were most prevalent with those early photographers were formal family portraits, newsworthy events, posed photos of wealthy socialites, politicians, business leaders and entertainers and sporting events and athletes.
By the late 1800s, many advances had been made in capturing and processing images. And in 1884, George Eastman developed dry gel on paper or film, so that, for the first time, photos could be taken without plates and toxic chemicals. Four years after Eastman's introduction of plateless photography, his company, Eastman Kodak, made a camera available with the slogan: "You press the button, we do the rest."
While the opportunity to take photos was becoming available to non-trained professionals in 1884, it would be another 13 years before photography would enter the mass-market with the introduction of the Kodak Brownie camera.
Today, photographs that date back to the first half of the 20th century can be coveted collectibles, and amongst some of the most desirable are those related to professional sports.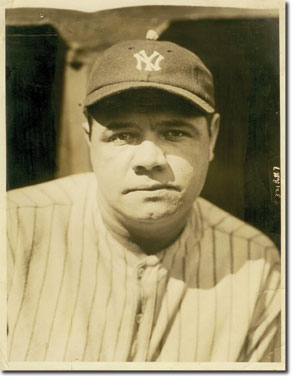 While vintage sports photos have always captured the attention of both photography and sports fans, it has only been within the past two decades that they have come into their own as a collectible genre with ever-growing interest and desirability by collectors who have become highly-knowledgeable in their area of focus.
While the understanding of what makes for a highly-coveted vintage sports photo can be complex, the fascination with them is, perhaps, as simple as can be. Among those who inhabit our planet today, it is an ever-diminishing population of those who can say that, with their own eyes, they actually saw Lou Gehrig, Babe Ruth, Joe DiMaggio or even Mickey Mantle suited up in a uniform and standing on the field of the nation's, also diminishing, legendary Major League Baseball stadiums. For anyone under the age of 80, it is only by means of a photograph that they will know what the faces of Gehrig, Ruth and other icons of American athletics looked like.
As was the case in the world of trading cards prior to third-party authentication and grading, the vintage photo hobby likewise experienced a wave of confusion as interest in the genre first began to rise. It was hard for the average collector to understand why one photo was selling for $50 and another, of the same player from the same era, had a price tag of $5,000.
Realizing that this confusion had to be addressed, collectors Marshall Fogel and Henry Yee stepped up to the plate and created a classification system for vintage photographs that allows collectors to categorize and standardize photos as either Type I, II, III or IV.
This photograph type classification system, presented in their book, A Portrait of Baseball Photography (2005), explains the differences between an original photograph and a reprint, and if a reprint was produced from the original negative or was a reprint of a reprint.
The numerical "type" classification system for vintage photos looks at three basic factors: originality, development process and publication date, with stamp and paper analysis also playing a role in determining a photograph's authenticity.
At the Forefront of the New Frontier
While the vintage sports photo genre has grown over the years, it is, in relation to other collectible genres, still in its infancy. It has really only been in the past 10 years that values have slowly begun to be established via the work of Fogel and Yee, the growing knowledge, desirability and competitive bidding of collectors, and PSA/DNA's establishment of a photograph identification and authentication service.
When it comes to those who have been at the forefront of this new frontier of vintage sports photo collecting, Ben Weingarten has been one of the pioneers. Sports Market Report recently caught up with Weingarten who, in less than a decade, has established one of the most significant collections of the budding genre.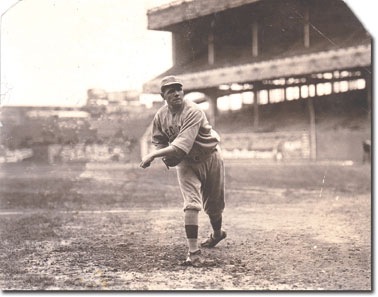 A native of Grand Forks, North Dakota, Weingarten attributes his passion for sports and collecting to his father who was born in 1949 and grew up in the era when baseball cards were all young boys cared about.
Ben Weingarten (BW): When my dad was a kid, baseball cards were huge. He was always a collector, and ever since I was very young, we collected together. When I was a kid, I was a catcher. Because of that, my dad bought me a Johnny Bench rookie card, which I still have. It was that card that got me hooked, and even at a very early age I began going to card shows myself - when I was 12 and 13.
I remember buying my first collection of cards - 1986 Fleer basketball cards. As a part of the deal I got a Michael Jordan rookie card and then turned around and sold off all the other cards, so I came away owning the Jordan rookie card free and clear.
Sports Market Report (SMR): So you were bitten by the collecting bug early in life?
BW: My dad and I always collected cards and then we got into autographs. I financed my hobby as a kid by doing a paper route. And then, when I got to high school, I actually worked in a card shop.
SMR: Most collectors go through that collecting lull that comes with college, girlfriends and the start of a career. Did that happen to you?
BW: The only time my collecting became stagnant was when I was in college. As soon as I finished college and got my first job, I started getting back into collecting again. I graduated in 2000, and eBay, PSA and the Internet had all emerged since I had last collected. It was the perfect storm for me as a collector, and I really started getting interested in old cards and autographs of players who were before my time.
Because of the Internet and eBay, I was seeing material that I had never seen in local North Dakota shows. I was like the proverbial kid in the candy store - just amazed at the tobacco cards that, until then, I had never seen. I was fascinated by the vintage material and my focus changed from buying a Mickey Mantle autograph to buying a Ty Cobb autograph.
Instead of buying a 1966 Topps card, I was buying a Babe Ruth #144 Goudey card in PSA [VG-EX] 4. I was on a limited budget, but I started buying the very best I could afford. At the time, that Ruth Goudey card was pretty big for me.
SMR: What was it about the vintage material that so enamored you?
BW: I love the history of the game. That has always been what has compelled me to collect. I love the way the history of baseball parallels the history of the nation in so many ways - from the Great Depression through the wars - Jackie Robinson breaking the color barrier - Rick Monday and the flag burning incident at Dodger stadium. I have always loved the rich history of the game.
SMR: Growing up as a North Dakotan, was it hard to follow a professional team?
BW: As a kid I followed the Minnesota Twins and my favorite player was Kirby Puckett. Their 1987 team was such a great team - every player was a character of some sort. The richness of those characters inspired my dad to tell me stories about the great Yankee players he grew up with. Roger Maris was from Fargo, so he was always telling me stories about Maris and Mantle.
SMR: When was it that you first got interested in collecting photos?
BW: When I was a kid, we used to go on trips to Montana, and one year I had gotten the chickenpox and my dad felt bad for me. So we found a little collectibles shop and they had some numbered prints that had been autographed by Mickey Mantle. My dad bought me one of those prints. I just loved it and still have it. I've always loved photography. I like art and I think vintage photos cross over from just being a photo to being art.
But, I really only got into vintage photos when I went to a show in 2006. It was the first time I had gone to a show in about 15 years. That was when I first met with reps from PSA and became a member. It was also at that show, while I was at the PSA booth, that I got the Marshall Fogel and Henry Yee book.
Then, as I was walking around, I saw a Babe Ruth photo that had been taken by George Bain, who was one of the forefathers of photography. They were asking $4,000 for it. It was so beautiful and I just loved it, but $4,000 seemed like a lot of money for a photograph. I couldn't figure out why it was so expensive because it wasn't signed. But, I really loved the photo and I got the dealer's card. It was that day, at that show, that I first became knowledgeable about the vintage photo segment of the hobby.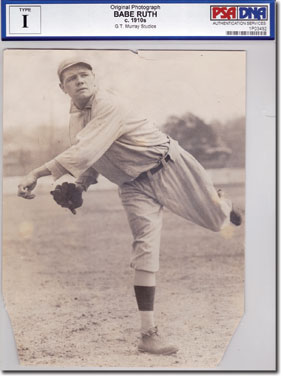 SMR: So did you buy the photo?
BW: [Laughing] Here is what happened: I left the show and on the way home on the plane I read the book cover to cover, and lo and behold, that very Bain photo of Babe Ruth I had seen at the show was in the book. I was shocked, and after I finished reading that book, I knew I wanted to get into that genre badly.
To me, these vintage photos were rare and beautiful works of art that captured moments in history. Also, as I learned more about them from reading the book, I came to realize that, relatively speaking, they were inexpensive. So as soon as I got off the plane, I called the guy and told him I wanted to buy the Babe Ruth photo. We negotiated a deal, I bought it and it became my first vintage photo. From then on, I was hooked and have since built a world-class collection.
It is a collection that represents a significant investment of money, but the way I look at it is that you could take everything I've spent on my entire photo collection and you wouldn't come close to buying a PSA [MINT] 9 or PSA [GEM-MT] 10 Mantle rookie card. So instead of having one world-class card, I have a huge collection of world-class photos that would take a tremendous commitment of time and financial resources for someone to duplicate.
In fact, it is a collection that could never be duplicated because so many of my photos are one-of-a-kinds. I feel I have one of the best Babe Ruth Red Sox photo collections in the world. But while it represents a significant investment, it is pennies compared to what some collectors have paid for just one card.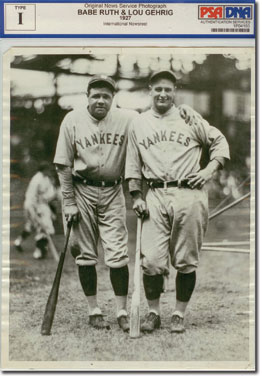 SMR: How have you acquired most of your photos?
BW: Mostly through Internet auctions. Where I live, in North Dakota, [laughs] finding things like that are rather limited.
SMR: Talk about the specifics of the photos you collect.
BW: All of my photos are Type I photos. I only collect the best. I'm kind of a snob in that way.
When it comes to collecting the best-of-the-best in vintage photos, PSA/DNA and my own research and knowledge are the only ways a collection like mine could be built.
My collection consists mostly of early Babe Ruth photos. I love two of those in particular. I have the earliest known Babe Ruth photo in a Red Sox uniform. It was taken at spring training in 1915. I also have another Ruth photo that was taken in 1915 that I call the "Mona Lisa" of Babe Ruth photos. Those are my top favorites.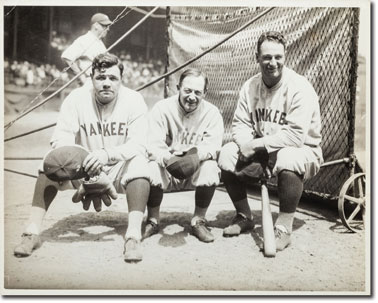 SMR: Any other personal favorites in the collection?
BW: I have a Mickey Mantle photo of him as a little kid that I just love. It's an original snap shot photo that came from the Mantle family estate. It's a shot of Mickey on his horse. It's a magnificent one-of-a-kind photo that I've been offered a lot of money for, but I will never consider parting with. I think it's the best Mickey Mantle photo in existence.
I love early photos from player's personal lives. I love rookie and pre-rookie photos, and I have a mini-collection of personal family photos of players when they were kids - Ted Williams, Duke Snyder, Bob Feller. Those are harder than heck to find because they rarely leave the possession of the families.
Those are the things I really love, but I have a little bit of everything - family photos, press photos, photos from team archives and photos from the collections of private photographers, including famed photographers such as Charles Conlon, Paul Thompson, Louis Van Oeyen, George Bain and George Burke. I also have some Jackie Robinson photos that were used for some of his baseball cards that I really like.
SMR: Are you one of those collectors that if someone walks into your home, they know right away?
BW: Yes. If you walked into my home, you would know I am a collector of baseball photos. Many of the photos in my collection are very rare, so I do have many in archival folders in safe deposit boxes. But I also do have some hanging on my walls. They are all framed with acid-free-matting and protected glass, and I do keep them out of the sun.
I like to do my photos in double-sided frames so you can also see the back. They are eye candy on the front, but for people like me, who love the history, there is just as much eye candy on the back. I love having these photographs in my home, and I do everything possible to learn about the historical trail of a photo - from the time it came to be, maybe 100 years ago, to where it went over the years before it came into my hands.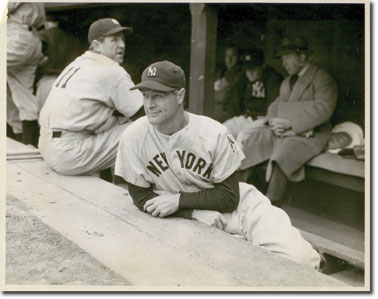 SMR: Ben, what advice would you have for someone who wanted to start collecting vintage photos?
BW: The thing that is beautiful about collecting original photos is that it is open to collectors with any budget. That may very well change and, to some extent, it has already changed because these photos have taken off as desired collectibles. But it is still somewhat the Wild Wild West - as was the case with cards in the early 1980s, before PSA and before people became really knowledgeable about authentication, condition and values.
As for a beginning collector, if you have an eye for things and do your homework and learn as much as you can, you don't need a lot of money to get started. There are some great images out there at very affordable prices. I would suggest a new collector focus on guys from the Dead Ball era or Hall of Famers or a specific player or team. And then, once you are focused, get the very best you can afford. I was all over the place when I first started and soon came to realize that, unless money is not a factor, you can't get the best if you are all over the place.
For me, my collection has evolved from being highly unfocused - just anything and everything I could find - to rookies and Babe Ruth photos. You have to educate yourself, ask the right questions and meet the right people, like Henry Yee and Marshall Fogel with PSA. They have been champions of this segment of the hobby since way before it was popular.
SMR: Is there anything new collectors should be aware of?
BW: There are many things that new collectors need to be aware of, and that is why PSA and the authentication service they provide are so important.
There are countless photos on the Internet, at shows and even major auctions that are misrepresented or misclassified as an original Type I specimen, when in fact they are Type II examples that were printed later or Type III examples that were not made off the original negative.
For someone who doesn't really know what to look for, a photo of Ty Cobb or Joe Jackson that was printed in the 1950s is going to look pretty old. But it is not an original from the 1910s. The difference in price between a Type I 1910s specimen and a 1950s Type II can be substantial and can cost someone thousands of dollars if they don't know what they are buying.
Then there are fake service credit stamps and date stamps that have been added by unscrupulous individuals. In addition, you also have photos that are just downright counterfeits that are made on the latest high-tech printers and then artificially aged induced to appear old. Some are really, really well done.
That is why a photo authentication service like PSA is so beneficial to the hobby: it allows for any collector to purchase a photo with confidence. A collector can be assured that when a photo has been authenticated by PSA as a Type I, it is the genuine article.
Knowledge is power, and that comes from education and experience. Over the years, my passion and dedication to collecting vintage photography has fueled my thirst to learn more about the evolution of 20th century photographic prints and their characteristics. And yet, I have made mistakes. For piece of mind, I still rely on PSA to be absolutely certain especially if I am spending four or even five figures on a piece. Marshall and Henry's book is an invaluable resource for anyone who wants to collect vintage original photography.
SMR: You really are passionate about these photos.
BW: I am. They are like ghosts. They evoke emotions and memories of the past. I think these photos are art. When I look at them, it takes me back to another time. I feel like I am there with them. When I look at that Babe Ruth photo, the first one I got, I feel his spirit - like I am in his presence.
---
Ben Weingarten would love to communicate with other vintage photo collectors and those who would like to begin collecting through his website: www.weingartensvintage.com.