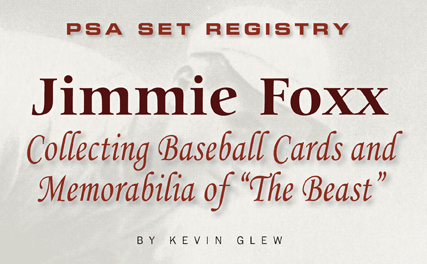 He was the right-handed Babe Ruth.
That's what some baseball pundits called Jimmie Foxx.
The powerful first baseman that Lefty Gomez once said had "muscles in his hair" socked 534 home runs, posted a .609 slugging percentage (fourth-best all-time) and won three MVP awards during his 20-year big league career.
But despite his eye-popping numbers and comparisons to the Bambino, Foxx, whose bulging biceps helped earn him the nickname "The Beast," is a relatively unheralded figure in baseball history.
"In my opinion, Jimmie Foxx is certainly one of the greatest all-around hitters the game has ever seen, but he is also a bit underrated," said PSA President Joe Orlando. "He played for the great Philadelphia A's clubs of the late 1920s and early 1930s, but his batting exploits were overshadowed by the likes of Babe Ruth and Lou Gehrig during that time."
"Even when he became a member of the Boston Red Sox in the mid-1930s," said Orlando, "Foxx was soon joined by a young Ted Williams, who stole some of his thunder. If you look at Foxx's numbers from 1929 to 1940, they are remarkable and rival anyone's offensive numbers in baseball history."
John Bennett, who researched and wrote the Hall of Famer's bio for the SABR website, agrees.
"Foxx was definitely overlooked because of [Babe] Ruth and [Lou] Gehrig," he said. "First of all, there's only one Babe Ruth and there's only one Lou Gehrig, and both of those guys played in New York for teams that won the World Series almost every year. Foxx played on two championship teams during the Depression, which didn't really help his star's luster. Then he played on a Red Sox team, and even though he was great for the Red Sox, they weren't a first division team, and by the end of his Red Sox career, Ted Williams was a bigger star than he was."
Born in Sudlersville, Maryland, in 1907, Foxx was raised on a farm.
"He was just a natural athlete," explained Bennett. "And he wasn't that big. If you read about him, they make him sound like a giant. Foxx wasn't a huge guy but he was incredibly strong. The legend was that he got such big muscles in his arms from baling hay."
A standout, multi-sport athlete in high school, Foxx was coaxed into joining Frank "Home Run" Baker's Eastern Shore League squad in Easton, Maryland, as a 16-year-old. Foxx was a catcher on that team and word of his talents reached Connie Mack, who inked the impressive teen to a deal with his Philadelphia A's.
"Double X" - as he later become known - made his big league debut with the A's on May 1, 1925, as a 17-year-old. With Mickey Cochrane already entrenched as the club's catcher, the A's used Foxx in the outfield, first base and third base over the next three seasons, before the young slugger flourished as the franchise's full-time first baseman in 1929. His 33 homers that season helped the A's to a World Series title. He added 37 more the following year as the A's repeated as champions.

"Jimmie Foxx just had that brute strength," said Jerry Lem, who owns the registry's No. 3 Current Finest Foxx Master Set. "He was considered one of the strongest players of his time. I read that one time he hit a home run [into the last section of the third deck] at Yankee Stadium that broke a seat. When you think about Miguel Cabrera right now and the numbers he's putting up, Jimmie Foxx was putting up numbers like that every year."
After the A's were defeated in the 1931 Fall Classic, Foxx belted 58 homers in 1932 and would've broken Babe Ruth's single-season home run record if not for screens added to ballpark fences in Cleveland, Detroit and St. Louis.
"In that 1932 season, he hit 58 home runs and he had several home runs taken away from him by fences that weren't there when Ruth hit 60 [which was five years earlier]," pointed out Bennett.
For an encore, Foxx slammed 48 more four-baggers in 1933 and won the American League Triple Crown. After two more All-Star campaigns with the A's, Foxx was dealt to the Boston Red Sox as part of a transaction that saw the A's receive $150,000.
Though the Boston Red Sox never won a pennant in Foxx's seven seasons in Beantown, the muscular slugger continued to be an elite power threat. In 1938, he belted 50 homers and drove in 175 runs.
"If you look at the 1930s, he hit more than 400 homers in that decade. That was just nuts," said Bennett. "For a whole decade, with two different teams, he was just tremendous. If Gehrig hadn't been there, Foxx might be considered the best first baseman of all-time."
In 1940, at age 32, Foxx became the youngest player ever to hit 500 homers, and many thought he would challenge Ruth's all-time record. Unfortunately, his production tailed off after that season.
Some of his decline can be attributed to getting hit in the forehead with a pitch in an exhibition game in Winnipeg that was part of an off-season barnstorming tour in 1934. While Foxx eventually resumed playing, the beaning led to a chronic sinus condition that plagued him for the rest of his life.
"Supposedly this [the beaning] is why he became such a heavy drinker, because he had such sinus pain and he would self-medicate with alcohol," explained Bennett. "There are accounts where teammates said he would have nosebleeds in the middle of the night, so he started drinking a lot of hard liquors."
Foxx was claimed off waivers by the Chicago Cubs on June 1, 1942. He spent parts of two campaigns in the Windy City, before finishing his career with the Phillies in 1945. He was elected to the National Baseball Hall of Fame in 1951.
Life after baseball wasn't easy for Foxx. He continued to abuse alcohol as he attempted to find a second career. He tried his hand at several different jobs - ranging from broadcaster to managing in the All-American Girls Professional Baseball League to working in a sporting goods store. But as he tried to settle down, his health worsened.
"He crushed some vertebrae in a fall in his attic, so he had to walk with a cane a lot later in life," said Bennett, adding that Foxx also suffered two minor heart attacks.
Sadly, Foxx choked to death on a piece of meat while dining with his younger brother, Sam, in Miami on July 21, 1967.
Today, more than 46 years after his death, Foxx's accomplishments have largely been overlooked. Even his hobby popularity pales in comparison to his contemporaries like Ruth, Gehrig, Williams and Joe DiMaggio. On the PSA Set Registry, just six Basic Foxx sets and five Master sets have been registered. But while his cards and autographs don't fetch Ruthian numbers, top examples still generate big prices.
Here's a rundown of some of Foxx's key cards:
1932 U.S. Caramel (#23)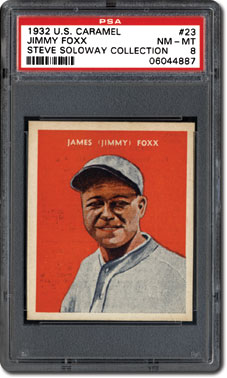 The 1932 U.S. Caramel offering is comprised of 32 cards that measure 2-1/2" by 3" each. Often heralded as his first mainstream card, the Foxx single (#23) flaunts a picture of him against a red background and is often hampered by toning and wear. Of the 68 submitted, there have been 10 PSA NM-MT 8s (with nothing grading higher). One PSA 8 fetched $4,792.13 in a Memory Lane auction in May 2013.
1933 Goudey (#29 and #154)
Both of Double X's cards (#29, #154) in this legendary Goudey issue employ the same picture of Foxx, but there are color variations in the details and background.
"The #29 Foxx is considered the tougher of the two," said Orlando. "But both suffer from the typical condition obstacles associated with the set, such as toning and bleeding on the reverse. The bleeding resulted from the uncut sheets of cards occasionally being laid on top of each other before the ink was dry, leaving ink residue on the backs of some of the cards."
Of the 507 examples of #29 evaluated, there have been 14 PSA 8s, one of which sold for $16,590 in Robert Edward Auctions sale in May 2013.
1934 Goudey (#1)
"This is, without question, the most important card to ever feature Jimmie Foxx," said Orlando, of Foxx's 1934 Goudey pasteboard.
As the first card in the set, this single was often subjected to additional wear and tear from being on top of collector piles. The picture on this card is the same as the one on his 1933 Goudey issues. There's one PSA MINT 9 and 17 PSA 8s of this card, and one of the PSA 8s garnered $6,301.52 in a Mile High Card Company auction in March 2009.
1933 R306 Butter Cream
The 30 odd-shaped (1-1/4" by 3-1/2") cards in this issue exhibit grainy, black-and-white photos and are not numbered. The card backs outline a contest in which collectors were encouraged to guess a player's statistics by either September 1 or October 1. Difficult to store due to their size, these cards are frequently found with creasing and corner wear. Only seven Foxx cards have been submitted to PSA. A PSA EX 5 generated $2,868 in March 2011.
Autographs
The PSA/DNA principal authenticator says Foxx was an accommodating signer for fans.
"Foxx exerted a tremendous amount of pressure to his signature and he signed with authority," noted the authenticator. "You could always read every letter of his signature and that was more or less a staple throughout his life. His double 'xx' was always pronounced and stood out alone. There is no question that Foxx made it a point to sign his name well for anyone that asked. It's very rare to see a sloppy example of his signature."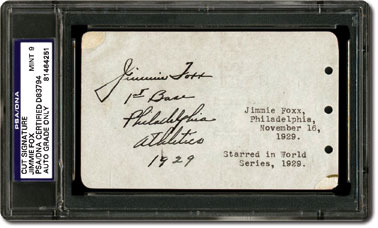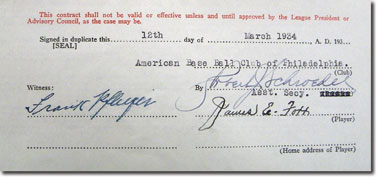 Over the years, Foxx also signed his first name in different ways.
"His signature varied quite a bit from his earlier days through the end of his life," noted the PSA/DNA authenticator . "I have examples from 1926 where it's a very basic 'Jimmie Foxx,' [and then] from 1927 I have an exemplar in which he signed 'Jim Foxx.' In the 1930s, he would mostly sign Jimmie or Jim and he was known to use quotation marks [around his first name] from time to time, but it was pretty rare during that period. On contracts he tended to sign 'James' and I have some examples from 1934 where he just signed 'J. Foxx.'"
"About 1935," the authenticator goes on to say, "he started signing 'Jimmy Foxx' and that's the first instance I have of him signing like that. It's rare no doubt, especially from the 1930s. For the rest of his life, his standard signature tended to be 'Jimmie Foxx' and most of the examples I have of his autograph are signed in that fashion. In some rare cases he would switch to 'Jimmy' or 'Jas,' but [he] kept it mostly to 'Jimmie.'"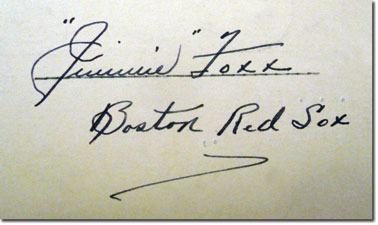 PSA/DNA warns, however, that some of Foxx's fan mail was signed by his brother, Sam, and possibly a clubhouse attendant.
"Did his brother sign for him from time to time? Yes. I've seen [examples of Sam's signature] from the 1930s, 1940s and even as late as 1951," noted the PSA/DNA lead authenticator. "Most of the signatures were executed by his brother. Does the number of Foxx secretarial signatures outweigh or outnumber his real signature from that period? No."
Foxx's step-daughter told Bennett that the baseball legend used a stamp for some of his autographs later in his life.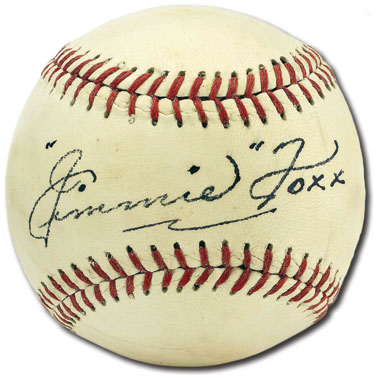 "From time to time he would use a stamp when his hand was tired or when his health wasn't the best," said the PSA/DNA expert. "He did do a pretty good job of signing fan mail though, especially in the mid-to-late 1950s and before his death, as evidenced by the numbers of 3x5s and trading cards I've seen over the years."
One of the most sought-after autographed Foxx items is a signed yellow Hall of Fame plaque postcard. The Hall produced sepia and black-and-white plaque postcards prior to introducing the yellow version in 1964 or 1965.
"The reason Foxx is tough [to find] on a yellow postcard is that there's only a two-year window for those to be signed before he died," explained Bennett.
Another reason the signed yellow postcards are so valuable, adds Bennett, is that Foxx never made the trip to Cooperstown after they were unveiled, so collectors weren't able to get them signed in person at Hall of Fame festivities. The yellow plaque postcards are particularly difficult to find signed on the front.
"There are a lot of these yellow postcards with his autograph stamped on the back," said Bennett. "There are very few in the hobby today that are signed on the front."
The SMR price for a single-signed yellow Foxx postcard is $4,000, but if one surfaced signed on the front, it's bound to command more.
Single-signed balls are also highly coveted but are almost impossible to find in top condition.
"A nice Foxx ball signed on the sweet spot and graded an 8 or better by PSA/DNA could fetch upwards of $40,000 or more," said the PSA/DNA principal authenticator.
It's also extremely difficult to find signed Foxx checks; however, contrary to what many people think, these checks aren't rare because of the baseball legend's financial difficulties.
"A lot of those checks were at his step-daughter's house [in Florida] and when they had that hurricane in the early 1990s, any checks that they had leftover got destroyed," said Bennett.
---
Please feel free to contact Kevin Glew at [email protected] if you have any additional information or comments. Please note that the Population Report figures quoted and Set Registry rankings reported are those as of July 2014.