Live auction will tempt hobby's most serious collectors at Cleveland National Sports Collectors Convention, on July 31, 2014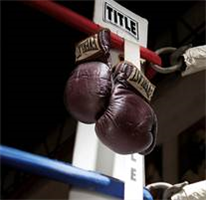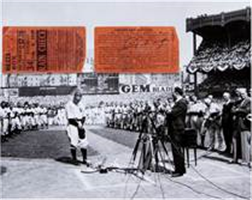 CLEVELAND – The gloves that Muhammad Ali wore in 1971 in his first of three Heavyweight Title fights with Smokin' Joe Frazier – a bout properly hyped as "The Fight of the Century" – will join Babe Ruth's 701st career Home Run baseball and the only known Lou Gehrig-signed ticket from Yankee Stadium on July 4, 1939, the day of Gehrig's historic "Luckiest Man" speech and retirement from the game, atop Heritage Auctions' July 31, 2014 Platinum Night Sports Auction at the National Sports Collectors Convention in Cleveland.
The hammer will fall at Cleveland's House of Blues in what, for Heritage Sports Auctions, is traditionally the most heavily attended live auction of the year.
"Our 'Platinum Nights' have become the hobby's showcase for elite sports collectibles," said Chris Ivy, Director of Sports Auctions at Heritage. "Again here, in Cleveland this time, the very best pieces are being offered and we expect high-end collectors will respond enthusiastically."
Fresh on the heels of an historic $836,500 result for the gloves Ali wore to claim the Heavyweight title from a terrifying Sonny Liston in 1964, the gloves that Ali wore in the first edition of his famous trilogy of bouts with Smokin' Joe Frazier, with provenance derived from the personal collection of Ali's legendary trainer Angelo Dundee, figure to feature prominently atop the auction list amidst intense international interest.
Baseball legend Babe Ruth's 702nd career home run baseball, struck at Chicago's Comiskey Park on July 23, 1934 – the same day notorious fugitive John Dillinger was gunned down just a few miles away – will also hit the auction block on Platinum Night. It is the highest numbered home run baseball from the Babe in private hands and is accompanied by decades of newspaper articles attesting to its remarkable provenance.
A considerably more somber occasion in Yankees history is commemorated, as well, with the offering of the only known ticket stub from Gehrig's famous "Luckiest Man" farewell at Yankee Stadium that is autographed by the dying legend. A game worn Yankees cap from the mid-1930s and a bat used by Gehrig during his final full season of 1938 will likewise cross the auction block in Cleveland. Perhaps most noteworthy is the 1924 rookie contract that finalized Gehrig's permanent Yankees status after two years with the team's Hartford farm club.
Game worn uniforms from Hall of Fame legends from all four major American sports will change hands at the auction, with highlights including a Larry Bird rookie full uniform from his 1979 Boston Celtics debut, a minor league jersey worn by Willie Mays just before his 1951 call-up to the New York Giants, an incredible quarterback jersey assembly from Joe Namath, Joe Montana and Dan Marino, and a Mark Messier jersey from the glorious 1993-94 New York Rangers Stanley Cup Championship season.
Other highlights of this auction include:
1923-24 Ty Cobb Game Used Bat, PSA/DNA GU 9.5.
Circa 1954 Joe DiMaggio Handwritten Signed Love Note to Marilyn Monroe
1972 Buck Leonard Baseball Hall of Fame Induction Ring
1963-64 Pete Rose Game Worn Cincinnati Reds Rookie-Era Jersey
1997-98 Michael Jordan Record-Setting $33 Million Chicago Bulls Player's Contract
1952 Topps Mickey Mantle #311 PSA NM-MT 8
1909-11 T206 Sovereign Ty Cobb Bat on Shoulder PSA NM-MT 8
1910 E98 "Set of 30" Ty Cobb (Black Swamp Find) PSA Mint 9
Heritage Auctions is the largest auction house founded in the United States and the world's third largest, with annual sales of more than $900 million, and 850,000+ online bidder members. For more information about Heritage Auctions, and to join and receive access to a complete record of prices realized, with full-color, enlargeable photos of each lot, please visit HA.com.
Want to get the up-to-the-minute updates and breaking news stories about Heritage Auctions? Get them as they happen at: HA.com/Twitter; Facebook: HA.com/Facebook. To view a complete archive of Heritage press releases go to: HA.com/PR. To link to this press release on your blog or Website: HA.com/PR-2564.
Hi-Res images available:
Noah Fleisher, Public Relations Director
214-409-1143; [email protected]