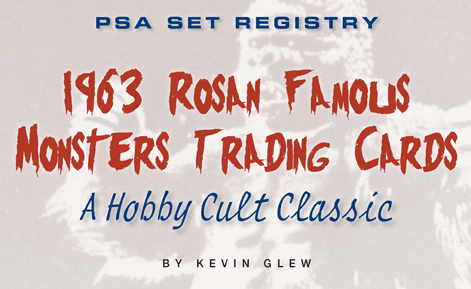 It's so bad that it's good.
That's how Kurt Kuersteiner, owner of www.monsterwax.com and www.monstercards.org, describes the 1963 Rosan Famous Monsters set.
Showcasing grainy, black-and-white photos inside distinctive orange or reddish-orange borders, these cards won't win any design contests.
"The set is so crude that it kind of hearkens back to the days when primitive and amateur was good enough to keep us interested," said Kuersteiner. "It definitely captures the frontier days of monster cards."
Marty Quinn, who in June of 2013 retired his No. 3 All-Time Finest set, agrees.
"Rosan was a company based out of Brooklyn, New York, and they were horrible," he said. "I don't think they put much thought or any kind of money into producing their card sets. I think their main thing was just trying to catch a little bit of the horror lightning that was going on at the time."
Many of the card photos feature monsters from horror films produced by American International Pictures (AIP) during that era. Kuersteiner says the monster movie craze dates back to the 1940s, but widespread production of monster cards didn't begin until the following decade. Though it featured drawings with humorous captions, the 1959 Topps You'll Die Laughing set was the first mainstream monster issue.
"Then Horror Monsters from Nu-Cards came out in 1961," pointed out Kuersteiner. "Nu-Cards used real monsters with a serious photograph on the front, but even they maintained the joke bit on the back. Once they came out with series one and series two - and they did very well - the gloves were off. Then everybody and their brother, including Rosan, were trying to exploit this monster craze."
In the Rosan Famous Monsters offering, each of the 64 cards measure 2-1/2" by 3-1/2". On top of the aforementioned grainy monster photo and distinctive colored borders, the fronts also feature a caption under the photo and a card number. These pasteboards can be found with orange and reddish-orange borders. In Quinn's experience, the reddish-orange bordered cards are tougher to track down.
"These [1963 Rosan Famous Monsters sets] came out as mail-order sets that could be purchased from ads that were in the Famous Monsters of Filmland magazine published by [James] Warren," explained Michael Phifer, who owns the No. 2 Current Finest registry set. "Rosan found out they could make some money doing this, so they would periodically just change the border and reissue the cards."
Under the supervision of Warren and editor Forrest J. Ackerman, Famous Monsters of Filmland became a very popular magazine that featured photos from horror movies. Kuersteiner says that either Rosan approached Famous Monsters of Filmland or the magazine approached Rosan to create this set, which was then sold exclusively through the Captain Company, the merchandising arm of the magazine and other Warren publications.
The card backs present the name of the series, copyright information and an advertisement for another Captain Company product. Kuersteiner notes that there are a wide variety of products advertised on the backs, resulting in 16 different back variations. The backs advertise everything from other publications to monster masks to a human skull. It's important to note, however, that not every card was produced with all 16 back variations.
"I've received confirmation that 256 back variations exist in the set, which would come out to four different backs multiplied by 64 fronts," said Kuersteiner. "But that's not how they were printed. Instead, there are 60 different fronts with four back variations, two fronts with three back variants and two fronts with five back variants."
Kuersteiner confirmed with Todd Riley, owner of www.non-sport.com, that the two cards with three different back variants are #14 "Terror from Year 5,000" and #31 "The Voo Doo Man," while the two cards with five different backs are #3 "I Was a Teenage Frankenstein" and #49 "The Snake Pit."
Because the cards were sold in sets, there are no short-printed singles. But likely due to being positioned on the top and bottom of piles during the mailing process and while stored in collections, the #1 card ("Konga") and #64 card ("Horrors from the Black Museum") tend to command a premium. There has yet to be a #64 card that has graded higher than PSA NM 7.
Some photos on these cards are from cult classics like "I Was a Teenage Frankenstein," "I Was a Teenage Werewolf" and "Invasion of the Saucer Men," while other singles feature unknown creatures like "The Melting Head" on card #22.
Many of the scenes personify the charm of the laughable but lovable B-movies that these cards were inspired by.
"Card #19 is Goliath and the Dragon. I mean, excuse me, that's not a dragon - that's a bear. I can tell that's a bear, not a dragon. What are they trying to pull here?" said Kuersteiner with a chuckle.
But while some of the monsters seem laughable today, tracking down these cards in pristine condition can be frustrating. Quinn had to pluck the best cards from eight different raw sets to assemble his top registry set, and even then, his GPA sat at a modest 7.03 at the time of retirement.
"Probably four of every five cards are off-center," said Quinn. "High-grade cards are very difficult to come by because of the orange borders that chip, the centering and because the cards were cut in all different sizes."
Phifer has also had trouble finding these cards in top condition.
"If you touch the card, a little bit of the paint right at the edge of the border could flake off or chip," he said. "And if it does, the card is not a [PSA GEM-MT] 10 or a [PSA MINT] 9. You might get lucky and get a [PSA NM-MT] 8 or you might get even less. These cards are very difficult to get in really high-grade."
In 1963, Rosan also released a 130-card Terror Monsters set. The first series cards (#1 to #64) feature green borders, while the second series singles (#67 to #132) showcase purple borders. Cards #65 and #66 don't exist, but there are two rare, unnumbered "bonus" cards which may have been created to replace them. These two unnumbered cards fetch significant premiums.
"The Famous Monsters set is definitely not as rare as the Terror Monsters set," said Kuersteiner.
It's also believed that Rosan - though there's no copyright information on these cards - released another set with blue and white tinted photos in 1965 that's even rarer than the Terror Monsters offering.
"I'm pretty sure the blue set was a Rosan set," said Quinn. "If you can believe it, it's 10 times worse than the orange set. The text on it looks like it was done with a typewriter. That's how bad it is."
While difficult to find in top condition, the orange and reddish-orange Famous Monsters cards remain relatively affordable. Phifer says PSA 8s and some PSA 9s can be purchased for $50 to $100.
"These [Rosan] card sets don't command the kinds of premiums price-wise that [1951 Bowman] Jets, Rockets and Spacemen, [1964 Topps] Outer Limits, [1962 Topps] Mars Attacks or [1962 Topps] Civil War News do primarily because Rosan wasn't really a well-established trading card company," said Phifer. "First, they just never really got the respect. Second, because the artwork featured these grainy, black-and-white pictures and stills from the films, I don't think a lot of collectors found them all that attractive."
Quinn expresses similar thoughts.
"The Nu-Cards sets were a little bit more established," he said. "There was more thought put into those. They were better, but this [1963 Rosan Famous Monsters] set became like a cult classic."
Nevertheless, Phifer believes the Famous Monsters cards will increase in value in the future.
"The prices you now see on sets like Mars Attacks, Outer Limits and Civil War News are out of reach for most collectors," Phifer points out. So given this fact, he believes collectors are bound to revisit this era of non-sports cards in order to find the next level of sets available in high-quality grades and reasonable prices. "That's the category that these Famous Monsters cards fall into, so I think now is the time to get your sets and build them."
Quinn agrees.
"The thing about sets like this is that they're not plentiful in high grade," he said. "So people forget about them and figure why go after them if I can't collect them in a high grade. But I think this is another sleeper set ... Probably the best term you could use for this set is cult classic."
---
Please feel free to contact Kevin Glew at [email protected] if you have any additional information or comments. Thanks to Marty Quinn for providing the cards to go with this article. Please note that the Population Report figures quoted and Set Registry rankings reported are those as of May 2014.