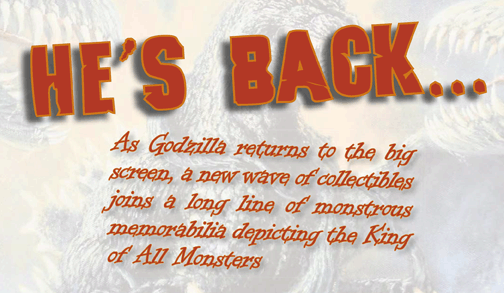 According to a recent study done by the Media Psychology Lab at California State University, Los Angeles titled "Favorite Movie Monsters and Their Psychological Appeal," more Americans recognize and can name the Frankenstein Monster, the Wolf Man, Dracula, the Creature from the Black Lagoon, King Kong and the Mummy than the vice president of the United States.
While that may, in some way, be a sad commentary, it's not surprising. These monsters, unlike Mr. Biden or any elected official, have become beloved cultural icons through novel characterizations, product merchandising and repeated film and television presentations.
Among the list of those most-recognizable beasts is one who is back on the big screen this summer - Godzilla.
In the study, which ranked vampires as Americans' favorite monsters, Godzilla ranked sixth. When asked about the specifics of Godzilla's appeal, respondents said they liked that it acts out of self-protection and uses its super strength to rage against the government and atomic testing.
Many respondents also said they related to Godzilla because it is a product of what happens when science and technology go wrong and, thus, see its destruction and rage as understandable. The fact that Godzilla becomes a hero of sorts in some of its incarnations may also explain its high favorability rating.
With the most recent reboot of Godzilla, a co-production of Legendary Pictures and Warner Bros., currently packing theaters with lovers of the classic creature, we here at Sports Market Report thought it would be a good time to take a look at Godzilla's history, its role in popular culture and some of the collectibles that have been generated from the franchise.
The Genesis of Godzilla
Godzilla was introduced to horror fans in Ishiro Honda's 1954 tokusatsu film Godzilla, produced by Toho Co., Ltd. In Japanese, the word "tokusatsu" means "special effects," and the term has come to refer primarily to Japanese action films and television productions that make use of the various processes by which imagery is created and/or manipulated beyond the context of a live action shot.
Playing on the still-fresh fears of the Japanese people who lived through the atomic bombings of Hiroshima and Nagasaki, Honda's film opens with a fishing boat quietly floating on a calm sea as its crew relaxes on deck. Suddenly, the tranquility is shattered by an explosion that is followed by a blinding white light and all-consuming destruction.
That scene was inspired by a real incident that took place on March 1, 1954, when the Japanese crew of the Daigo Fukuryu Maru (Lucky Dragon 5) fishing boat, were exposed to fallout from the test explosion of the U.S. hydrogen bomb detonated at Bikini Atoll. The Lucky Dragon tragedy, which became a symbol of protest against the proliferation of nuclear weapons, was very much in the news as Honda's film opened, and it established Godzilla as a metaphor for the bomb's victims and survivors, as well as those who both used and fought against the use of nuclear weapons.
Known in Japan as Gojira, the monster's name is a portmanteau of the Japanese words gorira, which means gorilla, and kujira, which means whale. While it has been widely accepted that the name came from notes made during the monster's creation - that it was to be a beast of aquatic origin, a cross between a gorilla and a whale of tremendous size and power - for many years, Japanese folklore offered another story as to how the name came about.
According to these tales, Gojira was a nickname that had been tagged on a portly stagehand at Toho Studios. That story has never been documented and no one rumored to be the employee has ever been identified. In a 1998 interview, Kimi Honda (Ishiro Honda's widow) may have put that story to rest forever when she told a reporter it was not true and that no such man ever existed. "The backstage boys at Toho loved to joke around with tall stories," she revealed.
It's Got the Look
As with other monsters and superheroes, from Dracula to Batman, Godzilla's appearance has changed somewhat over the years; however, it has always been depicted as a prehistoric amphibious reptilian monster with characteristics of a scaly-skinned dinosaur with "atomic breath" capable of releasing a ray of radioactive flame.
Originally conceived by Toho art directors Eiji Tsubaraya and Akira Watanabe, the beast was created with the combined attributes of a Tyrannosaurus, an Iguanodon, a Stegosaurus and an alligator to form a chimera-like creature. The duo also emphasized Godzilla's relationship with the atomic bomb by designing a skin texture inspired by the keloid scars that were suffered by Hiroshima survivors.
Over the years, the character has gone from being portrayed by actors wearing latex costumes to the use of animatronic miniatures photographed in stop-motion photography to today's high-tech computer-generated form. Godzilla has also changed color from green to gray.
What has always remained the same is its distinctive roar, which was originally created by a musical composer, Akira Ifukube, who was commissioned by Honda to come up with a unique and harrowing sound. Ifukube responded to the challenge by recording a resin-coated glove being rubbed along the string of a contrabass and then slowing down the playback.
While Godzilla's size has never been consistent (even, at times, within a single film) the latest incarnation presents the beast at its largest - 350 feet tall. During the film's pre-production stage, director Gareth Edwards said he wanted Godzilla "to be so big as to be seen from anywhere in the city, but not too big that he couldn't be obscured."
Just Who Is It?
Although Godzilla has never been one to cozy up to humans, it isn't a people-eater and has been known to actually join humans in their fight against common threats - albeit with no regard for any folks who may get in his way while fighting that foe.
And then there is the question of gender.
Most always referred to as the gender-neutral "it" instead of either "he" or "she," Godzilla's gender has always been a subject for debate. While some say it is clear that the monster is a male because in the first film, it was called "King of the Monsters," in the 1998 Roland Emmerich film, Godzilla, there is a scene in which the monster, known as "Zilla," is depicted laying eggs.
Since its debut, the King of the Monsters (an epithet first used in the Americanized version of Honda's original film) has gone on to become a worldwide pop-culture icon starring in 28 films produced by Toho Co., Ltd. As the franchise expanded, some stories took on less serious undertones and portrayed Godzilla as a hero, while others presented the monster as a destructive danger to humanity.
Today, Godzilla remains one of the greatest monsters in film history and, in 2004, was awarded a star on the Hollywood Walk of Fame. In its latest incarnation, Godzilla continues to be a terrifying force of nature in a style that is faithful to the original Toho series. Written by Max Borenstein and starring Aaron Taylor-Johnson, Ken Watanabe, Elizabeth Olsen, Juliette Binoche, Sally Hawkins, David Strathairn and Bryan Cranston, the new film, along with Emmerich's 1998 movie, are the only two to be fully filmed by an American studio.
The Collectible Godzilla
Along with films, Godzilla has also appeared in numerous other media incarnations including novels, comic books, television series, video games and innumerable toys and collectibles. In preparation for the release of the latest Godzilla, Warner Bros. Consumer Products and Legendary Entertainment assembled a team to produce licensed merchandise to be released in conjunction with the film.
Bandai and NECA have produced toys inspired by the new film. JAKKS Pacific has made large-scale figures and other toy products. Rubie's will have a line of Godzilla costumes ready for Halloween; and Sideshow Collectibles has manufactured collectible statues. These new items will join a trove of Godzilla collectibles that have been enticing fans of the movie monster for 60 years.
One of those fans is Eric October, the manager of Creature Features, a Burbank, California-based enterprise that has provided collectors of science fiction, fantasy and horror with one of the most comprehensive resources for memorabilia for over 30 years. A self-professed "Godzillaphile," October is also an artist who works in various media and has recently created a line of Godzilla ceramic sculptures.
"I have been a Godzilla fan since I was a kid growing up in Stockton [California] in the 1970s," says October. "When I was a kid, there was a show on television called Creature Features that was broadcast on different local television stations throughout the United States. In our area, it was hosted by Bob Wilkins and they would run classic and cult horror and sci-fi films."
"The ones I loved best were the Godzilla films. My mother knew I loved those films, but it was a late-night show, so my brother and I would go to bed at our usual time and then she would come in and wake us up if they were running a Godzilla movie."
Pressed on why he has such a passion for the King of All Monsters, October believes it stemmed from his love of dinosaurs when he was young. "I had a real passion for all dinosaurs and Godzilla is basically a giant dinosaur," he reasons. "I was also attracted to the films because of the mayhem Godzilla created. When I was a child I thought mayhem was great - very appealing to me."
October is also a collector and knowledgeable expert on Godzilla collectibles. According to him, one of the most desirable of all Godzilla items ever produced was also his personal favorite.
"Back in the 1970s, Mattel put out a Shogun Warrior Godzilla action figure," October explains. "It was 19 inches high and a hugely popular toy of the time. I played with that till it literally fell to pieces. It was the coolest thing. The arm could launch a rocket. There was a tab on the back of its neck, and when you pressed it, a vinyl strip that looked like a flame would shoot out of its mouth. On mine, both of those things broke, and then the toenails broke, and then its arm broke off and the head cracked. I just played with that thing to death," he adds laughing.
Another longtime Godzilla fan and collector, Robert McCaffree, who also had that Mattel Godzilla as a kid, has a collection today that includes one in excellent condition. "That is one of two things every serious Godzilla collector has to have," says McCaffree. "That and a similar action figure that was made by a Japanese manufacturer that is more desirable and valuable."
While both of these figures are available through memorabilia dealers at prices that are relatively affordable to most collectors, if they are in excellent or mint condition and with their original boxes, they have realized prices in excess of $800.
"I myself have never seen the Mattel figure in an unopened box," says October. "That would be something. Back when it came out, few kids, if any, would have had the foresight to keep it in the box and never play with it. For me, like most kids who got it, that would have been unthinkable."
October and McCaffree agree that while vintage Godzilla collectibles can be very difficult to find in excellent and mint condition, even when they have been found, they have never realized great values. "The early Japanese-manufactured stuff is much rarer and very desirable," says McCaffree. "But from what I have seen as a collector, that desirability is not [held by] a broad group of collectors, so the prices have never really escalated. I think Godzilla has always had more of a niche following."
Asked why he thinks Godzilla collectibles have not generated the frenzied fan base of other movie monsters, McCaffree shrugs. "I think when it comes to horror and sci-fi characters, many people look at Godzilla as being kind of hokey. It isn't sexy or creepy like other monsters. But I think there may be a resurgence in the desirability of Godzilla collectibles with the release of the new film."
"The new Hollywood take - which we have seen them do with other superheroes and monsters - making them darker, more realistic and even incorporating humor - may get a new wave of people and collectors interested in Godzilla. Then, when that happens, they immediately want to know about what sort of vintage stuff is out there."
October, who proudly displays an entire showcase filled with both vintage and new Godzilla collectibles at his Burbank store, agrees with McCaffree that Godzilla collectors tend to be fewer and farther between than those of other superheroes, monsters and sci-fi characters.
"In the 1980s and 1990s, when they came out with the new series of Godzilla films known as the Heisei series, Bandai started putting out action figures. They are very cool and, while they attract attention in the store, they have nowhere near the interest of Batman or Superman or Star Wars items from the era."
Explaining that amongst the Godzilla collectibles he himself owns, or the store deals in, are figurines, bobble heads, action figures, plush toys, photographs, original artwork, books, magazines, model kits, DVDs and even a Godzilla "scale" prop that was created as a maquette for a film.
As for trading cards, 1995 saw one Toho-authorized and JPP/Amada-produced Godzilla set released in conjunction with the opening of Godzilla vs. Destroyer. The cards have proved to be the most popular of Godzilla cards and Toho ended up producing a number of additional sets in the years that followed.
The cards were sold in small foil packets, eight to a pack, and there were 102 regular cards (some with a "prism" effect) and four bonus hologram cards. In addition, there were eight separate checklist cards. The first 21 cards in the collection reproduced the original poster art for each of the Godzilla films up to and including Godzilla vs. Destroyer, with the exception of King Kong vs. Godzilla. Other offerings depicted the various creatures from all the Godzilla films.
While Godzilla cards have also been manufactured by Carddass Masters in 1996 and Inkworks in 1998, neither of these offerings resonated with collectors like the JPP/Amada cards.
Even more interesting to October, McCaffree and other Godzillaphiles is material such as original lobby cards and posters and one-of-a-kind objects.
While original lobby cards are available, it is the Japanese produced cards from the first film through the mid-1960s that are the most desirable. In good or better condition, these cards have appeal to collectors beyond the Godzilla genre and can fetch prices of over $500.
As for original posters, a Godzilla King of the Monsters Japanese B2 poster sold at auction in 2005 for $22,000. These Japanese-made posters are extremely rare. They hardly ever come up for sale and should only be purchased through a reputable and knowledgeable dealer or auction house that has authenticated that they are not reprints.
The More Bizarre, The Better!
Knowing that it is the unique and one-of-a-kind items that have the most appeal to Godzilla collectors, Creature Features staged a Godzilla art show presented as "Godzilla: All Art Attack!," a multi-media gallery exhibit that showcased works from over 50 artists from around the nation who work professionally in the fields of film, television, fine art, comics and children's book illustration.
The exhibit, which coincided with the opening of the new film and the franchise's 60th anniversary, showcased paintings, digital art, sculptures, ceramics and mixed-media pieces, including one of the show's premier pieces that mixed copper and neon. According to October, the show will run through July and whatever pieces are not sold at the show will then be available through Creature Features.
Commenting on the great turnout for the opening of the Creature Feature Godzilla art show, one of the show's artists, Mark Tavres, says he was not surprised that Godzilla fans are attracted to original works of art more than mass-produced collectibles. "When I was a kid, I loved Godzilla because it had a hero quality along with its power, invincibility and bizarreness," says Tavares.
"I think it is the bizarre quality of Godzilla - much more than any other monster - that appeals to the people who are fans of the films. Godzilla fans want collectibles that are bizarre and different. Things that are unique and that no one else has. The mass-produced stuff is cool, but I think it is the uniqueness of original art that has a far greater appeal to Godzilla collectors."
As summer filmgoers continue to catch Godzilla on the big screen, October says he anticipates an increased interest in the new collectibles that are available now. "They retail for moderate prices and are selling fast and showing up on the secondary market at four times the price," says October.
"That happens when a film like this first opens. As someone who is a Godzilla collector and works with other collectors, I do want some of those things [as well], but I also get that it is the extremely unique and one-of-a-kind items that Godzilla fans really want... It's the stuff that is really out there, unique and possesses the wow factor that I want."
For those who are just discovering Godzilla and would like to know more about the many collectibles the monster has generated over the years, October recommends getting a copy of An Unauthorized Guide to Godzilla Collectibles (Schiffer Publishing, 1998), which was written by Sean Linkenback. "The values listed in this book are, of course, out of date," says October, "but it is a very comprehensive look at what was produced from 1954 through the 1980s."
---