Live Auction Scheduled for July 11-12, 2014 at the Babe Ruth Birthplace & Sports Museum in Baltimore and from June 16-July 18 online at www.GoldinAuctions.com
1,300+ lots of historic sports memorabilia up for bids with 126 live auction items, 202 lots of Babe Ruth memorabilia and much more
WEST BERLIN, NJ – JUNE 16, 2014 – On July 11, 1914 the greatest player in baseball history, Babe Ruth, played his first MLB game and baseball was forever changed. One hundred years later, Goldin Auctions and the Babe Ruth Birthplace & Sports Museum will also make history when they hold the largest auction of Babe Ruth memorabilia in the Goldin Auctions Babe Ruth 100th Anniversary Auction.
The auction includes both a Live Auction for 126 super premium items on July 12 at the Babe Ruth Birthplace & Sports Museum in Baltimore and an Online Auction closing on July 18 of more than 1,200 items at www.GoldinAuctions.com. Appropriately, the Yankees will be in Baltimore to face the Orioles that weekend.
Here's a look at some of the unique Babe Ruth lots. Those noted with an (*) are only available in the online auction. All other items are available for bidding in the online and live auction.
Lot #1 - Babe Ruth's "First" Yankee Stadium HR Baseball – This ball, consigned by legendary sports memorabilia curator Joel Platt, was hit by The Babe on February 14, 1923 during a stadium construction tour for New York Daily News reporters to demonstrate the Stadium's short right field porch – 2-month before Opening Day. Since the stadium had not yet been named "Yankee Stadium," the ball is signed and inscribed by Ruth -- "New Yankee Field Feb 14-23 Babe Ruth." It features a distinctive mark where the ball was struck and is authenticated by PSA/DNA.
Lot #3 – 1916-18 Babe Ruth Rookie-Era Game Used Bat (PSA GU-9) – Earlier this year, the owner of a 150 year-old house outside Boston made a discovery of epic proportions - a cache of game used baseball bats belonging to the best Red Sox players of the pre-World War I period including Babe Ruth. This is one of only two Ruth branded bats from 1918 or earlier featuring "RUTH" stamped in block letters which helps to date the bat as being made before July, 1918.
Lot #9 – 1935-39 Babe Ruth Single Signed Ford Frick N.L. Baseball (PSA/DNA 6.5)
Lot #13 – 1928-32 Babe Ruth Game used NY Yankees Road Pants
Lot #15 - 1916 Weil Baking Co. (D329) #151 Babe Ruth Ruth Rookie Card – The highest graded edition of this rare Ruth rookie card with just four examples graded in existence.
Lot #18 – Babe Ruth Signed Typed Letter from the Set of Pride of the Yankees (PSA/DNA 10)
Lot #23 – 1927 NY Yankees Team Signed Baseball – The Official A.L. Ban Johnson ball features 16 signatures including Ruth, Gehrig, Huggins, Combs, Hoyt, Lazzeri, Meusel.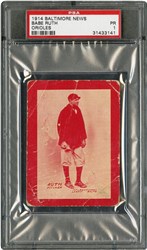 Lot #24 – 1927 Babe Ruth & Lou Gehrig Dual Signed and Personalized Oversized Photo Inscribed to the team batboy Joe Glassenberg. The 11'x14" photo pictures a uniformed Ruth and Gehrig flanking the youngster in a shirt, tie and Yankees jacket. Both Ruth and Gehrig added the personal inscription "To Joe From" proceeding their signatures.
Lot #25 - 1914 Baltimore News Babe Ruth Rookie Card (PSA 1) (Opening Bid $100,000) – the first baseball card ever issued of Ruth while he was an International League rookie – straight out of the St. Mary's Industrial School for Boys. One of the rarest cards in the hobby with just 10 known examples. This card last sold in 2013 for $450,000 – three-times the $150,000 sale price in 2009.
Lot #40 – The Hand of George Herman Ruth (PSA/DN 9) –In 1934 Baseball Magazine had Atlanta-based Alice Denton Jennings run a thorough character analysis from an inked imprint of The Babe's right hand. Ruth inked up his beefy paw and made this stunning, one-of-a-kind print on a piece of Miss Jennings' letterhead. Ruth signed his name in bold black fountain pen below his palm print. A near mint copy of the July, 1934 edition of Baseball Magazine with Miss Jennings' page and a half analysis is included in this lot.
Lot #53 – 1931 Babe Ruth Signed Original Photo and Letter – Personally typed by The Babe to the doctor who treated him after the famed "Boston Charlie Horse Injury" on April 23, 1931. The letter, written a month later, and the photo have been in the family of Dr. Francis Newton for the past 83 years.
Lot #55 –Babe Ruth Story Movie Archival – This incredible lot of memorabilia from the movie "The Babe Ruth Story" includes the original signed movie contract between Ruth and Monogram Pictures that was signed on July 8, 1947 by both Babe and Claire Ruth; William Bendix's personal signed (by Babe) copy of The Babe Ruth Story; 30+ original photographs, lobby cards and much more.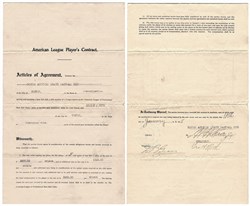 Lot #57 – 1918 Babe Ruth Boston Red Sox Contract (Opening Bid $250,000) – The Babe's copy of the earliest known Ruth payer contract. After winning 24 games and posting a 2.01 ERA in 1917, Ruth was given a raise from $3,500 to $5,000 for 1918. This was also the year of the Red Sox last World Series title until they broke the "Curse of the Bambino" in 2004. The 4-page 8 ½ " x 14" American League Player's Contract has been signed on the 3rd page by "Geo. H. Ruth" (10/10), AL President Ban Johnson (10/10) and Red Sox owner H.H. Frazee (10/10). The document is displayed in its own custom museum-quality 10" x 15 ¼ " x 1 ¼ " red leather bound book. The terms of this contract were in place with compensation modified as part of his sale to the Yankees the following season, meaning this contract was not only in effect for his last two years with the Red Sox, but also his first two years with the Yankees. Full LOA from PSA/DNA.
Lot #58 – 1919 Promissory Note from the Yankees to the Red Sox in Payment for the Sale of Babe Ruth (Opening Bid $50,000) - One of the original three promissory notes given to Red Sox owner Harry Frazee in payment for Babe Ruth's contract. The 7.5" x 9.5" note is dated "December 30, 1919", and the type reads "Note of $25,000, due November 1st, 1921, made by the American League Base Ball Club of New York in favor of the Boston American League Base Ball Club." The document was originally owned by Barry Halper who purchased a large collection of documents from the estate of Ed Barrow. This promissory note was one of Halper's most prized possessions as he sold most of the Barrow material during his Sotheby's sale in 1999, but held on to this note due to its historical significance.
Lot #59 – 1927 World Series Ticket signed by six players including Ruth, Gehrig, Lazzeri and Lloyd Warner. All signatures rate an 8/10 or 9/10 by PSA/DNA.

Lot #72 – 1918-20 Babe Ruth Game Used & Signed Louisville Slugger Bat "The Curse of the Bambino" with a Connection to Buck Weaver of the Black Sox Scandal (PSA/DNA GU 10) (Opening Bid $100,000) – Considered one of the most historically significant bats that exist by experts. Buck Weaver, best known as a member of the 1919 Black Sox asked Ruth to sign a bat to his friend Eddie Maier in 1920. Thorough research shows that The Babe used this bat during the years 1918-1920, spanning the years Ruth spent with the Red Sox and Yankees. The slugger proudly signed and personalized the bat in black fountain pen: "To My Friend Eddie Maier from Babe Ruth 1920." The particular Hillerich & Bradsby center brand is of the "dash-dot-dash" variety, once thought to have only been used during the 1916-1917 period. The bat itself shows excellent game use with several ball marks on the left barrel above Ruth's stamped signature.
Lot #94 – Babe Ruth Single Signed A.L. Baseball from his Last Public Signing (PSA/DNA 8.5 with Mint 9 Signature) - Two months before he would succumb to the ravages of cancer, the Babe made one of the final public appearances of his career. Sponsored by the Ford Motor Co. Ruth had traveled to the small town of Spencer, Iowa, in mid-June 1948 where he presented a trophy to the winning team of a local tournament.
Although the Ruth items are the centerpieces of the historic auction, collectors can also bid upon items from other legends like Joe DiMaggio, Mickey Mantle, Yogi Berra, Derek Jeter and Mariano Rivera. Several spectacular items from these legendary Yankees including:
About Goldin Auctions: Sports memorabilia impresario Ken Goldin has sold more than $600 million in memorabilia from many of the biggest names in sports, history and pop culture and was the pioneer of using the medium of television to sell sports memorabilia. Earlier this year, Goldin Auctions sold a Honus Wagner T206 card for a public sale record $2.1 million. Goldin Auctions strives to break new ground and offer collectors the best in collectible treasures up for auction in the marketplace. All game worn or autographed items come with team, player, league or additional LOA from industry leading authenticators; and collectors can bid with confidence that their proxy/ceiling bids remain confidential. For more information, visit www.goldinauctions.com.
About the Babe Ruth Birthplace Foundation, Inc. The Babe Ruth Birthplace Foundation, Inc. is an independent, not-for-profit educational institution dedicated to perpetuating the historic legacy of Babe Ruth, Baltimore's Orioles and Colts, and local and regional sports at the amateur, collegiate and professional levels, by preserving, exhibiting, interpreting and augmenting its collection for a diverse audience. It operates both the Babe Ruth Birthplace & Museum and the Sports Legends Museum at Camden Yards in Baltimore and online at www.baberuthmuseum.org.