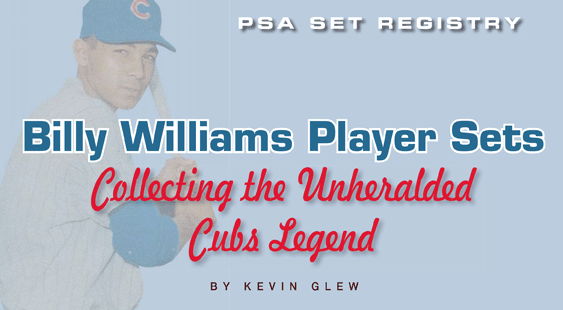 Consistency and durability are traits seldom celebrated by baseball fans.
Billy Williams' Hall of Fame career is a testament to this. The soft-spoken Cubs outfielder, who slugged 426 home runs during his 18-year career, is rarely mentioned as one of the best players of his era. The sweet-swinging slugger quietly belted 20 or more homers in 13 consecutive seasons from 1961 to 1973.
"I think Billy Williams was overshadowed. There were a lot of good players in his era," said Mark Wagner, who owns the No. 3 Current Finest Williams Basic Set on the PSA Set Registry.
Mason Matschke, who in 2012 assembled the registry's No. 1 Williams Master Set, concurs.
"What I remember most about Williams was his consistency," he said. "Because of some of the personalities on those Cubs teams, I think he was overshadowed."
Born in Whistler, Ala., in 1938, Williams grew up in the same area as Hank Aaron and Willie McCovey. The budding baseball star resided in an integrated neighborhood, so he didn't experience widespread racism until after he signed with the Cubs in 1956 and entered their minor league system.
"He was a quiet guy, and I think a lot of it had to do with racism early in his minor league career. He almost got out of baseball," noted Wagner.
But the strong-willed prospect persevered and eventually cracked the Cubs roster. In his first full big league season in 1961, he socked 25 homers and knocked in 86 runs to win the National League Rookie of the Year award. He would evolve into a steady offensive force with the Cubs, at one point playing 1,117 consecutive games. In 1970, he would register one of the best seasons in Cubs history when he hit .322 and belted 42 homers. He would follow that up by hitting .333 in 1972 to win the National League batting title.
"I remember he had one of the sweetest, most natural swings of just about anybody in that era," said Kyle Kramer, who owns the registry's No. 5 Current Finest Williams Basic Set. "He had tremendous hand-eye coordination and bat speed. He just had a beautiful technical swing."
Wagner agrees.
"He was probably the best left-handed hitter the Cubs have ever had," he said.
Despite suiting up for 2,213 games with the Cubs, Williams never competed in the post-season for the club. In October 1974, he was dealt to the Oakland A's, where he would finally participate in the playoffs, serving as a DH in the 1975 American League Championship Series. He would suit up for Oakland for one more season, before retiring. In all, in 2,488 games, Williams hit .290 and drove in 1,475 runs. For his efforts, he was elected to the National Baseball Hall of Fame in 1987 and his No. 26 was retired by the Cubs the same year. A statue was erected in his honor outside of Wrigley Field in September 2010.
While not as widely collected as Ernie Banks, there is a small but devoted group of hobbyists pursuing the Basic (16 cards) and Master (130 cards) Williams sets on the PSA Set Registry.
Though not particularly difficult to find in high grade, his most notable card is his 1961 Topps rookie (#141).
"There are a lot of his rookies on eBay," said Matschke. "If you went and looked right now, there are probably 40 or 50 of his cards and maybe 20 graded ones."
Kramer agrees.
"His rookie is reasonably well available," he said. "You just have to pay a premium for it."
Of the 2,027 rookies submitted, there have been two PSA GEM-MT 10s and 45 PSA MINT 9s. A PSA 9 sold for $616 on eBay in December 2010.
Kramer says the fragile wood-grain borders on Williams' 1962 Topps card (#288) make it difficult to track down in top condition.
"I've only got a PSA NM 7 of that card," noted Matschke. "I just don't see a lot of them."
Wagner has had a similar experience.
"His '62 Topps card is really tough," he said. "You don't see the PSA Population Report really even move on that card."
There has yet to be a PSA 10, 1962 Topps Williams and there are just four PSA 9s. A PSA 9 garnered $2,440 on eBay in December 2010.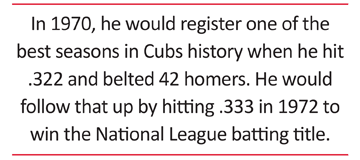 Because it's a tough high number, Williams' 1966 Topps card (#580) is also highly coveted.
"That's one of the key Williams cards to get," noted Matschke.
Of the 530 evaluated, there have been four PSA 10s and 23 PSA 9s. A PSA 9 fetched $449.04 on eBay in October 2010.
Williams' black-bordered, 1971 Topps single (#350) is also difficult to track down in pristine condition.
"Because of the color of the borders, those are difficult," said Kramer.
Just 13 PSA 9 examples have been uncovered, with one selling for $761 on eBay in December 2010.
Several Master Set cards are also evasive. Matschke says two Williams singles were issued in the 1964 Topps Rookie All-Star Banquet set. Part of a 36-card program that was handed out at the banquet, these cards measure 3" by 5-1/4" and were printed in black and white with red or light blue graphic highlights. Williams is featured on one card titled "The baseball world votes . . . " (#2) with Ron Santo and Hank Feimster, while another (#10) showcases him with the nine other members of the 1961 Topps All-Rookie team (#10).
"Either one of those cards is hard to get," noted Matschke.
Just four of "The baseball world votes . . . " cards have been submitted to PSA, and a PSA NM-MT 8 example sold for $149.95 on eBay in February 2011. Eight of the 1961 All-Rookie team cards (#10) have been evaluated, and there are two PSA 9s.
Also elusive is Williams' 1964 Topps Stand-Up single. Of the 77 cards in this issue, 22 - including the Williams - are single prints. Details on how these cards were originally distributed have been difficult to uncover, but experts seem to agree that they were available in one- and five-cent packs. These cards were the first Topps issue to feature a die-cut design since the 1951 All-Star sets. Showcasing full-length player photos, these unnumbered, blank-backed cards boast fronts with a yellow top half that includes instructions on how to manipulate the cards. The bottom front is green and presents the player's name, team and position. One PSA 10 Williams has been uncovered, but there are no PSA 9s. A PSA 8 sold for $647.87 on eBay in April 2010.
Three Venezuelan Topps cards (1964, 1967, 1968) are also part of the Master Set. Manufactured in much smaller quantities than the regular Topps singles, these cards were printed on flimsy stock and were often glued into albums.
"The Venezuelan cards are really hard to get," said Matschke. "I rarely see those."
Though competition for his more elusive cards can be heated, Williams ranks behind Ernie Banks in hobby popularity.
"If you had to weight them from one to 10 (in terms of hobby popularity), I would say that Banks is an 8.5, Ron Santo is a 7.5 and Williams is a 7 right now," said Matschke.
Hobbyists can still assemble a nice collection of Williams cards for a decent price.
"His cards are still reasonably priced," said Kramer. "He's a superstar, but the prices of his cards aren't ridiculous. You can make a nice set of his PSA 9s from his later years without spending a fortune."
View the set in the PSA Set Registry www.psacard.com/PSASetRegistry
---
Please feel free to contact Kevin Glew at [email protected] if you have any additional information or comments. Mark Wagner, Kyle Kramer and Mason Matschke provided pictures for this article. Please note that the Population Report figures quoted and Set Registry rankings reported are those as of November 2011.