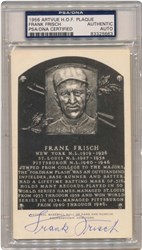 Clean Sweep's current auction is our unique affordable autograph and memorabilia auction (with some cards). Almost all items have a retail value of $500 or less, and the minimum bids are very low. This auction includes a very substantial vintage program collection covering baseball, basketball and football, some very advanced Brooklyn and LA Dodger signed items in many categories and much more fresh material. We also have many very inexpensive group lots in various categories that are perfect for dealers and value-oriented collectors.
This is a 2-day auction, day one is baseball autographs. The auction starts with autographed cards and continues to signed cachets (part of an extensive cachet collection covering baseball, basketball and football, including many scarcities). We continue with over 100 lots of signed 8x10 photos, loaded with big name HOF players, scarcer deceased players and classic stars. We have our usual selection of signed 3x5s and GPCs and several interesting signed checks and documents. There is a solid selection of signed programs, including many vintage pieces.
We finish day one with signed baseballs. Single signed baseballs are anchored by a full 67 different lots of HOFer signed singles; these include keys Aaron, DiMaggio, Koufax, Mantle, Mays, Williams and much more, many in absolutely flawless condition. We also have singles of contemporary stars Cabrera, Jeter, Piazza and Rivera among others. 75+ lots of team signed baseballs conclude this portion of the auction; these include balls from the 1940 Yankees, 1957 Dodgers, 1959 Braves, 1961 Reds, 1986 Mets and 1997 Yankees. There are many very high grade baseballs from various teams, as well as many scarce Brooklyn Dodger Minor League team balls from the 1940s and 1950s.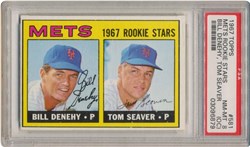 Day two begins with baseball cards. This opens with over 50 lots of complete sets, including 1959 Fleer, 1960 Fleer, 1964 Topps Giants, 1965 Topps Embossed, superb 1974 and 1976 Topps sets and a run from 1977 to the present. Baseball cards contain many fine condition star cards from 1960 through the early 1970s, and also many very clean common lots and partial sets. Collectors of oddball issues will see a 1968 Topps McCormick error, a 1968 Topps Action All Star Sticker Killebrew and a 1969 Topps White Letter Mantle.
The other sports follow, beginning with basketball. Offered here are many Larry Bird and Bill Russell signed items, including team-signed photos, programs going back to the 1940s and a small but clean selection of cards going back to the 1950s. Boxing contains many Ali signed items and several fine vintage signed photos.
Football is an especially big component of this auction. There are lots of good autographed items, including a run of signed footballs, signed cachets and more. There is a solid run of cards from 1950 through the early 1980s, including many clean star cards and several higher quality common lots, partial sets and complete sets. Hockey collectors will see many clean stars cards from the 1950s through the 1980s, including a Topps Gretzky RC in a 7 holder.
Baseball memorabilia concludes the auction. There are many interesting tickets, several quality game used bats, a run of top condition signed bats and other eclectic memorabilia. Baseball publications take up several hundred lots. These are mainly fresh to the hobby, with some great content. This content includes World Series Programs going back to 1938, team yearbooks going back to 1941 and an especially deep selection of vintage scorecards from the 1930s through the 1950s.
Be sure to visit www.cleansweepauctions.com and bid before this two day auction ends March 26 and 27, 2014.