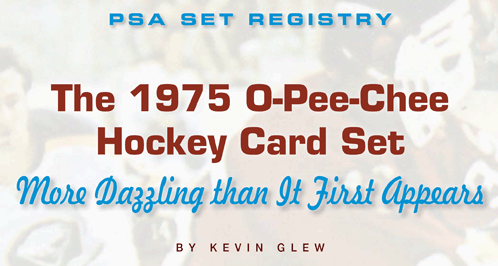 The design of its regular cards may not dazzle you, but the 1975 O-Pee-Chee Hockey set compensates for this with a striking series of All-Star singles and five pasteboards featuring Bobby Orr.
The legendary Bruins defenceman is pictured on his regular card (#100), an All-Star card (#288), the NHL Assist Leaders single (#209), the NHL Scoring Leaders pasteboard (#210) and the Bruins' Team Leaders card (#314).
Not surprisingly, Orr's regular issue (#100) is his most coveted. One of the two PSA GEM-MT 10s fetched $2,500 on eBay in October 2012, but Joe Henninger, owner of the registry's top 1975 O-Pee-Chee Hockey set, says the Assist Leader (#209) and Scoring Leaders (#210) pasteboards are the most elusive in flawless form.
The veteran collector points out that there are just two PSA MINT 9s, one PSA NM-MT 8.5+ and five PSA NM-MT 8s of card #209 and one PSA 10, one PSA 9 and six PSA 8s of #210.
"The #209 and #210 cards are really hard to find in high grade," he said, adding that both are often found off-center. "There should be a lot more [PSA] 8s and [PSA] 9s of those cards. To only have five and six [PSA] 8s of those cards is a testament to how hard they are to find in high grade."
The Orr cards, as well as the 391 remaining pasteboards that comprise the 1975 O-Pee-Chee set, are standard-size. The white-bordered fronts of the regular player cards showcase large photos with the team name in capital letters at the top and the player name in all-caps at the bottom. The player's position is indicated in a puck design on the bottom-left.
"The design of the 1975 cards didn't do it for a lot of people, but I kind of like them," said Bobby Burrell, author of Vintage Hockey Collector. "It's a 'less is more' kind of thing."
Burrell also likes the horizontal brown backs, which present the card number in a skate design in the top-left, alongside the player's name, position and team. The player's vitals (i.e., birth date and location, height, weight, etc.) are situated in the top-right, while biographical information in English and French adorns the middle. Statistics can be found near the bottom, to the left of a cartoon illustrating a piece of hockey trivia. In some cases, this cartoon is replaced by an illustration of a referee's signals.
"They certainly had to do some research to put together the backs of these cards," said Will Elms, who's working on the No. 4 Current Finest, 1975 O-Pee-Chee Hockey Master Set with his brother, Rob. "It looks like they put a fair bit of work into them."
Similar to the 1974 O-Pee-Chee Hockey offering, these cards were distributed in eight-card, 10-cent wax packs with gum. There were no inserts. Burrell says that, today, it's one of the tougher 1970s hockey issues for which to find packs and display boxes.
The All-Star cards (#286 to #297) are the most attractive subset in this issue. These pasteboards fashion the NHL logo in the top-left beside an eye-catching purple and pink banner that trumpets the player's first or second-team All-Star status. A large photo graces the middle, followed by a light blue pennant that displays the player's name, position, team and team logo. The vertical brown backs offer a series of cartoons illustrating some of the player's accomplishments.
"I really like the All-Star cards," said Henninger. "I like the whole set of the All-Star cards. They really pop out at you. If I didn't collect the entire 1975 set, I think I'd just collect the All-Star cards, because for their time period, they really have some good eye appeal."
Rob Elms agrees.
"The All-Star cards almost seem like a continuation of the 1973 [O-Pee-Chee Hockey] set, which also had some pretty neat All-Star cards," he said.
Four other subsets are also part of this issue: 1974-75 playoff cards (#1 to #7), team photo cards (#81 to #98), league leaders (#208 to #213) and team leaders (#313 to #330). Cards of head coaches and award winners, which were featured prominently in O-Pee-Chee's previous puck offering, were not included.
This issue also boasts some of the most talked-about errors and variations of its era. One of the most egregious errors can be found on Guy Lafleur's card (#126). Despite the fact that the Montreal Canadiens superstar was the league's highest scoring right-winger at the time, his position is listed as "Defense" on the front of his card, a flub that was not corrected. Not to be outdone, Bob Gainey, another ex-Canadiens forward who's now in the Hall of Fame, is mistakenly pictured on Doug Risebrough's single (#107).
There is also no card number #395. This should have been the final checklist, but that checklist was erroneously printed with the same number as the previous checklist (#267).
The 1975 O-Pee-Chee Hockey set is also one of the first issues to present trade notations on the card fronts. The Canadian company updated eight cards during the production process, which resulted in two versions of each of those pasteboards: one with a trade notation and another without (see list accompanying this article). Phil Esposito (#200), Jean Ratelle (#243) and Brad Park (#260) are the most prominent players with these variations.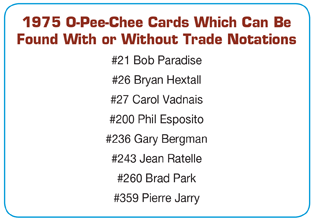 "Some of the toughest cards to find are the ones with trades noted on them," explained Henninger. "The Bob Paradise (#21) has zero PSA 8s, 9s or 10s, and [so] does the Jean Ratelle (#243). And believe me, I've been looking for them and you can't find them."
Henninger regularly encounters these "traded" cards off-center.
"I know the Ratelle card is way off-center," he said. "On every one that I've seen, the centering is just way over to the left [thus producing a thinner white border on the left]."
On top of Orr, Lafleur, Ratelle, Esposito and Park, this set also houses the pasteboards of a number of other Hall of Famers, including Johnny Bucyk (#9), Gilbert Perreault (#10), Stan Mikita (#30), Ken Dryden (#35) Marcel Dionne (#140), Darryl Sittler (#150), Tony Esposito (#240), Larry Robinson (#241), Bobby Clarke (#250) and Bernie Parent (#300). Second-year singles of Lanny McDonald (#23), Steve Shutt (#181), Denis Potvin (#275), Bob Gainey (#278) and Borje Salming (#283) are also featured in this set.
The sole Hall of Famer rookie is Clark Gillies (#199).
"The Clark Gillies card is often found cut short," noted Henninger. "In a lot of cases, it's not a normal sized card. There are a handful of cards in this series that [in some instances] were cut short at the factory for some reason."
There have been two PSA 10s of the Gillies card and five PSA 9s. One PSA 10 commanded $618.80 in a Goodwin & Co. auction in February 2011.
Though not rich in Hall of Famer rookies, this set does offer the cardboard debuts of several other notable players. Danny Gare (#64), Ron Greschner (#146), Bob Bourne (#163), Peter McNab (#252), Pierre Larouche (#305), Lee Fogolin (#306), Colin Campbell (#346) and Harold Snepsts (#396) all have first-year cards in this set.
The Snepsts card, which is also the set's last card, is one of the most difficult to obtain in pristine condition. Often at the bottom of collector piles, this card was subjected to additional wear and tear. There has yet to be a PSA 10 and there are only four PSA 9s.
Henninger notes that there are approximately 15 cards from this issue that have three or fewer examples that have graded PSA 9 or better.
"The toughest regular card would be #238 Neil Komadoski," said Henninger. "He only has one PSA 8 and one PSA 9. I still have that card in PSA [NM] 7. That card has just been impossible to find in higher grade."
On top of the more high-profile errors outlined earlier, there are several other uncorrected miscues in this offering. For example, the player pictured on the Mario Tremblay rookie (#223) is not Tremblay, and Ted Harris is pictured on Ted Irvine's pasteboard (#244). Similarly, Denis Dupere appears on the Stan Gilbertson card (#382).
Rob Elms says the stock of the 1975 cards is fairly solid, but poor centering often hampers the cards.
"These cards have the same kind of centering problems as the 1973s and 1974s," said Will Elms. "When I look at our cards in raw [ungraded] form, there are no bad corners or anything, but what will set us back is the centering."
Henninger has had a similar experience.
"The cards have thin white borders on both sides which makes it challenging to find them in high grade," he said. "If a card is a little bit off on the centering, you're knocked out of a [PSA] 8 or 9. If you compare these borders to the 1974 or 1976 cards, I think you'll find that the 1975 has a lot thinner borders."
O-Pee-Chee also released a WHA set in 1975. This 132-card issue features pasteboards of puck legends like Gordie Howe, Bobby Hull, Frank Mahovlich and Jacques Plante, as well as the rookies of Mark Howe, Marty Howe, Richard Brodeur and John Garrett. Likely due to the lower number of cards required to complete the set, more 1975 WHA sets are registered on the PSA Set Registry than NHL sets from the same year.
Topps also released a puck issue in 1975. This offering was comprised of the first 330 cards of the O-Pee-Chee set. The Topps cards can be distinguished from their O-Pee-Chee counterparts by their English-only backs and the copyright information along the bottom.
In general, however, hockey collectors still pay a premium for the O-Pee-Chee cards. And though the design of the regular cards in the 1975 O-Pee-Chee Hockey set may lack dazzle, if you look a little deeper, the issue boasts plenty to compensate for this.
"I really like this set," said Henninger. "As far as all of the 1970s sets, it's the second toughest to find [PSA] 9s in - in terms of how many have been graded. I don't think the design is plain. You have some nice action shots in there and sometimes I just pull the cards out and look at them. And when they're in really high grade, in [PSA] 9 holders, they really pop out at you. When you find them nicely centered, they're beautiful cards."
Rob Elms also enjoys the design and emphasizes, again, that there are five cards that feature Bobby Orr in this issue. His brother also savors this set's player selection.
"It is a nice looking set overall and there are a lot of the stars in there," he said. "Right now, there are not a lot of people collecting this set, but I think eventually more people will be drawn to it because there are a lot of Hall of Famers in it."
View the set in the PSA Set Registry
---
Please feel free to contact Kevin Glew at [email protected] if you have any additional information or comments. Thanks to Mile High Card Company and Rob and Will Elms for providing scans to go with this article. Please note that the Population Report figures quoted and Set Registry rankings reported are those as of February 2014.