SCHERERVILLE, IN – FEBRUARY 14, 2014 – Baseball Card Exchange, one of the hobby's most prominent online businesses, will be returning to its brick-and-mortal roots with the opening of a new retail store on April 12th, 2014 in Northwest Indiana, less than an hour away from downtown Chicago. After spending the last 12 years maintaining an online presence exclusively, collectors and sports fans alike will now have in-person access to just about the entire BBCE inventory seven days a week. BBCE is located at 2412 US Highway 41, Schererville, IN, 46375 – only one mile south of the intersection of US-30 and US-41.
Plans to re-introduce a retail store materialized about a year ago, when BBCE started looking for a new office/warehouse space. "We experienced unprecedented growth over the last few years, that we outgrew our previous location," said BBCE owner Steve Hart. "Last October, we secured a new facility which not only offered a large warehouse area and sufficient office space, but a retail frontage that opens up to US Highway 41 in Schererville – one of the main thoroughfares in the growing 'Chicago' suburb of Northwest Indiana." The new location is minutes away from major interstates I-65, I-80, and I-90.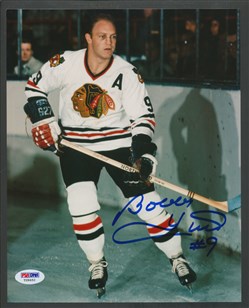 Appearing from 12-4pm will be Chicago Blackhawks Hall of Famer Bobby Hull. BBCE promises a true "meet and greet" experience with Bobby, as he will be available to sign autographs, take photos, and interact with fans, without the pressure and haste found in the autograph show experience. Prices are $29 for small or flat items and $49 for large or premium items (including a free inscription), and $15 for any additional inscriptions.
The grand opening will begin with the doors opening at 10am. At noon, Chicago Blackhawks singer Jim Cornelison will officially kick off the celebration with the singing of the National Anthem. Also in attendance will be members of the Chicago Blackhawks Ice Crew. Mr. Cornelison and the Ice Crew girls will be around from 12-2pm, signing free autographs and taking photos with fans. BBCE will also be giving free cards, packs, and autographed memorabilia throughout the day.
About Baseball Card Exchange
Since 1990, Baseball Card Exchange has grown to become one of the most active buyers and sellers of sports collectibles in the industry. Widely known throughout the hobby as the pre-eminent source for vintage unopened packs and boxes, BBCE is also a leading source of vintage graded cards and authenticated autographed memorabilia. BBCE owner Steve Hart has been the only pack authenticator since the inception of PSA's pack grading program. BBCE also employs a full-time buyer who travels throughout the country year-round, acquiring new material on behalf of the company. For more information about Baseball Card Exchange, visit www.bbcexchange.com.