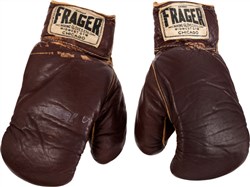 NEW YORK – The boxing gloves that Muhammad Ali (then known as Cassius Clay) wore as he faced Sonny Liston in the ring on Feb. 25, 1964, and subsequently won his first Heavyweight Championship, are expected to bring more than $500,000 when they cross the auction block on Feb. 22, as part of Heritage Auctions' Sports Platinum Night Auction, almost 50 years exactly from the day of the fight.
"These are the very gloves that Ali wore when he claimed his first Heavyweight Championship," said Chris Ivy, Director of Sports Collectibles at Heritage Auctions. "It's hard to imagine a more important or evocative piece of boxing memorabilia. Ali is the greatest of all time, no doubt, and these gloves were part and parcel of his first step to sports immortality."
Liston was as fearsome a champ as boxing had ever known. He had learned to box while in jail for armed robbery and it was widely reported that he broke bones for the underworld figures who held the majority stake in his professional contract. Just the thought of facing Liston was enough to make most would-be challengers retreat.
Clay, who had experienced mixed success in the years that had passed since his debut in the 1960 Olympics, remained a paradigm of self-confidence nonetheless when he was given the shot at the reigning champ. He was a heavy underdog in the fight and an antagonistic performance at the morning's weigh-ins nearly precipitated an early start to the violence.
The fight was fearsome and controversial, but by the end of the sixth round, with Ali firmly in charge, Liston sat in his corner and spit out his mouth guard, becoming the first Heavyweight Champion since 1919 to quit on his stool.
"I'm the greatest!" Clay bellowed, as he held his arms aloft and flashed the shuffling footwork that would become his trademark. "I shook up the world!"
"Only Jackie Robinson could compete with Ali for the title of most influential figure in American sports history," said Ivy. "But not even Robinson can compete with Ali in terms of being beloved internationally. Ali is a figure that transcends boxing or America. He belongs to the entire world."
For more information about Heritage Auctions, and to join and receive access to a complete record of prices realized, with full-color, enlargeable photos of each lot, please visit HA.com.