WEST BERLIN, NJ - JAN. 30, 2014 - Goldin Auctions, the New Jersey based auction house has confirmed the authenticity and title of four pieces of Michael Jordan memorabilia. Goldin Auctions wishes to inform its bidders and any perspective bidders that it has taken all necessary steps to insure that clear and undisputed title will pass to the winning bidder of each of the four UNC Michael Jordan items, including confirmation that neither Michael Jordan nor his family will dispute said title.
The four unique items which were obtained when the contents of a storage unit were purchased at public auction include: a recruiting letter dated Aug. 12, 1980 from UNC Head Coach Dean Smith; a recruiting letter from Assistant Coach Bill Guthridge dated Feb. 19, 1980; a Michael Jordan University of North Carolina Diploma; and Jordan's UNC undergraduate academic record.
The auction is open for bidding through February 7, 2014 at www.GoldinAuctions.com.
"We are pleased to continue to stand by the description of the four Jordan UNC items as they appear in our online catalog," said Ken Goldin, Founder of Goldin Auctions. "We take meticulous care to ensure that every item we offer is authentic and that our consigners have legal ownership of the items"
In addition to the original authentication of the two Jordan UNC recruiting letters from PSA/DNA, Goldin Auctions has also received additional letters of authenticity for the two Jordan recruiting letters from two other highly respected authenticating companies. The Smith and Guthridge documents were authenticated with a Letter of Authenticity stating the documents to be "typed letters signed with authentic signatures and authentic inscriptions on Fox River Bond paper."
Here are some of the highlights indicated by the authenticators that can assure bidders as to the authenticity of the two Jordan recruiting letters.
PSA/DNA the leading sports authenticator in the world inspected and certified each document as an original document, and each signature as an original signature not a copy. They are in the business of identifying copies and replicas.

The paper the letters are printed on is Fox River Bond 25% cotton paper. This is a stationary that was popular in the 1980 time period.

Both letters retain the original fold lines from being placed in the envelope 34 years ago and both show the typical wear and tear of a 34 year-old document.

The Dean Smith letter contains a handwritten note and a slight tearing of the ink that would only appear on an original.

The Guthridge letter has a 'slice' at the bottom of the letter. The type of cut that would have been created by someone using a letter opener 34 years ago and unfortunately slicing off the very bottom portion of the stationary. Therefore, the letter itself does not have a straight edge at the bottom, but a curved edge to the paper. Something that would be nearly impossible to replicate.
The path this memorabilia took to arrive at auction is just as unlikely as Jordan's ascension to greatness. Michael Jordan's restaurant in Chapel Hill, aptly named "23" was decorated with a wide assortment of memorabilia including many items provided by Jordan. When the restaurant closed, the memorabilia and other items from the restaurant were stored at a public storage facility. Amazingly the memorabilia was obtained when the contents of the storage unit were purchased at public auction.
The Michael Jordan 23 Collection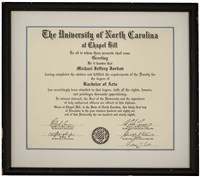 Lot #6: Michael Jordan's University of North Carolina Diploma - Many know that Michael Jordan left school a year early to enter the NBA draft, what many do not know is that while many athletes of Jordan's talent would have abandoned their college education and never looked back, Michael returned to Chapel Hill and finished the courses for his cultural geography degree in 1986. To keep the document's original appearance and chain of ownership intact, the diploma is still framed and matted as it originally was when displayed at Jordan's restaurant. Through the office of the registrar at UNC-Chapel Hill, Goldin Auctions has confirmed this is an original document and could only be obtained by the actual student. According to Michael Jordan's mother, she still has the original diploma presented to her son at graduation which makes this an additional original diploma requested by Mr. Jordan from the UNC registrar's office in 1999.
Lot #7: Michael Jordan's 1980 University of North Carolina Recruiting Letter from Dean Smith - Perhaps the most important recruiting letter ever written by a head coach in the history of college basketball. In this extraordinary letter, dated "August 12, 1980", UNC's Dean Smith thanks Michael Jordan and his family for their hospitality on a recent recruiting visit to their home in Wilmington, NC and signs the personal letter with the thought: "Enjoyed seeing you, Michael, and hope that beginning in September 1981 I can be your coach". Jordan chose to attend UNC where he did play for Smith and just a year later won ACC Freshman of the Year and the National Championship.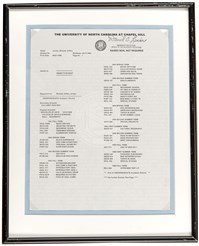 Lot #8: Michael Jordan's 1980 University of North Carolina Recruiting Letter from Bill Guthridge (The Jordan Recruitment Begins!) - This momentous February 1980 letter marks the University of North Carolina's first contact with high school phenom Michael Jordan. The letter, dated February 19, 1980, printed on UNC's official blue and white letterhead, was composed by assistant coach (and eventual Dean Smith successor) Bill Guthridge after having seen Jordan play the evening before against Hoggard High. The letter compliments the junior stating he has an outstanding future ahead of him and invites him to Chapel Hill's basketball summer camp.
Lot #9: Michael Jordan's University of North Carolina Undergraduate Academic Record - The page lists all 45 classes Jordan took in pursuit of his undergraduate degree with courses that include everything from "Elementary Portuguese" and "Beginning Tennis" in his freshman year to "Map Interpretation" and Changing Human Environment" in his senior year
About Goldin Auctions
Sports memorabilia impresario Ken Goldin has sold more than $600 million in memorabilia from many of the biggest names in sports, history and pop culture and was the pioneer of using the medium of television to sell sports memorabilia. In 2013, Goldin Auctions sold a Honus Wagner T206 card for a public sale record $2.1 million. Goldin Auctions strives to break new ground and offer collectors the best in collectible treasures up for auction in the marketplace. All game worn or autographed items come with team, player, league or additional LOA from industry leading authenticators; and collectors can bid with confidence that their proxy/ceiling bids remain confidential. For more information, visit www.goldinauctions.com.