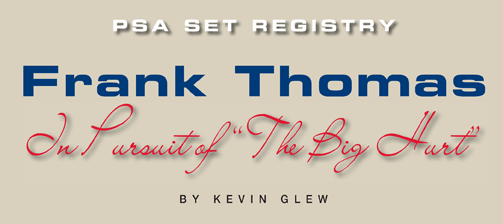 One of the best things about collecting Frank Thomas cards is that it won't inflict a "Big Hurt" on your wallet.
Even a PSA GEM-MT 10 copy of his vaunted 1990 Leaf rookie (#300) will only set you back around $40 these days. But don't mistake these low prices for disinterest. The general affordability of Thomas's cards is more a comment on the mass production that occurred during his era than a lack of popularity.
If you monitor the PSA Set Registry or its accompanying message boards, you'll quickly discover that Thomas still boasts an extremely devoted fan base.
Twenty-eight-year-old Ross Clark, owner of the No. 1 Thomas Basic Topps Set on the PSA Set Registry, has been stockpiling the White Sox legend's cards for 20 years.
"By the end of the '91 season, at age 8, I was a diehard fan," noted Clark, who has developed his own Thomas website (www.BigHurtHOF.com). "I watched and read about Frank whenever I had the opportunity. And what I found was a guy whom I looked up to, not only on the field as a young star, but in life as a person."
James Jones, who has compiled the registry's No. 1 Thomas Master Set, has also followed The Big Hurt since his childhood.
"I'd get home from school and there would be either a Cubs or White Sox game on," he recalled. "I would say it was 1991 when Frank Thomas caught my eye as a hitter and I've been following him ever since."
No. 3 Thomas Master Set holder, Nate Bard, has also been admiring Thomas since he was a kid.
"I was playing first base in Little League when he came up," said Bard. "For me, as a young first baseman and Sox fan, to have Thomas come up and take the league by storm in '91, '92 and '93 was something that I just sort of plugged into and it naturally fit."
The Big Hurt's Beginnings
Born in Columbus, Ga., in 1968, Thomas was a multi-sport star in high school and earned a football scholarship to Auburn in 1986. He would play tight end for the football team for one season, before focussing exclusively on baseball.
In 1989, the Chicago White Sox selected him seventh overall in the draft. After hitting .330 in 60 big league games in 1990, Thomas would follow that up with his first of an unprecedented seven consecutive seasons in which he batted at least .300, belted 20 homers, scored 100 runs, drove in 100 runs and walked 100 times.
A five-time all-star with the White Sox, Thomas captured back-to-back American League MVP awards in 1993 and 1994 and won a batting crown in 1997. In parts of 16 seasons with the White Sox, he established club records in home runs (448), RBIs (1,465) and slugging percentage (.568). Slowed by injuries later in his career, he finished his big league tenure with the Blue Jays and A's in 2008.
In all, Thomas belted 521 home runs (18th all-time), hit .301 and recorded a .974 OPS (15th all-time) in 19 seasons. For his efforts, his No. 35 was retired by the White Sox in August 2010 and a statue of him will be unveiled at U.S. Cellular Field this season.
The Hall of Fame Calls
In an era tainted by steroids, it's important to note that Thomas was the only player that agreed to be interviewed for the Mitchell Report. His anti-drug stance, combined with his impressive list of accomplishments, helped earn him a plaque in the National Baseball Hall of Fame in 2014, his first year of eligibility.
"The numbers don't lie," said Clark. "Frank was a retro-breed of contact hitter who knew how to get the ball into play, drive runners home, get himself into scoring position, and, if all else failed, draw the walk. His power wasn't too shabby either."
Bard agrees.
"His stats speak for themselves in any era," he said. "I think he definitely deserves the recognition."
Registry Sets
Six Thomas sets - Basic, Basic & Collector Issues, Master, Basic Topps, Master Topps, and Rookies - have been created on the PSA Set Registry. Three Thomas subsets - 1991 Star, 1993 Leaf, and 1996 Leaf Greatest Hits - are also featured on the registry.
Prior to his big league cards, Thomas was featured on a 1987 Auburn Tigers "Tiger Great" single. Produced by McDag Productions Inc. in Baton Rouge, La., this pasteboard is part of a 16-card set.
"They were distributed in set form in clear cellophane bags with a taped flap as stadium giveaways at Auburn sporting events in 1987," said Clark. "There were also smaller levels of distribution through private entities like the Opelika Police Department, who sponsored the set."
In an era tainted by steroids, it's important to note that Thomas was the only player that agreed to be interviewed for the Mitchell Report.
Jones has heard that 5,000 of these were produced.
"It's a very thin card that was handed out to people going to baseball and football games," said Jones, adding that the left-to-right centering tends to be off on these cards.
Just 29 have been submitted to PSA, and there are three PSA 10s and 14 PSA MINT 9s. An ungraded copy fetched $142.50 on eBay in May 2011.
Another minor league single that's tough to find in top condition is Thomas's 1987 Baseball USA Pan-Am issue (#36) with blue borders. Part of a 35-card set that also includes Jim Abbott and Tino Martinez, the Thomas single is often found with a miscut back. Jones adds that the top-to-bottom centering is also typically off.
"It (the set) was produced locally for the Millington, Tennessee training facility, with financial backing from Plymouth Motors," noted Clark. "My understanding is that they were sold during 1988 Team USA baseball tournaments leading up to the Olympics. I have no exact data to support this."
Of the 104 evaluated, there have been just three PSA 10s.
Major League Cards
The 1990 Leaf single (#300) is the Thomas's most renowned rookie. But with 1,896 PSA 10 copies, the card is plentiful in high grade. PSA 10s can generally purchased for $40 to $50.
Also readily available in top condition are The Big Hurt's 1990 Score (#663), Fleer Update (#U-87) and Bowman (#320) rookies. Reportedly limited to just 3,000 copies, the Bowman Tiffany rookie (#320) is more difficult to track down. Of the 884 submitted, there have been 86 PSA 10s, one of which sold for $103.27 on eBay in March 2010.
Thomas's regular Topps rookie (#414) is also easy to uncover in pristine form, but a rare error version of this card without Thomas's name on the front (NNOF) is The Big Hurt's most desirable rookie. Clark, who has been researching the NNOF rookie since 1994, believes that at least 200 examples exist.
"The majority of firsthand accounts place original distribution (of the NNOF Thomas rookies) in New England, the Eastern seaboard, and the Great Lakes regions," said Clark. "I've heard of multiple pulls in the Carolinas, up and around to Michigan."
He believes that the NNOF rookies were distributed in wax packs.
"By all accounts, the error was an early print run variation distributed in regular retail wax," he explained. "I've never heard of pulls coming from jumbo wax, cellos, or racks. Most importantly, I've heard of zero confirmed finds in Topps factory sets, which was a common rumor when the card was first recognized."
To discern how this error might have occurred, Clark has communicated with a number of printing industry experts.
"The printing professionals that were consulted concluded it must be a plate issue," said Clark. "Of the various issues that can cause ink transfer failure, plate damage has been the only solid explanation for the repeatable nature of the blackless error. An obstruction would have simply worn away, caused ink pooling, or fallen off, long before so many copies of the error could have been printed."
Collectors also have to wary of counterfeits of the NNOF rookie.
"Originally, fakes were easy to spot," noted Clark. "They were simply base cards with the name painted over or home printed copies with the name edited out. More sophisticated scammers have made copies with almost identical markers to an authentic card. I'm hesitant to go into great detail because I don't want to help individuals with less than noble intentions, but I will say an authentic NNOF rookie will be missing more black ink than just Frank's name. The error should include some of the lower borders and, most notably, the majority of the Topps logo. Most fakes, even modern attempts, include the Topps logo."
So far, 155 of the NNOF rookies have been graded by PSA and there is just one PSA 10 example.
Thomas's 1990 Topps Tiffany rookie (#414) is also highly coveted. With a reported print run of 15,000, this single is one of the most difficult Thomas rookies to track down in PSA 10. Of the 636 submissions, there have been 60 PSA 10s.
Even more elusive is Thomas's O-Pee-Chee rookie (#414), which shares the same design as the Topps card, but was printed in Canada in much smaller quantities. There are just 51 PSA 10 O-Pee-Chee rookies.
A less talked about 1990 issue is Thomas's 1990 Coca-Cola White Sox single. Part of a team set distributed at Comiskey Park, these cards boast a blue background that extends to the edges of the card.
"I'm not sure if it was just a one-day promotion or Coca-Cola gave the sets out on a couple of different days during the season. They are very hard to acquire," said Jones. "They're really thin cards. They're not even half the thickness of a standard card."
Only 27 have been sent into PSA and seven have been deemed PSA 10s.
A number of other difficult Thomas parallels and inserts were released in the '90s, most notably his 1993 Finest Refractor (#102), 1993 Pinnacle Cooperstown Foil (Dufex) (#24) and 1996 Select Certified Mirror Gold (#1) singles.
Competition for these cards can be fierce.
"There are still 30 or so regular collectors of rare Frank Thomas cards and memorabilia, with hundreds of casual collectors," said Clark.
But the Thomas registry set collectors seem to get along well. In fact, Jones has discussed meeting up with the other collectors in Cooperstown when Thomas is inducted.
Clark is looking forward to Thomas being honored in Cooperstown. That day will bring back a flood of memories for him. When Clark was asked what he remembers most about The Big Hurt, he mentioned "the determination in his eyes when he stepped up to the plate and the smile that followed."
"I can't forget the swing either," he said. "Frank's was the swing I emulated every summer evening in the church parking lot."
---
Please feel free to contact Kevin Glew at [email protected] if you have any additional information or comments. Ross Clark, Nate Bard and James Jones provided pictures for this article. Please note that the Population Report figures quoted and Set Registry rankings reported are those as of June 2011.