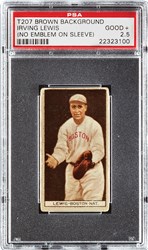 Throughout our long history in the hobby, Goodwin & Company has been privileged to offer some of the most exquisite treasures in all of sports collecting. Yet, when the phone rings and someone contacts us with never-before-seen relics from baseball's past, our hearts quicken and excitement grows. Just such a story happened recently, with what we call the Holsum Bread Find.
The Holsum Bread Find represents a treasure trove of classic cardboard baseball antiquities originally distributed almost exclusively in New Orleans. Housed in this previously unknown collection you will find the rarest of the rare. This meticulously maintained collection contains cards of Ruth, Cobb, and more that do not appear on any hobby checklist or report. From a historic perspective, this is one of collecting's great finds and perhaps the greatest find of this young century, featuring rarities from Holsum Bread, Weil Baking, General Baking, Mino, Kotton, and Coupon Cigarettes.
The Importance of New Orleans to the Collecting World
From its world famous cuisine to its passion for dance, drink and song, to its openness to anything pleasurable, New Orleans remains America's most unique and possibly most fascinating city. But for the sports collector, New Orleans represents a land of rarity and iconic offerings from baseball's formative years.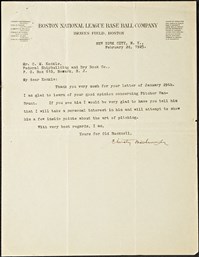 Entering the 20th century, New Orleans represented one of the nation's most unusual marketing hotbeds, because the local residents clung to local traditions, local tastes and a unique cultural flavor found only in the Crescent City. Competition among local manufacturers was fierce, with every possible avenue to gain an unfair advantage in the market exploited. For many manufacturers, piggybacking on the growing popularity of America's National Pastime was a natural means of boosting consumer interest in their products. New Orleans' love affair with baseball, through the Southern Association and numerous local teams and leagues made the city the most "baseball mad" locale in America without a major league team.
As the city's major bakeries abandoned traditional hand baking for mechanization, the inclusion of baseball cards in packages became an expected ritual. Not to be outdone by American Tobacco's glorious baseball offerings, New Orleans' Peoples Tobacco, makers of Cuban style cigarettes preferred by the people of the city, released several memorable sets, that are now among the most coveted cards in existence.
A Natural Reason For Scarcity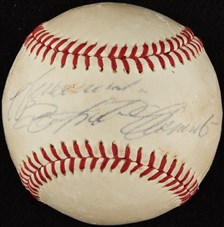 New Orleans manufacturers who used baseball cards as premiums served a very limited and specific market, rarely expanding beyond the Mississippi Delta and virtually never beyond the sacred borders of the state of Louisiana. This limited production and distribution provided the foundation for fewer cards being produced and even fewer surviving, based solely upon numbers. However, nature itself represents the greatest reason for the rarity of New Orleans cards. Lower Louisiana serves as a caldron of natural disasters, seemingly always ready to spill over into catastrophe. From annual flooding, to ravenous termites, to repeated hurricanes and tropical storms, to everyday humidity created by the Gulf of Mexico, the Mississippi River and Lake Ponchartrain, the New Orleans environment provides no protection and no mercy for paper. The result, fewer New Orleans cards exist than cards produced in any other city.
From the university-trained bakers employed by Weil and General to the South American tobacco traders at Peoples, no one could have imagined how coveted or valuable the tiny treasures depicting baseball player images from the Old South's most celebrated city would become.
Over the coming months, Goodwin & Company will be offering treasures from the Holsum Bread Find, so as not to overpower the market. But make no mistake, the debut auction of cards from this find will certainly be one of the most memorable of the 21st century. Currently, Goodwin & Company's auction has 8 cards from the "Holsum Bread Find", including a Babe Ruth and two different poses of Ty Cobb. These three cards have not been checklisted or seen before. Be sure to visit www.goodwinandco.com to see these cards are more. Auction ends January 30, 2014.