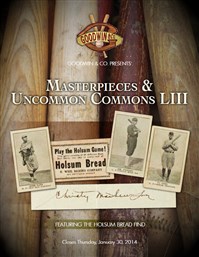 Goodwin & Co. is proud to announce a significant and historic find of bread and tobacco cards produced in Louisiana during the beginning of the previous century. One of the most important cards in this find is a Holsum Bread card of Babe Ruth. This is the only known copy to date!
Several other cards that have not been cataloged or seen before, including 2 different Holsum Bread poses of Ty Cobb which are included in this auction. Over the past century, since these regional cards were first produced, hurricanes have ravaged the area and have, no doubt, destroyed most of the cards that were issued from 1915-1920 making these rare issues even more scarce. In future auctions this year, you will find General Baking, Kotton, Mino, Coupon and other bread and tobacco issues from this "Holsum Bread Find."
In addition, Rookie card collectors will be thrilled to find over seventy Hall of Fame cards in the pages of this catalog. The first issues of Hornsby and Oscar Charleston, as well as Mantle and Mays, will intrigue any collector. Superb autographs in the form of a Christy Mathewson signed letter, single signed Roberto Clemente baseball and a black and white signed Mel Ott postcard are sure to impress even the most advanced collector. As usual, with Goodwin & Co. auctions, both high grade and rare back T206 cards are gracing the pages.
This is just the tip of the iceberg as far as the highlights in Masterpieces and Uncommon Commons LIII which is open for bidding. Be sure to visit, www.Goodwinandco.com This auction ends January 30, 2014.