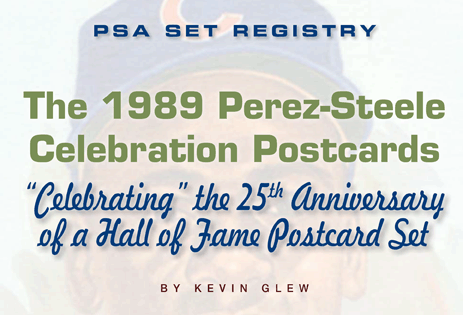 Dick Perez considers it his best Hall of Fame postcard set.
Hobbyist Neil Downey would agree. In fact, he savors the 1989 Perez-Steele Celebration set so much that he put his No. 1 PSA Set Registry set in his will.
"I even indicated in my will that if any of my children ever break up this set, they will revoke their entire inheritance," added Downey.
The veteran collector catapulted himself to the top of the registry in 2013 when he completed his entire set in PSA GEM-MT 10. His collection also boasts a PSA 10 checklist, a card that was recently added to the registry set's composition.
"When they added the checklist [to the registry set's composition], I became No. 1 forever, because you can't beat the set [which possesses a perfect 10.00 GPA]," he said. "I put it in my will that this set will never be broken up; that way I'll own the best set forever, even after I'm gone. And these kinds of moments don't come that often - where you can preserve something forever."
For his part, Perez is grateful that collectors like Downey continue to enjoy this set 25 years after its initial release.
"Of all of the things I've done in my Perez-Steele past, this set was my favorite," he said. "I think by this point I had really established good technique and water color. This to me represents my best output of the Perez-Steele era."
Jim Policelli, who has assembled a large collection of autographed and non-autographed Celebration postcards, agrees.
"I think they're the most prestigious looking [Perez-Steele Hall of Fame] postcards," he said. "I just think the artwork is very attractive and when PSA encapsulates these, they just look great."
The idea for this issue was hatched when Perez and long-time business partner Frank Steele were brainstorming about what they could create to commemorate the 50th anniversary of the National Baseball Hall of Fame.
"By that time, we had already produced the Hall of Fame art postcards and we had started the Great Moments [postcards]," explained Perez. "And, of course, with the Hall of Fame art postcards, the majority of the inductees had died. With Great Moments, we had started creating postcards of a little over half of the past Hall of Famers and a few of the current Hall of Famers; and what we found out was that collectors were really interested in getting these signed. So we started shifting our emphasis to living Hall of Famers. With the Celebration set, we decided to create a set totally devoted to living Hall of Famers."
The resulting 45-card issue boasts coveted postcards of Hank Aaron, Yogi Berra, Mickey Mantle, Stan Musial and Ted Williams, but some notable Cooperstowners, who were living at that time, do not appear in this offering. Joe DiMaggio, Willie Mays and Sandy Koufax are three of the most notable absences.
"At the beginning, the Hall of Famers were very anxious to [participate in the Perez-Steele postcard sets]. They would just sign off [with their approval]. We had to get signatures from everybody - for every Hall of Famer and the estates of the others [that were deceased]. That was the one thing that Frank allowed the Hall of Fame to do," explained Perez. "We produced the cards; we designed the cards; we had the cards printed, and we marketed and shipped them.
"Now in the beginning, as I said, [securing permission] was fine. At the beginning of the Hall of Fame art postcards, it was fine. At the beginning of the Great Moments [set], it was fine. But as more current players were being inducted, there were agents [involved] and the landscape changed."
Perez didn't deal with the inductees directly, but he remembers hearing of how DiMaggio, in particular, balked at his image being used. Lou Brock also declined to participate in the set. Perez had even completed the artwork for the Brock card, which can be viewed on his website (www.dickperez.com), but this card was not included in the final set.
The design of these postcards was inspired by the 1887 W.S. Kimball & Co. Champions (N184) set. Measuring 3-1/2" by 5-1/2", the postcards present profile paintings of the inductees on the top two-thirds of the card fronts with smaller action paintings below them. The players were featured in their prime, and many of the action paintings showcase players in defining moments from their career. The Hank Aaron postcard (#1), for example, depicts him at the plate poised to belt his 715th home run, while the Berra (#6) painting is an ode to the Yankee catcher's role in Jackie Robinson's controversial steal of home in the first game of the 1955 World Series.
One of Downey's favorite cards is the Cool Papa Bell (#4). "On the Cool Papa Bell, I really like the fact that [Perez] has utilized all of those signs that were on the outfield wall. To me, that makes the card very nostalgic and historic," said Downey.
"I like the painting of my hometown hero, Al Kaline (#21)," added Policelli. "It shows him circling out in right field to catch a fly ball."
The action paintings are Downey's favorite feature of this set.
"I've often thought those action scenes warrant a set of their own because they're just gorgeous," he said. "The scenes are quite elaborate and there are often two or three individuals presented."
The player's name is also highlighted across the bottom of the fronts, while the white backs exhibit a postcard indicia, Hall of Fame and Perez-Steele Galleries logos, the player name, the set name, card number, serial number and copyright information.
Just 10,000 of these sets were produced.
"It sold out in a couple of weeks," recalled Perez. "I remember my wife and I were packaging these [to be shipped] and we had to get these out quickly. It was truly a cottage industry. It was really unbelievable. We held out a few sets for the players and the Hall of Fame and kept a few sets for ourselves, but basically 10,000 sets sold out in just a little under three weeks. That was amazing. I had never experienced anything like that, and it was not a cheap buy - it was $200 for the set."
Aside from the captivating artwork, Downey says another appeal of the set for him is how it was packaged. The 45 postcards came in a green box that was inserted inside a larger regal looking box. An album with a design similar to the one that Allen & Ginter produced for their 1888 World Champions series (N28) was also included. This album presented smaller paintings of the cards. A certificate of authenticity was also in the box.
"The box was beautiful," said Downey. "With this set, they did an outstanding job with the packaging. The box itself almost opens up like a book; the inside of the top box is a reproduction of one of Dick Perez's paintings."
That painting is called "A Casual Game," which illustrates a 19th century contest between Bates College and one of their New England rivals.
As noted earlier, the Celebration set offers postcards of 44 Hall of Famers who were living at the time the set was being created, as well as a checklist. Unfortunately, three of the inductees - Lefty Gomez, Judy Johnson and Bill Terry - died in the first half of 1989, and as a result, there aren't any signed copies of their Celebration postcards.
Hall of Fame umpire Jocko Conlan also passed away in the first half of 1989; however, he reportedly managed to sign approximately 30 of his Celebration postcards prior to his death. The low number of signed examples are the reason PSA/DNA authenticated Conlan postcards fetch $250 to $350 each, says Downey.
Another tough signature to obtain on these postcards is Roy Campanella. Paralyzed in an automobile accident in 1958, the legendary Dodgers catcher continued to sign autographs with the assistance of a special machine until his death in 1993. A PSA/DNA authenticated Campanella Celebration postcard sold for $299.95 on eBay in September 2013.
As you would expect, Mantle and Williams autographed postcards can also garner lofty prices. A signed PSA/DNA authenticated Mantle sold for $275 on eBay in October 2013. In the same month, a similarly slabbed Williams postcard fetched $219.
"A Ted Williams signature has been surprisingly hard to get in high-grade," said Policelli. "I always thought he had one of the more beautiful signatures. It's very easy to read and clearly legible, but finding a [PSA/DNA] GEM-MT 10 has been a real challenge."
Downey's autographed set, which was named PSA's Best Autograph Set of the Year in 2008, included a checklist signed by Perez, Frank Steele and his wife Peggy. It's unlikely that many checklists with this trio of signatures exist today. Frank Steele passed away in 2000 and Perez isn't signing as much fan mail as in the past.
"I had a PO Box on my website for years," explained Perez. "But kids would be sending four cards to be signed and then they would get their friend to send four, and you knew it was the same person because it was the same kind of envelope and the same handwriting."
As a result, Perez no longer lists his mailing address on his website.
Downey retired his signed Celebration set in 2010 and focused on amassing these postcards in PSA 10 grade without autographs. The veteran collector points out that because 10,000 were produced of each card, there are no rarities.
"Where the rarity could exist is how many were autographed by a particular player, and subsequently, how many are left that are not autographed," said Downey.
The PSA/DNA Population Report reveals that Williams (151 examples), Mantle (104) and Berra (96) have the most signed examples. The Mantle and Williams unsigned postcards command a premium, but are still affordable. A PSA 10 Mantle sold for $55 on eBay in July 2013.
For Downey, the key to finding pristine raw examples has been opening sealed factory sets. "It's a method that almost no one would think of practicing just because of the financial ramifications. I was willing to break up factory sealed sets [to locate cards that were essentially in perfect PSA 10 condition]. A factory sealed set is about one-third more valuable than a set that looks exactly the same, only with the factory sealed box open."
While these postcards are generally not difficult to find in top condition, Downey has seen his share in rough shape.
"The condition only becomes a factor in handling," said Downey. "I've seen many that are just in ridiculous condition. It looks like someone ran them over and chewed on them."
There is also interest in the original artwork for these postcards, much of which, Perez says, has been sold. In 2011, Robert Edward Auctions sold the artwork for the Carl Yastrzemski postcard for $3,525.
But despite the demand for the artwork, Perez actually hears less about this Celebration series than he does about his other Perez-Steele Hall of Fame issues.
"I might get more inquiries about [the Hall of Fame] Master Works [postcards] than I do about the Celebration postcards, which totally boggles my mind," he said. "But I really do think that [the Celebration set] has not reached its peak [in the hobby]."
Downey says a "generational gap" is one of the reasons this set isn't more widely collected. He adds that a lot of today's collectors know little about the Hall of Famers featured in it.
"The people that love the Perez-Steele postcards now are my age (54) and a lot of people that are older than I am," he said. "I think that we'll always love these sets and we're always going to be working on either upgrading them or getting more of our favorite player."
View the set in the PSA Set Registry www.psacard.com/PSASetRegistry
---
Please feel free to contact Kevin Glew at [email protected] if you have any additional information or comments. Thanks to Neil Downey for providing scans to go with this article. To view images of the original artwork from this series, visit Dick Perez's website: www.dickperez.com. Please note that the Population Report figures quoted and Set Registry rankings reported are those as of December 2013.
---
Copyright © 2020 PSA – A Division of Collectors Universe. Nasdaq: CLCT. All rights reserved.