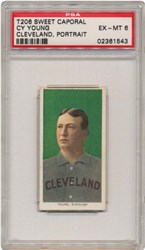 Clean Sweep opens 2014 with one of our biggest, best and most balanced auctions. The auction opens with an amazing baseball signed by none other than Shoeless Joe Jackson and Buck Weaver. There are 107 more lots of signed baseballs that follow, these include single signed balls from Hank Greenberg, Rogers Hornsby, Dummy Hoy, a vintage Mickey Mantle, Jackie Robinson, Babe Ruth, a George Sisler signed in 1921, Pie Traynor, Dazzy Vance and Lloyd Waner among others. Team balls go back to 1927, including a superb 1927 Giants with eight HOFers. There is a substantial fresh collection of Brooklyn Dodger team balls from 1928 – 1957 with many rarities, many extremely tough 1940s Yankee team balls and a 1946 Montreal Royals baseball with Jackie Robinson.
Presidential autographs include a rare John Adams document, a pardon signed by Abraham Lincoln two months before he died and a JFK letter with great content. Entertainment autographs are headlined by a superb vintage Beatles fully signed page.
We have some truly great signed cards, including 90% complete signed sets from 1972 – 1974 Topps with a world of autographs and scarce individual signed cards including a 1954 Johnston Cookies Hank Aaron and a 1964 Topps Standup Mickey Mantle. Autographs continue with many signed photos, with note to a virtual gallery of 11 different fine Mickey Mantle oversized signed pieces and a Willie Mays #1 Decathalon print. There is a real 2001 World Series on deck circle signed by Jeter and Rivera, and several terrific early 1950s Mickey Mantle autographs.
The other sports follow. Basketball includes our best selection ever of Michael Jordan items, including a 1997/1998 full jersey, a vintage signed Jordan basketball and poster and more. Boxing contains an extensive selection of memorabilia, including three different original Ali fight posters and 13 different Ali signed items, many from 1965 – 1971. Football collectors will see 10 unopened 1958 Topps cello packs and a great Topps original artwork collection from the 1950s – 1980s. There is a rare Goal Line signed Alex Wojciechowicz and a Super Bowl II ticket. Hockey collectors will see a superb 1965 program with 75 period autographs include three Sawchucks and a terrific Bobby Orr RC in a PSA 7 holder. There is also some fine original hockey artwork as well.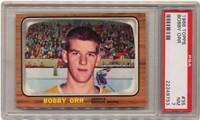 Baseball memorabilia comes next, and this section is much deeper than usual. We have several vintage jerseys, some better game used bats, a 1914 World Series program, signs, a real Yankee Stadium turnstile and a wonderful Steve Kaufman huge Mickey Mantle original painting.
Baseball cards ably conclude the auction. Clean Sweep offers a 1951 Bowman set with the Mantle and Mays Rookies in solid PSA 5s, an incredible 1954 Johnston Cookies uncut sheet with 234 cards including six Hank Aaron Rookies, an E90-1 Joe Jackson Rookie in a 1, a T206 Young Portrait in a 6, 1936 World Wide Gum Joe DiMaggio Rookie, a big run of very high grade 1950 – 1955 Bowmans, several 1952 Topps condition rarities, a 1952 Mathews in a 5, a 1959 Fleer Ted Signs #68 and some amazing 1964 Topps cards, including many 9s, completely fresh to market.
It is a cliché, but there really should something for almost all collectors in this exceptionally varied and well balanced auction. Be sure to visit www.cleansweepauctions and bid before the auction ends January 29.