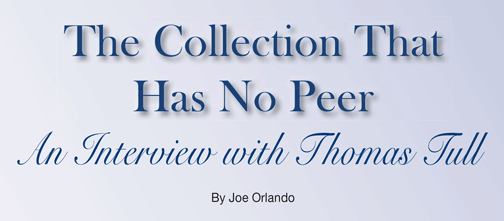 In the world of sports collectibles, there are collections and then there are COLLECTIONS, the kind of collections that captivate the viewer upon first sight. There are stellar baseball card collections and ones filled with a fantastic array of professional model bats, the weapons hitters used to make history. There are other collections which are centered around spectacular autographs and collections that are defined by their presentation quality, which may include majestic jerseys, flannel uniforms from a day long past.
In most cases, the various genres are held in mutually-exclusive collections. There are prominent collectors known for possessing top-notch trading cards or the best of the best in autographs, but rarely are collectors diverse in their pursuits. Furthermore, even when collectors decide to master more than one segment of the hobby, it is virtually impossible to maintain the same level of quality throughout. It takes more than just the financial wherewithal to do so. It takes tremendous persistence, a keen eye and a level of knowledge that few hobbyists attempt to gain.
Once in a great while, a collector comes along that represents the equivalent of what is referred to as a 5-tool player in baseball. For those of you who are not familiar with that term, a 5-tool player is one who can hit, hit with power, run, field and throw, excelling in each skill area on the list. In baseball history, there are very few players who can be defined as true 5-tool players. The majority of the very best players, including most Hall of Famers, did not possess ALL of these qualities.
Ted Williams, perhaps the best hitter who ever lived, was one of the greatest players of all-time; but he wasn't considered a Gold Glove-caliber fielder and he didn't possess base-stealing speed. Barry Bonds, even when he posted numbers that seemed inhuman, could do almost everything on the field, but he wasn't blessed with a cannon-like throwing arm. It takes a truly special talent to qualify and those types of players do not come along often, but when they do, fans take notice.
When people watched Willie Mays play the game in his prime, they witnessed this comet-like occurrence. Here was a man, blessed with physical gifts that made him seem more than human, who put it all together on the field. The result was a player who was not only great, not only a top-level Hall of Famer, but a standout amongst an already exceptional group. He combined all of these tools with a tremendous baseball IQ. There are only a handful of players that can truly be described in that fashion, and Mays is one of them.
In the world of collecting, the same can be said of Thomas Tull, owner of the most impressive amassment of baseball cards and memorabilia on the planet. In the hobby, he is what Willie Mays was to baseball, a collector who is more than just worthy of enshrinement in a collector version of the Hall of Fame. Tull owns many of the finest baseball cards and complete sets extant - like his PSA VG-EX 4 T206 Honus Wagner - but how many collectors can claim to own the Mona Lisa of baseball cards AND a Honus Wagner game-used jersey? Only one - Thomas Tull.
There are dozens of professional model bats and game-worn jerseys, used by many of the biggest names in the game from various periods in history. Many of them are the finest known examples of their kind. In fact, as is the case with his Honus Wagner jersey, some of the items are the ONLY known examples - period. From arguably the greatest player who ever lived in Babe Ruth to perhaps the greatest catcher who ever crouched behind the plate in Johnny Bench, the legends of the game are all represented with the tools of the trade in the Tull collection.
There are items worth $100 and others worth in excess of $1,000,000. Some of the artifacts are over 100 years old, while others were "born" in the Internet age. There are examples of unrivaled quality and several one-of-ones, items that most advanced collectors have never even seen before. There are hobbyists whose baseball card collections rank amongst the best in the world, but they don't own a single autograph. There are collectors who own museum-quality equipment such as bats, gloves and jerseys, but they don't own a single card. The truth is that most hobbyists rarely collect more than one type of item.
Tull is different. He is a 5-tool collector, one that has assembled a collection that is as diverse as it is great. It is a collection that took a lifetime to build and, without Tull's dedication and passion, some of the finest baseball collectibles in the hobby would never have been brought together under one roof. I have been one of the privileged individuals to see the collection in person, but not many people have been given that opportunity.
I can say, with complete confidence, that what Tull has compiled is the best collection of baseball cards and memorabilia in the world. It is not one of the best; it is THE best. There are, of course, some tremendous individual items and private collections that can be described as museum quality, but the Tull collection has no peer.
In the following interview, Tull, who is part owner of the Pittsburgh Steelers, the founder and CEO of Legendary Pictures and on the Board of Directors at the National Baseball Hall of Fame and Museum in Cooperstown, shares his thoughts about the hobby and how he got started building this unprecedented collection.
SMR: You are obviously known for putting together blockbuster movies like The Dark Knight Rises, The Hangover and the upcoming Godzilla film which is scheduled for release in the Spring of 2014, but you have also produced documentaries like It Might Get Loud and movies like 42 - The Jackie Robinson Story. Is it safe to say you have a passion for subjects like music and baseball?
TT: Absolutely. I have the privilege of making movies that I'm passionate about; that's the driving force behind the way we approach all of our films and television shows. I am very fortunate to do something that I truly love for a living.
SMR: When did you first start collecting?
TT: I have been collecting since I was 8 years old. I grew up in very modest circumstances, so it was a big deal to buy a pack of cards or to receive a whole box during the holidays or on a birthday. Like most other kids, I would open the packs and organize them by team and use the checklists that came with the set. I used the typical plastic sleeves and binders to store my cards so I could look at them. Collecting was a big part of my childhood.
SMR: What types of things do you collect?
TT: I collect baseball cards as well as memorabilia with an emphasis on game-used uniforms and equipment. And because of my love for the Pittsburgh Steelers I collect some game-used stuff from the great teams of the 1970s and beyond.
SMR: Are there any special areas of interest in your collection?
TT: When I was a kid, there were certain cards that I never dreamed of owning. They were almost like religious relics to me growing up. These are cards like the 1952 Topps Mickey Mantle, T206 Honus Wagner and the 1933 Goudey Lou Gehrig. As far as complete sets are concerned, I really like the classics, the T206, 1915 Cracker Jack, 1933 Goudey, 1941 Play Ball sets and the 1952 Topps. To me, they are royalty among cards.
"Frankly, third-party authentication and grading is everything. This is what allows me to acquire things with confidence... Every item that I own has been through that vetting process."

– Thomas Tull
Game-used jerseys, bats and gloves make up most of the memorabilia collection. I do own some single-signed and team-signed baseballs, in addition to some other autographed items, but there's something about the tools of the game that intrigues me the most. These are the items that I can look at over and over and over again. From Babe Ruth to Lou Gehrig, from Honus Wagner to Satchel Paige, these items take you back to another time and you try to imagine what it must have been like to play in those days. When you are around objects like this, the fabric of the game itself, you can't help but have a reverence for them.
SMR: How about the players themselves? Any personal favorites there?
TT: When it comes to my all-time favorites, the list would include Babe Ruth, Lou Gehrig, Willie Mays, Hank Aaron, Ted Williams, Roberto Clemente and Jackie Robinson. Growing up, my childhood hero was Graig Nettles, the great third baseman for the New York Yankees in the 1970s. He was an amazing defensive player and could hit for power too. I also admired Nettles for his toughness; he was gritty and determined. That Yankee lineup had so many other stars like Reggie Jackson and Thurman Munson, that Nettles was sort of an unsung hero on the team.
SMR: How important is third-party authentication and grading to you?
TT: Frankly, third-party authentication and grading is everything. This is what allows me to acquire things with confidence. The industry has come a long way and the evaluation process is much better than it used to be. With the prices that high-end collectibles are selling for today, without having a forensic evaluation and documented chain of evidence, all you are buying is a story and that is risky. I don't want any questions in my collection. If I buy something that has questions around it, it really ruins the experience for me. I have passed on some allegedly great pieces that, at the time, broke my heart, but I need to feel comfortable about the items being genuine. Every item that I own has been through that vetting process.
SMR: As they get older, is this something you hope to share with your sons?
TT: The way I look at it, I am really just working as acting curator for them (laughs). They are already sports fans at such a young age and this is something that truly is a family endeavor. In fact, my wife Alba is very passionate about the baseball card collection in particular. Her favorite card is the 1933 Goudey Napoleon Lajoie #106. She loves the story behind the card.
SMR: Every collector is different, but is it important to you to have the items displayed?
TT: For me, it is wonderful to be able look at and be surrounded by the things I love. I want to be able to share my collection with friends when they visit me. If I didn't have them on display, I couldn't enjoy the collection the way I would want to, plus it is always fun to see the reactions and excitement from friends that are fans. I recently had my friends John Henry and Tom Werner, owners of the Boston Red Sox, to dinner and they asked me if they could see some of the Ted Williams items in my collection. When we looked at the items I could see a genuine excitement on their faces, and it reminded me that even owners of ballclubs still have reverence for the history that collecting inspires. I also recall a time when Chad Boseman, the actor who played Jackie Robinson in our movie, was able to hold Jackie Robinson's bat from 1947 and his uniform. Watching him interact with these things was fantastic as it brought Jackie's legacy closer to the man who would play him on screen.
SMR: For others who may be interested in either starting a new collection or building upon the one they already have, do you have any personal tips you would like to share?
TT: The biggest thing is to decide what you like before you get started. I would suggest trying to organize yourself around the things that have special meaning to you and then build upon that foundation. There are so many auctions and collectibles being offered all the time. If you don't become disciplined in your collection, you can end up driving yourself crazy.
SMR: If there was one thing you would want fellow collectors to know about you and the collection itself, what would it be?
TT: I am a passionate baseball fan and having this collection allows me to feel immersed in the game. For me, the drive does not come from the financial investment in the collection. I just have a love affair with baseball. To have the privilege of owning these historic items and to have the responsibility of taking care of them means the world to me. There are some fantastic collectors out there that have so much passion for their collections and the sport that it is inspiring.