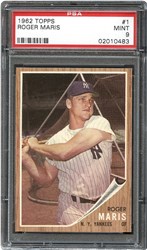 Centennial, Co. – Mile High Card Company put the finishing touches on a successful and event filled 2013 with a resounding bang, MHCC concluded its Premium Holiday auction on December 19, 2013, and saw tremendous results across the board. This auction had a markedly different feel in terms of size and scope in comparison to company's traditional auctions, focusing on a smaller lot size with select higher-level items being offered, continuing the format the company has used the previous three years to start the year, and also employed this year to finish its year. This elite format allowed us to concentrate on what we feel is the "best of the best" resulting in superior collectibles achieving record-setting prices. Said President and CEO Brian Drent, "We are always excited to be able to offer top shelf material in this more exclusive auction format. Our loyal customers have come to expect nothing but the best from our company, and once again our amazing consignors stepped up to the plate and made this tremendous sale a top flight event with the level of collectibles that were offered."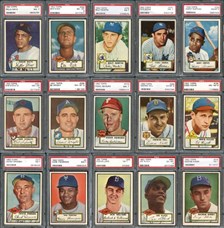 The auction consisted of just over 400 lots which is a markedly different feel than the traditional 1500 lot behemoth of a regular auction and tallied a stunning total of $1,242,750.00 with an average lot total of over $3,060.00 per lot sold. Some of the most heralded of the highlights came from an attractive group of exceptionally high grade complete sets, among the most impressive were the following: A 1954 Topps Baseball Completely Graded Set 7.974 GPA sold for an impressive $51,263.00, as well a terrific 1952 Topps High Grade Near Complete Set Mostly PSA Graded sold for $60,323.00, a 1957 Topps Baseball High Grade Near Complete Set (406/407) sold for $27,972.14, as well a stunning 1958 Topps Baseball High Grade Complete Set sold for an impressive $30,841.00, also offered in the outstanding assemblage of sets was a 1962 Topps Baseball High Grade Complete Set With An Abundance Of PSA Graded Cards which found a new home to the tune of $21,829.00. A host of upper end single graded cards were made available and were highlighted by the following strong prices realized: A stunning 1915 Cracker Jack #57 Walter Johnson PSA 8 NM/MT sold for $15,144.00, while a 1958 Topps #47 Roger Maris PSA 9 MINT soared to new heights with a final bid of $12,936.00, also attaining new levels of pricing was a 1962 Topps #1 Roger Maris PSA MINT 9 which sold for $27,171.00, as well a 1990 Topps Autographed George Bush Glossy (Presidential Copy) sold for an astounding $16,150.00, and a 1909 T206 Sherry Magee Error PSA 1.5 FR sold for $8,740.00, a terrific 1968 Topps #177 Nolan Ryan PSA 8.5 NM/MT+ sold for $4,734.00.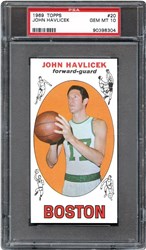 The auction was absolutely a Boston centric collection and was buoyed by several player collections most notably of Bobby Orr as well as Carl Yastrzemski and John Havlicek; the following prices represent some of the many highlights from this portion of the sale. A terrific 1960 Topps #148 Carl Yastrzemski PSA 9 MINT sold for an impressive $9,706.00, while a difficult 1960 Venezuela Topps #148 Carl Yastrzemski PSA 4 VG/EX sold for $3556.00, and a 1963 Topps #115 Carl Yastrzemski PSA 9 MINT sold for an astounding $4804.00, as well a captivating 1969 Topps #20 John Havlicek PSA 10 GEM MINT reached new levels at $25,273.00, and a scarce 1968 Topps Test John Havlicek PSA 8 NM/MT sold for $6,635.00. Completing the Boston trio were some extraordinary prices for Bobby Orr cards highlighted by the following: a 1966-67 Topps USA Test #35 Bobby Orr which sold for $22,921.00, and a 1966 Topps #35 Bobby Orr PSA 8 NM/MT which reached new levels at $10,936.00, as well a 1967 Topps #92 Bobby Orr PSA 9 MINT sold for $4,303.00, and a 1968 O-Pee-Chee #2 PSA MINT 9 sold for $13,547.00.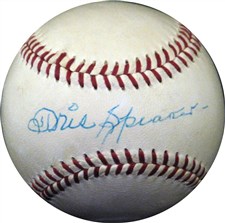 As with all MHCC auctions there was a select amount of exceptionally strong memorabilia featured with the following lots reaching extremely strong prices. An Extraordinarily High Grade Tris Speaker Single-Signed OAL (Harridge) Ball sold for $11,040.00, also an Exceptionally High Grade Thurman Munson Single-Signed OAL (MacPhail) Ball sold for $8214.00, and a Cy Young Single-Signed Baseball was bid to $7223.00, and a 1919 Chicago White Sox World Series Ticket Stub from "Black Sox" Season finished at $3292.00, as well an Exceedingly Rare 1933 Goudey Final Production Sheet Featuring #53 Babe Ruth And Four Other Hall Of Famers sold for $27,227.00.
Drent commented at the conclusion of the auction, "once again, the number of newly registered bidders combined with the strength of the final sale prices offers evidence that the hobby continues to thrive, and that truly great material will always sell for tremendous prices." As always, the entire list of prices realized is available on our website at www.milehighcardco.com, and as we prepare for a return to our standard-sized auction in March, we are actively seeking consignments of quality hobby material. If you desire the maximum possible return for your prized sports cards and/or memorabilia, please call our office at (303) 840-2784 to speak with one of our team of experts. Additionally, our popular Consignor Incentive Program continues, with all consignors earning reward points and our top consignor earning another in a long line of exceptional rewards.