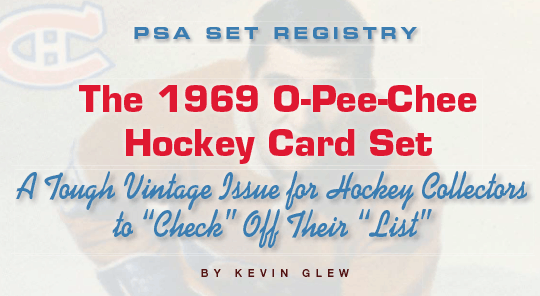 When collectors shelled out their hard-earned dime for a pack of 1969 O-Pee-Chee Hockey cards, they hoped to rip it open and find a Bobby Orr or Gordie Howe card.
Nobody wanted a boring, old checklist.
"Back when we were kids, we used the checklists to check off the players [as we got them]," said Dan Basso, who retired his No. 2 All-Time Finest, 1969 O-Pee-Chee Hockey Master Set in December 2012.
Most collectors shared the same utilitarian view of checklists, which has made vintage examples difficult to uncover in top grade. In fact, the first-series checklist (#132) in the 1969 O-Pee-Chee issue is now widely considered the most important card in the set.
"The toughest card in the whole set is the #132 checklist, which is the last card of the first series," noted Joe Henninger, who owns the registry's top Basic and Master 1969 O-Pee-Chee sets. "It also happened to be in the lower right corner of the sheet. So being on the corner of the sheet, it's going to get damaged. It's also the last card in the first series, so it's always on the bottom of the stack."
There has yet to be an unqualified example to grade above PSA NM-MT 8. One of the five PSA 8s sold for $909.99 on eBay in January 2008.
In an odd bit of sequencing, the second-series checklist is actually a lower number (#31) than the first-series checklist, but it's not nearly as difficult to track down in high grade. There has been one PSA GEM-MT 10 and six PSA MINT 9s of this card. The sole PSA 10 garnered $2,274.68 in a Memory Lane, Inc. auction in April 2007.
The checklists are unquestionably two of the keys to this 231-card, two-series offering, which was the largest hockey set issued to that point. Eight cards, an insert and a piece of gum were included in each 10-cent wax pack (up from the four-card, nickel packs released for the previous O-Pee-Chee series). Each first-series pack offered one of 22, two-panel stamps with player photos on them. These player stamps could be affixed to the back of the respective player's regular card.
"That led to a lot of the star cards having stamps adhered to their backs," said Henninger, "and you can't grade those cards. It took them out of the market."
Bobby Burrell, author of Vintage Hockey Collector, says stamps still in their original panels are more coveted than the single stamps.
Second-series packs offer one of 18, four-in-one cards that measure 2-1/2" by 3-1/2", as well as a small team album. These cards feature four mini cards of players that could be separated.
"They were mini cards that you could stick into a book," explained Henninger. "They were pretty cool, but now they're pretty expensive. They're hard to find."
Second-series 1969 O-Pee-Chee Hockey cards are more plentiful than first-series singles. A number of reports indicate that there was a find of second-series vending boxes. This may explain why so many more second-series cards have been submitted to PSA.
The front of each regular player card in the 1969 O-Pee-Chee offering presents a photo against a real background, which in many cases was a brick wall. The player's name and team are highlighted along the bottom, while their position is located inside a hockey puck design on the bottom right. A hockey stick drawing extends along the right side of the white-bordered front.
The reverse is blue and yellow and presents the card number, player name and vitals (e.g., age, height, weight, years pro, home, etc.) at the top, followed by biographical information in English and French. Some first-series players' cards have a spot for a stamp to be affixed, while the card backs of players not featured on stamps flaunt a cartoon illustrating a fact about them. All second-series regular player cards showcase cartoons. The player's stats are listed near the bottom, while the copyright information (T.C.G. Printed in Canada) runs along the right side.
Cards are grouped by team in each series (see the accompanying chart).
There are also three subsets in this issue. The previous season's award winners are featured on cards #205 to #210. An error version of Phil Esposito's card (#205), which presents him as the winner of the Art Ross and Hart trophies, has no card number on the front and #214 on the back (card #214 is actually Esposito's all-star card). A rarer corrected version exhibits #205 on the front, but still mistakenly includes #214 on the back.
The first- and second-team all-star singles are highlighted on cards #211 to #222. Henninger cites the Jean Beliveau (#220) and Yvan Cournoyer (#221) all-star cards as tough to find with good left-to-right centering. There are just two and five PSA 9s of the Beliveau and Cournoyer cards respectively.
Nine trophy cards conclude the set (#223 to #231). Dana Mair, who owns the registry's No. 6 Current Finest Basic Set, says the Lady Bying trophy card (#225) is challenging to find centered. This card is on the right edge of the third row of the sheet, a position that generally makes cards vulnerable to condition flaws such as miscuts. Just one example has been deemed a PSA 9.
The Art Ross Trophy single (#223) is even more elusive in top condition. It, too, is frequently found off-center.
"I only have a PSA NM 7, and I haven't seen a higher one come up on eBay over the last year," said Mair.
There has yet to be an unqualified example grade above PSA 8 and one of the 10 PSA 8s fetched $266.88 on eBay in August 2012.
The backs of the award winner, all-star and trophy cards combine to form puzzles of Bobby Orr and Phil Esposito.
This set also harbors the rookie cards of Hall of Famers Serge Savard (#4) and Tony Esposito (#138). The Savard is located on the right edge of the fourth-last row of the first-series sheet.
"That card is often off-center top-to-bottom," said Henninger. "It usually has a very thin border at the top."
There has been one PSA 10 and three PSA 9s. One PSA 9 sold for $1,876.51 on eBay in July 2013.
One of 33 double-printed, second-series cards (see accompanying list of double-prints), the Tony Esposito rookie (#138) is relatively easy to obtain in high grade. There is one PSA 10 and 69 PSA 9s. One PSA 9 garnered $475 on eBay in May 2013.
Other notable rookies in this set include Walt Tkaczuk (#43), Doug Favell (#88), Jean Pronovost (#155) and Pat Quinn (#186).
Orr's regular issue card (#24) is also one of the keys to this set. Situated in a vulnerable bottom row position on the first-series sheet (third from the left), this card isn't easy to find in top condition. Of the 188 submissions, there has yet to be a PSA 10 and one of the six PSA 9s fetched $2,414 on eBay in March 2007.
More than two dozen other Hall of Famers are featured in this set, including Phil Esposito (#30), Howe (#61), Bobby Hull (#70), Bernie Parent (#89), Jacques Plante (#180) and Terry Sawchuk (#189). Two of the tougher Hall of Famers to track down in flawless form are Jacques Lemaire (#8) and Dick Duff (#11). There are just four and two PSA 9s of each of those cards respectively (with nothing grading higher). Henninger points out that the Duff is located in the same column along the right edge of the first-series sheet (fourth from the top) as the Savard (#4) and the checklist (#132).
"The Dick Duff is an extremely tough card," added Mair. "I don't even have that card yet."
Mair adds that the Lemaire is located in the same column as the Duff on the first sheet.
Henninger says the Stan Mikita card (#76) was the last card he needed to have every card in his set in PSA 8 or better. Mair notes that the Mikita is on the bottom row of the first-series sheet (third from the left) and that there are just three PSA 9s.
There are also two versions of the "Mr. Hockey" Gordie Howe single (#193). The first version doesn't have a card number, while the corrected version includes the number.
"The error was in the first printing and that was the no number card that was a double-print," explained Basso.
Henninger points out that there are a whopping 161 PSA 9s of the Howe without a number, while there are just six PSA 9s of the corrected version.
Aside from the aforementioned first-series checklist (#132) and Art Ross Trophy (#223) cards, the Doug Mohns (#72) and Gary Dornhoefer (#94) singles are the only other cards not to have a PSA 9 or PSA 10 example. The Mohns card is located on the top right edge of the first-series sheet, while the Dornhoefer is situated in the second-last row, fourth from the left.
The challenge of tracking down these elusive cards, combined with the set's strong player selection and interesting design, make it a popular puck issue on the PSA Set Registry. Many of those pursuing it can remember collecting these cards as a kid, and if these hobbyists could go back 54 years, they would probably have a different mindset when ripping open their packs. Yes, they would want the Orr and Howe cards, but they likely wouldn't consider those checklists to be quite so boring.
---
Please feel free to contact Kevin Glew at [email protected] if you have any additional information or comments. Thanks to Bobby Burrell (http://vintagehockeycollector.com/ for sharing his resources for this article. Thanks to Joe Henninger for providing his cards to be scanned to go with this article. Please note that the Population Report figures quoted and Set Registry rankings reported are those as of November 2013.