Centennial, CO - Hot on the tail of its recently completed October 2013 catalog auction, Colorado-based Mile High Card Company is happy to announce the unveiling of its annual holiday Premium Catalog auction, set to go live on November 29 and culminate on December 19, 2013. This auction, like prior years' premium holiday events, brings a noticeably different aura to the table when compared to traditional MHCC catalog auctions, consisting of a smaller lot count and generally higher-caliber items for a more elite format. Additionally, this catalog auction marks the first time in company history that we have conducted four catalog auctions in a single calendar year, a testament to the continued loyalty and support of our highly-valued consignors and customers. Said MHCC founder and principal Brian Drent, "It truly has been a fun and remarkable year for us as a firm, and I can think of no better way to round it out than with this amazing auction."
This auction kicks off with a myriad of high-grade complete sets recently consigned to us by a prominent Midwest collector, who has chosen to entrust us with a large portion of his extensive world-class collection. In fact, the first 17 lots all hail from this monumental compilation, highlighted by Lot 1, a 1954 Topps Baseball complete set, entirely graded by PSA with an overall GPA of 7.97 with all but 10 cards graded NM/MT 8 or better. This lot is followed by an equally impressive 1956 Topps Baseball complete set in high-grade condition, with a total of 165 graded cards. These two lots are succeeded by an incredibly impressive 1957 Topps Baseball near-complete set, missing just one card and offering a total of 120 examples graded by PSA, the majority of which are NM/MT 8 examples including Mantle, Mays, Berra and Clemente, and a complete 1958 Topps Baseball set that includes 263 PSA-graded examples, which again consist mainly of NM/MT 8 specimens. Also from the same collection is a spectacular 1962 Topps Baseball complete set with nearly 240 cards graded by PSA, again mostly NM/MT 8 examples, as well as a stunning 1963 Topps Baseball complete set with 285 examples in PSA holders, again in high-grade condition. Also included in the impressive run of complete and near-complete sets is a nearly-complete set from the celebrated 1952 Topps release, in overall high-grade condition with nearly 250 graded cards and needing only 47 cards for completion.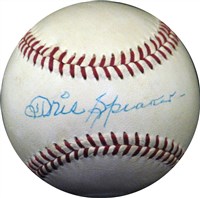 For the baseball memorabilia enthusiasts, the auction has to offer an exceedingly rare 1918-21 Babe Ruth 40K Professional Model Louisville Slugger Game-Used Bat, a "Kork Grip" artifact that originates from the early stages of the great Bambino's career, an extraordinarily high-grade Tris Speaker Single-Signed OAL (Harridge) Ball, an exceptionally high-grade Thurman Munson Single-Signed OAL (MacPhail) Ball, an important 1975 Carl Yastrzemski Boston Red Sox Game-Used Jersey, a gorgeous Jackie Robinson Signed Typed Letter, as well as a remarkable 1964 Yellow Hall of Fame Jimmy Foxx Dual-Signed Postcard. The auction also sees the return of an exceedingly rare 1933 Goudey Final Production Sheet Featuring #53 Babe Ruth and Four Other Hall of Famers, offered again after a brief tenure in the hands of our consignor. Baseball enthusiasts who favor ultra high-grade single cards need not fret, as this event also includes an alluring 1911 T205 R. Hoblitzell No Stats EX 5, a mouth-watering 1915 Cracker Jack #30 Ty Cobb, a stunning 1915 Cracker Jack #68 Honus Wagner a magnificent 1915 Cracker Jack #57 Walter Johnson PSA 8 NM/MT, a sweet 1948-49 Leaf #1 Joe DiMaggio, a compelling 1935 Diamond Stars #64 Jimmie Foxx PSA 9 MINT, a 1952 Topps #312 Jackie Robinson PSA 8 NM/MT, an incredible 1952 Topps #1 Andy Pafko, an impressive 1952 Topps #311 Mickey Mantle, a 1958 Topps #47 Roger Maris PSA 9 MINT, a phenomenal 1962 Topps #1 Roger Maris PSA 9 MINT, a 1969 Topps #100 Hank Aaron PSA 10 GEM MINT, and a seldom-seen 1990 Topps Autographed George Bush Glossy (Presidential Copy), the first of its kind to hit the market.
For the basketball aficionados, we are pleased to be able to offer a truly amazing 1969 Topps #20 John Havlicek PSA 10 GEM MINT, the one and only GEM MINT John Havlicek rookie card in existence! Also offered is a 1968 Topps Test #5 John Havlicek PSA 8 NM/MT, as well as a compelling piece of cager memorabilia in the form of a 1970s John Havlicek Boston Celtics Game-Used and Signed Jersey.
Plenty of exciting material is also offered from the realm of the gridiron, not the least of which is a jaw-dropping and exceedingly important 1962 Roger Staubach Autographed Navy Football Game-Used Jersey with Jersey Style Photo Match, as well as a majestic 1972 Topps #200 Roger Staubach PSA 10 GEM MINT, one of only two Staubach rookie cards to attain the coveted GEM MINT status. And if you prefer hockey collectibles for your trophy room, we are pleased to offer a stunning 1966-67 Topps USA Test #35 Bobby Orr, a magnificent 1966 Topps #35 Bobby Orr PSA 8 NM/MT, and an exceptionally scarce 1971-72 O-Pee-Chee Test NHL Posters Complete Set in marvelous high-grade condition.
In summary, all of us here at Mile High Card Company are proud to be able to bring you these and all the other spectacular collectibles in this auction, and we wish to extend a heart-felt "Thank You" to all of our bidders and consignors, as conducting these incredible auctions is truly our passion. Bidding will be available on our website at www.milehighcardco.com or by phone at 303-840-2784, and as always, we encourage you to contact us with any questions regarding auction items. MHCC is actively accepting consignments for 2014, which is scheduled to include four more catalog auctions, the first of which will be in March, as well as our bi-monthly Extra Innings auctions. From the entire MHCC staff, wishes for a safe and joyous holiday season as well as a prosperous new year. Thank you once again, and enjoy the auction!