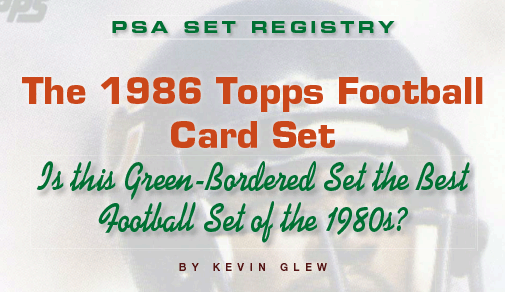 It's not easy being green.
That's what the borders on the 1986 Topps Football cards might say if they could talk.
Like Kermit the Frog - who made those words famous - the borders on these pesky pigskin pasteboards might lament their coloration. And if they could speak, they would likely ask hobbyists to be more tolerant of their fragility. But this would probably fall on deaf ears with PSA Set Registry enthusiasts who are focused on obtaining gem mint grades.
"With the green borders, most of the [1986 Topps Football] cards that come out of wax packs, in my opinion, are [PSA NM-MT] 8s," said Kevin Roberson, who owns the top three 1986 Topps Football sets on the PSA Set Registry and is aiming to collect the entire set in PSA GEM-MT 10.
Jon Callahan, who has assembled the registry's No. 11 Current Finest set, shares similar observations.
"The green borders are easily chipped, not completely unlike the 1985 [Topps Football] black borders," he said.
Bill Feldmaier, proud owner of the No. 4 Current Finest registry set, agrees.
"The green borders chip and the card quality is all over the map with this set," he said.
The unforgiving green borders are the primary reason this set is the most difficult 1980s Topps Football offering to complete in PSA 10 condition (see chart). To a lesser extent, print dots, fuzzy photos and poor centering also hamper these cards.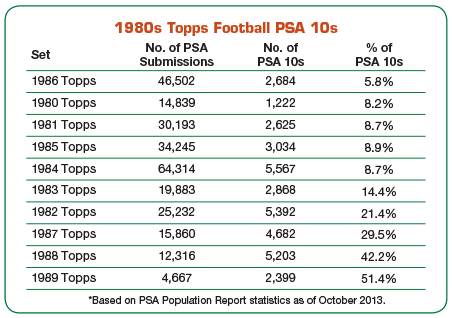 "There are 37 cards that don't have a PSA 10 example yet, and those are the cards that I need [in order to have a perfect PSA 10 set]," said Roberson, whose No. 1 set boasts a 9.91 GPA.
Roberson also notes that 42 cards only have one PSA 10 example. Hobbyists insist, however, that tracking down these pasteboards with flawless green borders is part of the fun of collecting this set.
"That was actually something that attracted me to the set," said Will Prout, owner of the registry's No. 6 Current Finest set. "I put the 1986 [set] in the same class as the 1962 Topps Football cards. The borders are not forgiving, but that's actually kind of good [because] if an average Joe is looking at a non-graded card, they can tell very easily if there's a hiccup on the border."
Measuring 2-1/2" by 3-1/2", the regular player cards showcase a large photo surrounded by a thin brown frame on their vertical fronts. The brown frame is then enveloped by green football field-like borders with white stripes. The player's name and position can be found along the bottom, while the team nickname is found inside a diagonal bar located on the bottom right.
"I've always liked the look of the cards. I was always drawn to the green borders," said Prout. "If I took all of my cards [from every year] and set them out in stacks, the green football field-looking borders on these would just jump out at me."
The backs boast a horizontal design, with the card number and player name at the top beside a cartoon sketch of football fans. Most of the information - player vitals, year-by-year stats and a short bio - are presented inside a tilted rectangular box in the middle, while copyright information is located along the bottom.
A seven-card Record Breakers subset - that includes pasteboards of Hall of Famers Marcus Allen (#1), Eric Dickerson (#2), Steve Largent (#4) and Walter Payton (#7) - is featured at the beginning of the set. The top two-thirds of the borders on these cards are yellow, while the bottom third boasts the same green, football field-like design of the regular cards.
Card #8 celebrates Super Bowl XX, which saw the Chicago Bears defeat the New England Patriots 46-10. There are also five horizontal League Leader cards (#225 to #229), the most coveted features Joe Montana (#225) as the NFC Passing Leader, alongside AFC passing champ Ken O'Brien.
The player cards are presented in team order. Representatives from the Bears (#9 to #28) and Patriots (#29 to #43) - the two teams that met in the previous season's Super Bowl - are first. Players from the rest of the franchises are then presented in order of their team's 1985 regular season record. Each team segment begins with a yellow-bordered team card that showcases an action shot, slogan and team name on the front, with a list of team leaders and 1985 results on the back.
The 1986 Topps cards were distributed in 17-card wax packs, 48-card racks, 31-card cellos and 500-card vending boxes.
"Rack packs seem to pull the best quality cards. With a lot of the wax, you lose the first card because of the gum," said Roberson. However, he also adds that even the wrapper may be to blame on occasion due to the way it's hitting all of the cards on the sides. "The cards just don't seem to be preserved well in the wax. The same kind of thing happens in the cellos," he further commented.
One of 26, 1,000-Yard Club insert cards was included in each wax, rack and cello pack. These singles highlighted players who accumulated 1,000 yards in rushing or receiving in 1985.
"I was born in 1978 and I used my milk money to buy football cards in 1986," said Feldmaier, when asked why he chose to focus on this set. "I would walk by a pharmacy on the way home and pick up a pack of cards, and they were from this set."
Feldmaier also appreciates the player selection in this set.
"You've got Steve Young, Jerry Rice, Bruce Smith, Bernie Kosar, Boomer Esiason, Andre Reed - there are all of these great rookies in there, not to mention [early cards of] [John] Elway and [Dan] Marino," he said. "It's a great, star-studded set."
Prout agrees.
"There's a gaggle of good rookie cards and there a lot of other Hall of Famers," he said. "That's Warren Moon's second-year card and then you've got Marino and Elway. Of course, their rookie year was 1984, but these cards are pretty early in their career. Then you've got Payton and Montana. There are a lot of good names in this set."
The Rice rookie (#161) is the most heralded card. Of the 14,669 submitted, there have been just 49 PSA 10s, one of which fetched $4,026.05 on eBay in October 2012. Chipping on the green borders is the most common condition issue with this card.
But Roberson says the Steve Young rookie (#374) is more evasive in top condition than the Rice. He points out that nine years ago there were three PSA 10 Young rookies and another wasn't uncovered until earlier this year.
"Sometimes there are print defects [black spots] on it and centering is always an issue," said Roberson, who owns one of the PSA 10 Young cards. "It's the centering that [impairs] the Young card most of the time. I've opened up a lot of the packs and I was seeing them with 80/20 centering and 70/30 centering."
Roberson believes that if a PSA 10 Young surfaced for sale, it would garner more than a PSA 10 Rice.
Two other Hall of Famer rookies - Reggie White (#275) and Bruce Smith (#389) - are also in this set, and more players who made their cardboard debuts in this issue will likely be honored in Canton in the future.
"Andre Reed's rookie is in there and I think he'll be in the Hall of Fame very shortly," said Roberson.
Other noteworthy rookies in this set are William "TheRefrigerator" Perry (#20), Mark Bavaro (#144), Gary Clark (#176), Kosar (#187), Esiason (#255) and Anthony Carter (#297). Roberson possesses the only PSA 10 Perry.
"I've literally had a stack of 100 Perry cards in my hand," said Roberson. "The Perry was one of those cards that was hard to get even in a [PSA MINT] 9."
Poor centering and border chipping are the most common flaws with the Perry.
There are also a number of commons that are evasive in top condition. Callahan and Roberson both say the Otis Wilson card (#23) is difficult to find in pristine form.
"Otis Wilson cards seemed to be very difficult to find in [PSA] 9 condition," said Callahan. "There are still only 10 [PSA] 9s and no [PSA] 10s as of today."
Callahan says print dots and smudges tend to plague the Wilson card.
Roberson has purchased thousands of 1986 Topps Football cards and at one point had amassed large stacks of many of the players. He lists Gary Jeter (#87), Wendell Tyler (#158) and James Jones (#245) as cards that are particularly tough to find in high grade. There has yet to be a PSA 10 example of any of these cards.
Roberson names these three cards as tough commons based not only on the actual PSA Population Report statistics, but also because of his own personal, hobby experience. "This goes back to having 100 of these Gary Jeters in my hand and knowing that two of them might be good enough to send into PSA," he said.
The relative scarcity of these commons and Hall of Famers with flawless green borders is one of the reasons collectors feel this set has the potential to appreciate in value in the future.
"I wouldn't have invested the kind of money that I have if I didn't think it had huge upward potential," said Roberson. "As the [PSA Population Report numbers] increase, it hurts the price of the cards; but at the same time, as the [numbers] increase, there are certain cards that stand out as rarities. I don't believe that the 1980s sets are highly collectible yet, but I have to believe that in 10 or 15 years, the 1986 Topps Football set won't be any different than the 1971 [Topps] Football [set] is [today]. It just needs a little more age on it."
Feldmaier offers similar thoughts.
"I think there are going to be some lifelong low [ranking] [PSA Population Report] cards in this set," he said. "I do think that this is the premier 1980s set from any sport."
---
Please feel free to contact Kevin Glew at [email protected] if you have any additional information or comments. Thanks to Kevin Roberson for providing scans. Please note that the Population Report figures quoted and Set Registry rankings reported are those as of October 2013.