When asked about the key cards in the 1967 Topps Hockey set, collectors named the Bobby Orr, Gordie Howe, Bobby Hull and Dick Duff singles.
The first three names were to be expected - after all, they're hockey royalty - but Dick Duff?
To be fair, Duff - like Orr, Howe and Hull - is a Hockey Hall of Famer, and yes, the 5-foot-9 left winger was a member of six Stanley Cup-winning teams in his 18-year playing career. But Duff never tallied 30 goals in a season and only surpassed 50 points once, so his election to the Hall in 2006 - 34 years after his final game - left a lot of people scratching their heads.
But regardless of whether Duff merits a plaque in hockey's most hallowed shrine or not, his 1967 Topps Hockey pasteboard (#2) is unquestionably difficult to track down in PSA MINT 9 or better condition.
"The Duff card often has print roller lines on it," explained Joe Henninger, who owns the No. 2 Current Finest, 1967 Topps Hockey set on the PSA Set Registry. "I'm sure it also took a beating being [situated] near the top of [collector] stacks. I'm always on the hunt for that card, and the roller marks are the first thing I'm looking for when I find one."
Henninger shared an image of the 132-card (12 rows of 11 cards), 1967 Topps Hockey sheet which reveals that Duff is second from the right in the top row. Top row cards on print sheets are generally prone to production flaws. Of the 58 Duff cards submitted, there has been one PSA 9 and 15 PSA NM-MT 8s. One of the PSA 8s fetched $425 on eBay in November 2012.
So while this set - the last Topps issue to feature solely the Original Six teams - harbors much more heralded Hall of Famers than Duff, his card in pristine condition is arguably the key to this issue.
Measuring 2-1/2" by 3-1/2" each, the white-bordered player cards in this set showcase a photo against a color background. Each team had its own designated background color (see accompanying chart).
"The background on the cards is really interesting. It's the first time they used hand-drawn crowds," noted Bobby Burrell, author of Vintage Hockey Collector. "They did a good job on the design. The cards are very colorful."
The fronts also showcase the player name, position and team, while the backs are similar to those employed on the 1966 Topps Hockey cards. The card number is highlighted in black in a white puck design on the top left, but the bulk of the information is presented in white print in a large black box. The player's name, position and team are indicated along the top, followed by a short bio.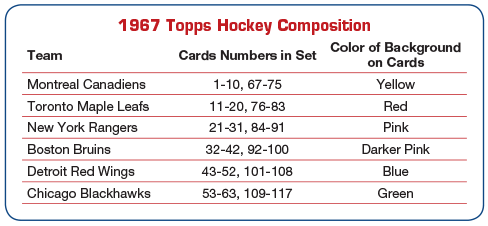 Career totals, 1966 stats and vitals (e.g., date of birth, height, weight, etc.) are in a table below the bio, followed by the French translation of the bio. The copyright information indicates that Topps once again printed their hockey cards in Canada, but this issue represented the last time that Topps did so. Separate O-Pee-Chee and Topps hockey sets were issued for many years after this.
Outside of the regular player cards, there are four trophy cards (#64, #65, #118 and #119) that feature the previous season's award winners. The Calder Memorial Trophy card (#118) is the most coveted because it has Orr on it. The backs of the trophy cards form a small Bobby Hull puzzle.
This set also concludes with 12 all-star cards (#121 to #132).
"The all-star cards are the best all-star cards of any [hockey] set," said Rich Katz, who owns the registry's No. 1, 1967 Topps Hockey set. "They're really cool looking with their cartoon-like lettering and with the colors they have."
Each letter in the word "All Star" on these cards is a different color. First-team all-stars have green backgrounds, while the second teamers flaunt a pink background. It's interesting to note that Orr, coming off his rookie season, was deemed a second-team all-star, behind first-team blueliners Harry Howell and Pierre Pilote. Howe is also recognized as a second-team all-star behind Chicago Blackhawks right winger Ken Wharram. Henninger says the backs of the all-star cards combine to form a Stan Mikita puzzle.
Katz also savors the checklists (#66 and #120). Similar to the all-star cards, these cards showcase funky, cartoonish lettering with each letter in the word "checklist" showcased in a different color, and the name of each team highlighted in green on the fronts. The backs revert to plain black text on an off-white background.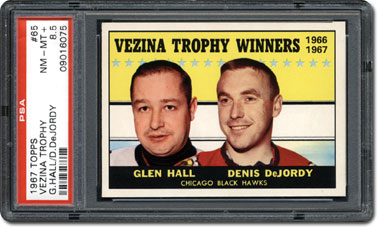 These cards were distributed in five-cent packs that Burrell says likely included four cards, but so few packs have surfaced that it's almost impossible to confirm this. In fact, wrappers from this issue are so difficult to find that Burrell says the last two have fetched $1,500 each in private sales.
Burrell also notes that the 1967 wrappers resemble those used for the 1965 Topps Hockey series. They even present the same premium mail-away offer. If collectors mailed five, 1967 wrappers and 30 cents to an O-Pee-Chee address, they would receive a regulation size NHL puck. Burrell points out that the same puck was offered on the 1965 wrappers, but for 25 cents and five wrappers.
Because the 132-card, 1967 Topps Hockey set was printed on a 132-card sheet, it's unlikely that the cards were released in two series. But with the first checklist (#66) smack in the middle of the set and representatives from each team divided into two segments in the set's first and second halves (see chart on the right), this issue's composition does give the impression that it was released in two series.
On top of Duff (#2), Orr (#92), Howe (#43) and Hull (#113), at least 20 other Hall of Famers are also in this set, including Dave Keon (#11), Tim Horton (#16), Boom Boom Geoffrion (#29), Phil Esposito (#32), Henri Richard (#72), Jean Beliveau (#74), Johnny Bower (#76), Frank Mahovlich (#79) and Stan Mikita (#114).
Henninger says a high-grade copy of Orr's regular single (#92) - his second-year pasteboard - is still likely to command more than any other card from this issue at auction. Of the 314 submitted, there have been 21 PSA 9s and just one PSA GEM-MT 10. One PSA 9 sold for $1,556 on eBay in December 2011.
Another coveted Hall of Famer card is Lorne Worsley, the set's first single. There are just four PSA 9s of this pasteboard.
"As far as finding cards in PSA 8 or above, the second hardest card [to the Duff] would be the No. 1 Worsley card," said Henninger. "The No. 2 [Duff card] and the No. 1 cards are tough obviously from being on top of the stack."
Two Hall of Famers - Jacques Lemaire (#3) and Glen Sather (#38) - also made their cardboard debuts in this offering. Like the Worsley and Duff cards, many of the Lemaire rookies were damaged because they were near the top of collector piles. So far just five PSA 9s have been uncovered, one of which garnered $1,325 on eBay in August 2009.
Two other desirable rookies in this set are the Derek Sanderson (#33) and Rogie Vachon (#75) singles. Best known for his playboy image off the ice, Sanderson continues to be popular amongst collectors.
"The Sanderson does real well price-wise [in high grade]," said Henninger.
Only four PSA 9 Sanderson rookies exist and one of them sold for $633 on eBay in May 2008.
In contrast to Duff, many hockey pundits believe that Vachon should be in the Hall of Fame. After winning two Stanley Cups and a Vezina Trophy at the start of his career with the Montreal Canadiens, Vachon was dealt to the Los Angeles Kings, where he was the team's MVP four times in a five-season span between 1973 and 1977. He finished his career with 51 shutouts.
"I don't understand how Vachon is not in the Hall of Fame," said Katz. "Just from his resume, it looks like he should be a no-brainer."
With four PSA 10s and 29 PSA 9s, the Vachon rookie is relatively easy to track down in top condition, but his rookies still command a premium ($2,000 for a PSA 10 on eBay in September 2012) and should increase in value if he's elected to the Hall.
The Pit Martin card (#116) has been submitted to PSA the fewest number of times of any card in this set. This card is located on the left edge of the top row of the sheet, a position which traditionally makes cards vulnerable to miscuts and other flaws during the production process. Just 51 have been evaluated and there are three PSA 9s.
But in comparison to its cardboard contemporaries, this set is not difficult to assemble in top condition.
"I think the reason for that is these cards have a pretty good size border on them," said Henninger. "The larger white borders help with the centering."
And the availability of these cards in decent condition has kept the set relatively affordable - outside, of course, of PSA 9 or PSA 10 examples of Hall of Famers like Orr, Howe, Hull and the elusive Duff.
"If Vachon gets into the Hall of Fame, I think that will help this set [potentially increase in value], but his card already does real well," said Henninger. "This set is attractive because if you want to collect all-time greats, you can get into this set buying PSA [NM] 7s and PSA 8s for relatively low prices and still have a nice quality set."
Katz offers similar insight.
"I think a lot of people really dig the all-star cards in this set, and because of that, this set will always have a fair amount of appeal," he said. "It also has the star appeal in terms of the big three players [Orr, Howe and Hull] at that time. I think it's a solid 1960s hockey set."
---
Please feel free to contact Kevin Glew at [email protected] if you have any additional information or comments. Thanks to Bobby Burrell (http://vintagehockeycollector.com/) and Joe Henninger for sharing their resources for this article. Please note that the Population Report figures quoted and Set Registry rankings reported are those as of October2013.