WATCHUNG, NJ -- If there was any trepidation about breaking from the long standing once-a-year format, it quickly evaporated once the dust began to settle at Robert Edward Auctions early Sunday morning. The company's inaugural Fall Auction generated $3.06 million in sales led by extremely strong showings for the hundreds of vintage, rare and high grade baseball cards and historic memorabilia items that have been the REA trademark.
The Fall Auction marked a big milestone for REA, which has operated on a one auction per year basis since the company's inception. Delivered in the spring, the huge catalog has always been highly anticipated by collectors. The Fall 2013 catalog was smaller by design but drew a crowd of bidders that weren't shy about chasing after the 1,140 lots.
"This auction exceeded all of our expectations," said company president Robert Lifson. "We had a little bit of everything but a big part of the auction was our experimenting with breaking up extremely high grade sets. We were very pleased with the results. Collectors were very excited about the chance to bid in another REA auction in October and the feedback from consignors has been just as clear and maybe even louder. They were thrilled."
A remarkable 12,231 bids were placed from open to close and there were 456 different winning bidders.
Four high grade vintage card sets that were broken up, allowing collectors to more easily acquire what they needed, all alone represented 35% of the auction lots. In most cases, the results far surpassed expectations-and 'book' value.
The #3 ranked 1956 Topps baseball set on the PSA Set Registry was offered as 110 different lots. The SMR value of the set was $137,985, but at REA the set realized a total of $188,593 representing a remarkable across-the-board 36% premium to book value.
A high-grade collection of eighty 1958 Topps cards with a total SMR value of $17,520 sold for a combined ?$36,794. In addition, two PSA 10s from the same set sold for a astounding $6,517 each.
The #5 ranked 1955 Topps All-American football set was offered in 30 different lots. The SMR value was $36,875 and the set realized $40,883 in total.
Every card in the #1 T205 Gold Border set? on the PSA Set Registry? was sold as an individual lot, and at the end of the night, the set hammered down at a combined $321,076, including $23,500 for Christy Mathewson graded NM-MT 8 by PSA.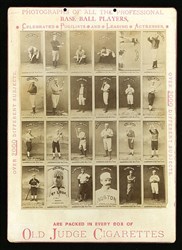 The first lot in the auction was perhaps the sale's greatest highlight and fittingly drew the largest bid. 126 years after it was placed in a store to promote trading cards of 'base ball' players available in Old Judge cigarettes, the display poster which features 19th century stars and somehow survived destruction, realized $112,575. "There was a tremendous amount of interest in the Old Judge display. This is the first Old Judge baseball card store display we have ever offered at auction. They are so rare that there is naturally very little price history. So it was interesting to see so many bidders instantly recognize the value of the piece, thinking for themselves, and bid accordingly. It's a strong sign of a very healthy market for the very best items in general, as well as a sign of tremendous appreciation by collectors for this item in particular."
A Ty Cobb pro model bat dating the 1916-1919 period which could be traced directly to the hands of Ty Cobb and which once resided in the legendary personal collection of pioneer collector and noted bat expert Michael Montbriand, found a new home at a price of $65,175.
As bidding wound down late Saturday, the Boston Red Sox were earning another trip to the World Series and two key pieces of Bosox memorabilia were getting some extra attention from bidders. A 1955 Ted Williams game-worn road jersey sold for $77,025 while a 2004 Red Sox World Series ring with original box tallied $32,587.
Finding a truly game-worn Michael Jordan jersey is a challenge. Even though they're often labeled as such, many are actually just game issued or even replicas. However, REA was able to present a 1992 U.S. Olympic basketball jersey worn by Jordan that came with a letter of authenticity directly from Jordan's foundation. Originally purchased at a 1992 fundraising gala, the jersey was also graded A10 by MEARS and sold for $53,325.
T206 cards featuring rare advertising backs continue to generate interest and one card illustrated how much that sector of the hobby has grown. A Walter Johnson graded SGC 60 and featuring a Broad Leaf Tobacco ad sold for an astounding $65,175.
A T206 Tris Speaker featuring a Drum Tobacco ad on the back and graded PSA 4 sold for a remarkable $32,587 while a Rube Marquard Uzit back, graded PSA 7 (highest graded) brought $18,960.
The 1955 Ebbets Field Model Recreation by artist Steve Wolf was one of the most fascinating items ever offered by REA. It was hammered down at $47,400. With over 50,000 separate pieces and over 1,800 hours invested in its creation, this is the first and only Steve Wolf stadium model to ever be presented at auction. All other Steve Wolf stadium creations have been by commission. This model is the only one ever produced by Wolf as his own pet project, and the detail and work involved was greater than that of any of his other stadium projects, all of which are renowned as masterpieces. The buyer has volunteered that he hopes to someday display the 1955 Ebbets Field Model Recreation in a museum, and that is certainly where this remarkable work would be most at home.
REA is now accepting consignments for its next auction, set for the spring of 2014. To inquire about consignments, learn more about Robert Edward Auctions, view all auction results, register for future auctions, or receive a complimentary copy of the catalog, visit www.RobertEdwardAuctions.com. For further information, contact Robert Edward Auctions, PO Box 7256, Watchung, NJ 07069, or call (908) 226-9900.