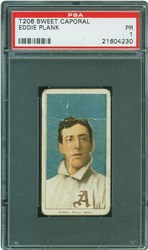 All October SportsCardLink Featured Auction lots will close today on Wednesday, October 30th! This auction features important sports cards from the early 1900s to the mid 1980s, with a tremendous range of low, middle and high grade cards sure to interest many sportscard collectors.
The auction offers hundreds of cards showcasing HOF'ers, rookies, rarities, and a significant set break, all of which are offered without a seller reserve. Among the highlights in this auction is an original owner T206 find with a small group of Hall of Famers including the ever elusive Eddie Plank card, which is second only to the Wagner in terms of its importance within the T206 set. Passed down to the consignor from the estate of a great uncle, these cards were recently graded and this is the very first public offering anywhere for them. Another exciting highlight of this SportscardLink auction is the set break of an exceptional 1959 Topps Set, which was #9 on the PSA set registry with an average assigned grade of 8.16. Not a single card within the set grades below a PSA 8, and there are significant rarities in the grades of 8.5 and 9. Included within the set are the the #1 Ford Frick card in PSA 9 (1 of only 7 in PSA 9, there are none higher), the Roy Campanella in PSA 9 (also 1 of 7 with none higher), as well as the ever elusive Billy Pierce card (in 8.5 this is one of the 5 highest graded examples). There were many other extremely high-grade rarities in this set. All of the PSA 8.5s and PSA 9s are being auctioned individually, as are the major stars (Gibson RC, Mantle, Mays, Koufax, Clemente, etc.).
As always, SportsCardLink happily accepts credit cards from bidders, making it easy to bid on more items -- or higher -- than they otherwise would with another auction company! We are also offering bidders the opportunity to pay with time payments and consign cards to our next auction to subsidize their purchases in this one. This is a "win-win", as on the other side of the same coin, we have seen that our flexibility results in happier seller, when they receive more bids on their consigned cards! Additionally, SportsCardLink has a strict policy that discourages shill bidding and which acts to prevent conflicts of interest. What this means is that bidders can rest assured that the bidding process is fair to all. Sellers are unable to place bids on their own lots via the SportsCardLink web site, and no SportsCardLink owner or employee may compete with our auction bidders.
The Summer 2013 Auction can be viewed on SportsCardLink's state-of the-art website at www.sportscardlink.com. SportsCardLink is actively seeking consignments for the Featured Auctions planned for the Fall of this year. Generous advances are extended, and preferred consignment rates (the lowest in the industry) are offered to early consignors - 0% sellers commission combined with only a 10% buyer premium (we have to stay in business somehow!). To inquire about consigning or with any other questions about this auction, contact the SportsCardLink team at 617-517-0072 (option 1 for sales)!
www.SportsCardLink.com also offers a full-service Sports Card Exchange and brokerage service for vintage, investment quality sports cards. New cards are added daily by registered sellers and sellers may apply to be a registered seller at any time via the web site.
SportsCardLink is now turning its attention to consignment-gathering for our Winter Auction. The growing preview for this auction will be posted soon, and we encourage early consignments with preferential advertising exposure, the best consignment rates, and very aggressive cash advance offers! We offer many selling benefits, including the lowest consignment rates (0% Sellers with only a 10% Buyers premium), generous interest-free cash advances, and the ability to pay for auction purchases entirely or in part with credit card or consignments to a future auction. Call us at 617-517-0072 (option 1), or email [email protected] to see what we can do for you!