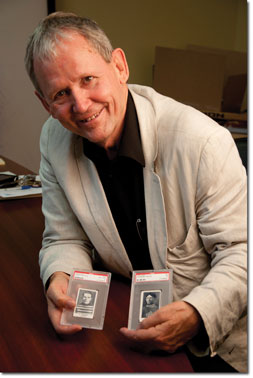 For sports card and memorabilia collectors and dealers, the past two decades have seen numerous offerings of significant collections that have proven to be pivotal milestones in the enhancement and advancement of the hobby.
The final months of 2013, along with the first six months of 2014, will see one of those milestones reached as the most important PSA-graded, pre-war hockey card collections ever compiled hits the block at Classic Auctions, Inc. - The Simon Bourque Collection.
To say that Simon Bourque is a hockey card collector is akin to saying the Grand Canyon is a hole in the ground. With his passion for vintage hockey cards, and a laser-focused desire to achieve his goal of compiling the world's finest collection, Bourque has established himself as the premiere collector of the genre.
"It is a collection that will never be equaled," says Mathieu Morin who serves as the director of marketing and business development for Classic Auctions, Inc. "To try and put a collection like this together today, in my opinion, would be impossible."
Representing over two decades of work, Bourque's collection includes cards that have never before been made available to collectors.
"Unlike baseball cards, there were not a lot of hockey cards made," explains Morin. "As the years have gone by, many of those pre-war cards have either disappeared or become a part of various collections. They are now in the hands of collectors who know what they are worth. Because of that, there have been fewer and fewer of them out there and some have never been offered for sale to the public."
The collection, which includes cards that even the most serious of hockey card collectors have never even actually seen, is composed of sets and individual cards from 1910 to 1940 with 95 percent of the sets occupying the number one spot on the PSA Set Registry, more than 600 of the cards being 1 of 1 and over 400 holding the distinction of being the highest-graded of their example.
Morin says there simply are not enough superlatives to properly describe this offering. "You can call it the greatest collection, the biggest collection and certainly the most important card collection we have ever represented," he declares.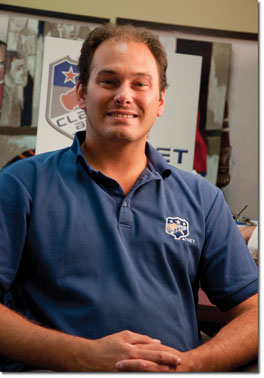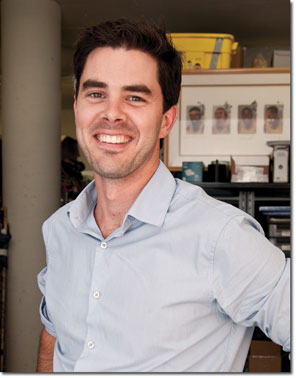 "This is the only chance many collectors will ever have to get number one cards and number one sets of the rarest hockey cards ever made. This is it - the very best. And unless one person was to buy everything, which is unlikely, there will never be a collection or an offering like this again."
Classic Auctions, Inc.
Established in 1995, Classic Auctions, Inc. has become renowned as the industry leader when it comes to representing historical hockey material. Over the years they have handled the sale of Paul Henderson's 1972 Team Canada jersey that brought in a record-smashing price of $1.275 million, Bobby Hull's Stanley Cup ring that brought the gavel down at $85,000, a Jean Beliveau game-used hockey stick that sold for $17,500 and Beliveau's 1957 Stanley Cup trophy that garnered $42,000.
"Over the years we have represented the collections of some of the most iconic players in the history of hockey - Maurice Richard, Bobby Hull, Howie Morenz, Toe Blake, Henri Richard, Guy Lafleur Luc Robitaille, Bryan Trottier, Norm Ullman, Jacques Laperierre, Clark Gillies, Ted Kennedy and the list goes on and on," says Morin.
"No other memorabilia company or auction house sells more quality hockey memorabilia then we do. We have worked hard to become the best place for consigners and buyers alike. We have dedicated ourselves to making sure our service is always perfect. It has been that commitment to quality and service that has earned us the trust of those whom we deal with, as well as an excellent reputation in the market."
With over a half-century of combined experience in hockey memorabilia, the Classic Auctions, Inc. management team has assured satisfaction to their clientele by offering personalized service and the highest-quality of products. By maintaining a substantial inventory of rare and one-of-a-kind items, they have earned a loyal clientele that goes beyond the western hemisphere into all parts of Europe and Asia.
Having become the "go to" source for numerous National Hockey League and international hockey players, their families and estates, it is no surprise that Bourque tapped Classic Auctions, Inc. to represent his card collection.
"Simon is an amazing person," says Morin. "He was so dedicated in putting this collection together and is now at the point in which there is nothing more he can do to enhance it. I guess that is the only downside to having compiled the top collection in existence - the goal has been reached - the challenge is over."
"So, now he is turning his attention to pre-war, non-sports cards that were manufactured in Canada. His hockey card collection will not even be sold and he will already be well on his way to building the best collection of non-sports cards. Collecting is in his blood, so he isn't going anywhere. He will still be a huge force in the hobby."
The Man Himself
As for the man behind this extraordinary collection, Bourque is a successful engineer from Montreal whose natural exuberance ignites with a high-octane boost when the subject turns to card collecting.
"I have realized the personal goal that I had set out to accomplish," he explains. "And now, I have gotten to a point where there is nowhere else to go with it. I am proud, yes, because I do not think anyone will be able to put together a collection like this ever again."
When asked if he harbors any trepidation about letting the collection go, or if he thinks he will feel any melancholia once it is gone, it is clear that Bourque has already moved on. "I have new goals now and I will accomplish them in the same way I did with this collection -- with the help of fellow collectors."
"I have made many friends over the years," he says. "If I had not, this collection could not have come together. I have much respect for my fellow collectors who helped me [achieve my goal] and have become my friends. That is the same way I conduct my business as an engineer. If you respect and help others, they respect and help you. That is the only way I was able to build this collection - with the help of others."
While Bourque is clear about his respect for his fellow collectors, as well as for the team at Classic Auctions, Inc., that respect is clearly a reciprocal commodity.
"Simon is a very special individual, and this collection represents his passion and years of work to bring it to this level and achieve his goal," says Classic Auctions, Inc. President Marc Juteau. "It means so much to me - to us - that Simon has selected our company to represent his collection."
"I have known him for years," Juteau adds, "and he and I have been talking about this collection for a long time. We both knew he would not keep it forever and that a time would come when he would feel he had accomplished all he could and would look for a new challenge. We both knew this day would come, and now that it is here it is an awesome opportunity for us. I can't imagine a collection like this ever being put together again."
Headed to the Block
As final preparations were being made to bring Bourque's collection to auction, he himself says he has been amazed to look at his accomplishment.
"As I have been working with Math and Marc, I find, at times, I myself am surprised with what I was able to put together with the help of others in the United States and Canada," laughs Bourque. "It was a lot of work and a lot of enjoyment."
Morin says he understands why Bourque is in awe of the collection. "Every set in the collection is amazing," he says. "There are some incredibly rare sets that most hockey card collectors have probably never even seen. And then there are the sets that are important because of the amount of Hall of Famers they contain."
Along with their love of the sets and cards that will be offered, Bourque, Juteau and Morin also agree that this offering will give a huge boost to the interest in hockey cards.
"For sure this will set new price standards because many of these cards have never been offered to the public," says Morin. "Also, along with being rare, these are the best quality cards out there. Because of that, we see it bringing in new collectors as well as bringing back old collectors who have never had a chance to own cards or sets like these."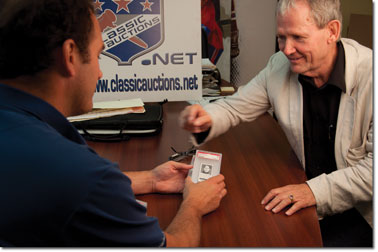 Morin goes on to say that "[t]his will be an incredible opportunity for people to upgrade their sets or even become the number one hockey collector on the PSA Set Registry. Simon holds that spot now, so by letting these cards go, that opens it up for someone else to become the top collector."
Like Morin, Juteau also believes the hockey card hobby will be taken to a new level through this offering. "There has never been anything even close to this collection to be offered," he says. "The magnitude of it is unbelievable. We have handled some incredible and very significant collections of hockey cards over the years, but nothing like this -- stuff that has never been available in the best grades. It doesn't get any better than that."
As to how the collection will be offered, Morin explains it will be separated into three lots and made available through the company's three annual online auctions.
"Our first offering of these cards will be in the fall and it will end on October 29. The second auction will take place in the winter - February through March; and then the final offering will come in the spring - May and June."
Upon being asked for specifics on how the lots will be offered, Morin says they have upgraded their website and bidding system to allow collectors to easily register and then bid on either entire sets or individual cards.
"This will give bidders a choice," he explains. "Our system will be able to ascertain - based on the final bidding amounts - if the cards should be sold individually or as a set. We have also created a new website specifically for these cards, so along with our regular website (www.classicauctions.net), people can also visit an additional site which will just highlight this collection (www.thehockeycardcollection.com)."
PSA Proud
Along with Bourque's sense of accomplishment in compiling the collection, and the auction house's appreciation in getting to represent it, there is also an overwhelming pride from both sides that the cards and sets are PSA-graded.
"What PSA has brought to the market is invaluable," says Morin. "They have earned the highest of respect from collectors. Without PSA, I don't know where this hobby would be. They have not only brought new people into the hobby, they have also brought back the ones who were frustrated by the way things used to be before PSA set the standards for authentication and grading."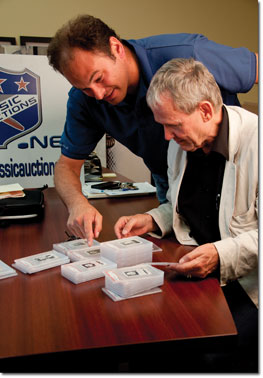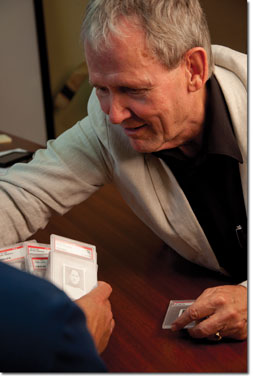 Juteau agrees that, without PSA, the memorabilia and sportcard hobby would not be anywhere near as strong as it is. "In today's market, we, and our bidders, feel safe and secure with material that has been graded and authenticated by PSA. They are, simply put, the best. From the very beginning, as we prepared this collection for auction, there was never a doubt about anything because we knew every card is what it is represented to be in the holder. That is the confidence PSA brings to me and to those who will be bidding on these cards."
Summing it up best, Bourque says that while he is proud to have put the collection together, it would not have meant as much if the cards had not been graded by PSA. "PSA's reputation is what makes me very happy to say I have a PSA-graded collection. That means so much to me because, before the creation of PSA grading and the PSA Set Registry, collectors were alone. Now, we are a family."
---
Classic Auctions, Inc. is located at 215 St-Francois-Xavier #104, Delson, Qc, J5B 1X8, Canada. For more information, call (450) 638-7058 or visit www.classicauctions.net or www.thehockeycardcollection.com.
The Sets
The Simon Bourque Collection, offered exclusively by Classic Auctions, Inc., will make available the most important pre-war hockey sets to ever be offered at auction. Among the sets that are considered to be the most rare and significant are:
1910-11 Sweet Caporal Postcards
1911-12 Imperial Tobacco Hockey C55 (master) (2011 Hall-of-Fame set)
1912-13 Imperial Tobacco Hockey C57 (2012 Best Pre-War Vintage Hockey Set of the Year )
1923-24 William Paterson V145-1
1924-25 Maple Crispette V130
1924-25 Champs Cigarettes C144
1933-34 O-Pee-Chee V304 (master)
1933-34 Anonymous V129
1933-34 World Wide Gum Ice Kings V357
1936-37 O-Pee-Chee V304D
1936-37 World Wide Gum V356 (2013 Best Pre-War Vintage Hockey Set of the Year)
1937-38 O-Pee-Chee V304E
The Cards
In a collection that includes hundreds of rare and important cards, Simon Bourque, Marc Juteau and Mathieu Morin list the following as some of the highlights:
BERT CORBEAU #25 (PSA 1) - 1923-24 William Paterson V145-1
THE STANLEY CUP (PSA 7) - 1924-25 Champs Cigarettes C144
GEORGES VEZINA #1 (PSA 5) - 1912-13 Imperial Tobacco Hockey C57
NEWSY LALONDE #95 (PSA 9) - 1925 Dominion Chocolate
HOWIE MORENZ #41 (PSA 8.5) - 1933-34 Anonymous V129
CLARENCE HAP DAY (PSA 8) - 1924-25 Champs Cigarettes C144
JOE MALONE C-55 #4 (PSA 8)
NEWSY LALONDE C-55 #42 (PSA 8)
JOE CATTARINICH C-56 #16 (PSA 8)
BILL COOK 129 #31 (PSA 9)