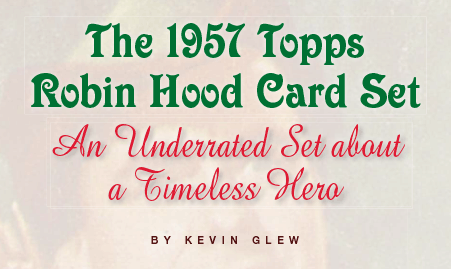 You won't have to steal from the rich to put together a respectable 1957 Topps Robin Hood set.
"It's not a terribly expensive set," noted Paul Jastrzembski, who owns the No. 9 Current Finest set on the PSA Set Registry. "It only has 60 cards and you can put together a nice PSA [NM] 7 set for less than $2,000."
But Jastrzembski and Bill Bengen, who owns the top registry set, say that high-grade examples are becoming more difficult to find. Released 56 years ago, these standard-sized cards showcase colorized photos from the TV series titled The Adventures of Robin Hood, which aired from 1955 to 1959.
"There are major centering problems with cards from this set," said Tony Cino Jr., who assembled the registry's No. 6 Current Finest set. "A straight [PSA NM-MT] 8 from this set could go for $50, but an [PSA] 8OC goes for $12."
Accompanying the bold, bright photos on the fronts of these cards is a caption inside a red sword design.
"There are a lot of outdoorsy, forest scenes on these cards that have great colors and great action," observed Jastrzembski.
Bengen also savors the design of these cards.
"The design is very similar to the [1956 Topps] Davy Crockett set, and probably intentionally," he said. "I like the design. The colors are great. It's a pretty impressive set. I really like looking through it card by card."
Jim Clinkenbeard, who owns the registry's No. 5 Current Finest set, says the stories on the card backs are primarily from the first two seasons of the TV series. The back text seamlessly weaves several plot lines together to create a riveting narrative.
"There's a little of everything in this set," said Jastrzembski. "There's a lot of joy and triumph, and then Robin Hood gets wounded. It's like a typical fairytale of good overcoming evil. It's a nice story. There's a nice flow to it. The sequence of the cards is just perfect."
The story text on the green-bordered backs is printed in black in a scroll design on the right side, while the left side presents a drawing of Robin Hood. The card number is presented in a shield at the top alongside the caption, and a preview of the next card (number and caption) and copyright information are located close to the bottom.
These cards were distributed in five-cent wax packs with gum, but one-cent packs were also reportedly produced. Cino says wrappers are difficult to uncover today. Some hobby publications believe that these cards were also released in cellos and 500-card vending boxes, but this couldn't be confirmed in the research for this article.
Set in the 12th century, the story on the card backs recounts how after returning home from fighting in the Crusades for King Richard, Robin Hood (played by Richard Greene in the TV series) discovers that taxes have been raised and his land has been taken away from him. He confronts the Sheriff of Nottingham, who works under Prince John and who in turn is plotting to overthrow King Richard.
Robin Hood objects to how callously the sheriff treats peasants that can't pay their taxes and clashes with the sheriff and his guards. The expert swordsman escapes to Sherwood Forest, where he joins his "merry men" and becomes an outlaw. Much of the 60-card set is devoted to the sheriff's efforts to capture Robin Hood. At one point, the sheriff plots to execute Maid Marian, the love of Robin Hood's life, to lure his nemesis into Nottingham to save her.
Cards #49 to #53 illustrate a memorable archery contest between Robin Hood and a man the sheriff believes is "the greatest Bowman in all England." The final seven cards feature King Richard trekking to Sherwood Forest and eventually battling the traitorous Prince John in a sword fight.
"When you're growing up, you look for heroes and Robin Hood was a hero for me," said Clinkenbeard, when asked about the appeal of this set.
Bengen offers a simple explanation for his affection for this offering.
"I remember how excited I was to be watching the TV show," he said. "Robin Hood was another hero for me to celebrate."
Not surprisingly, Robin Hood is the star of this 60-card issue. The heroic outlaw is featured on 36 cards - six of which are solo shots, including the fragile first card "Strange Welcome." Cino says this card is elusive in high grade because collectors used to wrap rubber bands around the top and bottom cards in the set.
"Card #1 is very tough to find," said Cino. "It's difficult to get in a grade above a [PSA EX-MT] 6."
Of the 40 submitted, there are 13 PSA 8 examples (with no cards grading higher). One PSA 8 fetched $175 on eBay in May 2011.
Surprisingly the other solo cards of Robin Hood don't command a premium. Clinkenbeard and Bengen both cite #13 "Robin Hood, Outlaw" as one of the set's best cards. This card showcases a close-up of the show's star with arrows on his back and his trusty bow slung over his left shoulder. The card back explains how he became known as "Robin Hood" and offers the set's first mention of him "taking from the rich and giving to the poor."
"If you look at card #13, you'd think that would be the No. 1 card in the set. That's a terrific card," said Clinkenbeard. "But it's no more costly than any of the other cards in that range at all. I find that hard to understand, because you'd think that would be one that everyone would really want to have in high grade."
A PSA 8 of this card fetched just $24 on eBay in August 2012.
Cino points to card #52 "Robin Takes Aim" as another standout single. This photo shows Robin Hood poised to shoot an arrow in an archery contest. Like card #13, however, this pasteboard, despite its strong image, has yet to garner a premium.
Little John, Robin Hood's loyal pal and second-in-command, is featured on the second-most cards (11). The ironically named outlaw, who's anything but little, is featured on five singles with Robin Hood, including #51 "John Is Worried." With just five PSA 8s (and no cards grading higher), this is the set's most difficult card to track down in pristine form. A PSA NM+ 7.5 sold for $16.59 on eBay in June 2011.
Other characters appearing on multiple cards are the Sheriff of Nottingham (eight cards), King Richard (five), Maid Marian (five) and Friar Tuck (four).
The last card "Justice Triumphs" boasts the image of King Richard glowering down at the villainous Prince John after defeating him in a sword fight. This single commands a premium because it was often damaged at the bottom of collector piles. There has yet to be a PSA MINT 9 or PSA GEM-MT 10, but there are 16 PSA 8s. One PSA 8 fetched $42.11 on eBay in December 2008.
On top of the aforementioned centering issues on the card fronts, collectors also have to be wary of poor centering on the backs.
"You would think that if there was good centering on the front that there would be good centering on the back, and that's not always the case," said Clinkenbeard.
Jastrzembski adds that the stock Topps employed was also fragile, and collectors also have to watch for print defects in the background on the fronts.
But despite the fact that high grade examples are difficult to track down and Robin Hood remains popular thanks to several theatrical releases (including a 2010 Russell Crowe movie), these cards can still be purchased relatively inexpensively.
"It's a really neat little set. I'd like to see it catch on more. It's just a matter of people finding out more about it," said Jastrzembski. "It's not like it costs a lot of money to put this set together."
Bengen also would like to see more people discover this set.
"It's really a terrifically designed set. It's just a lot of fun," he said. "If I was going to start collecting non-sports cards, I think this would be a wonderful set to start with. It's representative of what a great non-sports set should be. It has great color, great narrative, great eye appeal and emotional appeal from the characters."
And perhaps, best of all, you won't have to steal from the rich to put it together - at least, not yet anyway.
---
Please feel free to contact Kevin Glew at [email protected] if you have any additional information or comments. Thank you to Mile High Card Company for providing scans for this article. Please note that the Population Report figures quoted and Set Registry rankings reported are those as of September 2013.