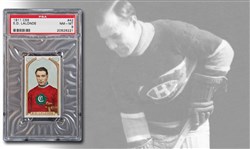 It's enough to give goose bumps: premier hockey card collector Simon Bourque's magnificent pre-war hockey card collection proudly offered by Classic Auctions, featuring many of the undisputed gems of the hobby. It is the most important PSA-graded pre-war hockey collection ever offered, something that can turn a collector overnight into the worldwide leader in PSA-graded pre-war hockey cards.
"It's been about the quality" says Mr. Bourque. "It was a very fine accomplishment for me just to find these cards and to build the biggest collection in the world. But it was the quality. My challenge was to have the best and highest-grade."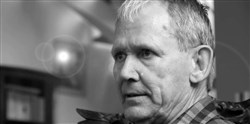 Our Fall 2013 Historical Hockey Memorabilia Auction will include Part One of the Simon Bourque Collection, with more to come in the Winter and Spring offerings, and we're so proud to kick off this three-parter which include the 1911-12 Imperial Tobacco C55 set, rated as the all-time finest PSA set, with the same rating given to the William Patterson, Champs, Dominion Chocolate, Crescent Selkirks, and Willards sets from the 1920s, Canadian Gum, Triumph, and O-Pee-Chee sets from the 1930s, World Wide Gum from the 1940s, along with Habs and Leafs 1950s York Peanut Butter glass and Dixon pencil collections, 1920s Diamond matchbook collection of 60, and so much more.
Simon Bourque hopes collectors have the happiness he had when he built these extraordinary sets, and Classic Auctions is honored to offer this wondrous pre-war-plus collection from the esteemed Mr. Bourque. Bidding has already begun and it remains to be seen what heights the value of these hockey jewels will reach in the eyes of our discerning and determined collectors. Our record-obliterating $1.275 million sale at auction of Paul Henderson's 1972 Team Canada "The Goal" game-worn jersey demonstrates the incredible power these iconic treasures are capable of eliciting from historical international hockey memorabilia collectors.
Established since 1995, Classic Auctions is the historical hockey memorabilia auction industry leader. Legends such as Maurice "Rocket" Richard, Bobby Hull, Jean Beliveau, Frank Mahovlich, Johnny Bucyk, Henri Richard, Yvan Cournoyer, Darryl Sittler, Gilbert Perreault, Guy Lafleur, Marcel Dionne and Bryan Trottier are just a few of the numerous members of the Hockey Hall of Fame who have entrusted us with the sale at auction of their personal collections.
In addition to the amazing Henderson jersey auction record, we also currently hold the record for the top prices obtained for a Stanley Cup ring (1961 Bobby Hull - $85,000), game-used hockey stick (1971 Jean Beliveau - $17,500) and Stanley Cup trophy (1957 Jean Beliveau - $42,000).
You may access our Historical Hockey Memorabilia Auction at www.classicauctions.net. Bids will be accepted until November 5th 2013 at 10:00 PM (EST). We invite you to contact us by phone (450-638-7058), by fax (450-638-2643), or by email at [email protected] for any information or media requests.