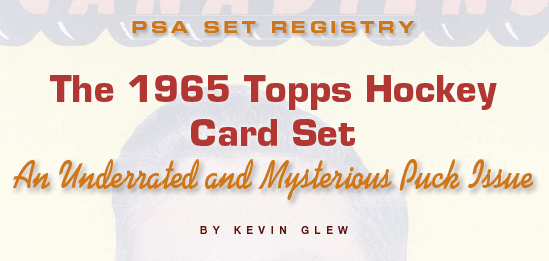 It might be the most unheralded vintage hockey set in the hobby.
Housing rookie cards of four Hall of Famers, the cardboard debuts of four others who competed for Team Canada in the storied 1972 Summit Series and two pasteboards of Mr. Hockey himself, the 1965 Topps Hockey set should be one of the most desirable puck issues ever released.
"It has a lot of star power and a lot of rookies, but it's sandwiched between two very notable sets," explained Rich Katz, who possesses the No. 2 Current Finest, 1965 Topps Hockey set on the PSA Set Registry. "It's like standing next to two super models because the [1964 Topps] Tall Boys have their own uniqueness, and then the 1966 set has the TV design and the Orr rookie."
But while the designs of the 1964 and 1966 sets may be more memorable, the rookie selection in the 1965 offering is far superior.
"I don't think there's a set in the 1960s that has as deep a rookie crop as this one," said Frank Boutzis, who has assembled the registry's No. 4 Current Finest, 1965 Topps Hockey set.
Hall of Famers Ed Giacomin (#21), Gerry Cheevers (#31), Yvan Cournoyer (#76) and Phil Esposito (#116) have rookies in this set. Cournoyer and Esposito were members of the famed 1972 Team Canada Summit Series squad that defeated the Russians in a dramatic eight-game showdown alongside Paul Henderson (#51), Dennis Hull (#64), Ron Ellis (#82) and Don Awrey (#99), all of whom also make their cardboard debuts in this set.
These rookies are the key to this 128-card offering, which was Topps' largest hockey set to that date. After employing a Tall Boy design for its previous puck issue, these cards marked a return to a smaller, standard-sized design (2-1/2" by 3-1/2" each).
The player card fronts present a photo against a solid color background that is color coordinated for each team. The player's team name is highlighted in a series of pucks at the top, while the bottom lists the player's name and position.
"Design-wise, it's actually one of my favorite sets because of the cross-hatched pucks across the top," said Bobby Burrell, author of Vintage Hockey Collector. "They did a nice job with the design of this set."
Boutzis agrees.
"There are a lot of portrait shots in this set, which I like. Plus, the design is very simple and there's a certain elegance to its simplicity," he said.
The vertical backs showcase the card number in an oval on the top left, alongside the player's name, position and team. The player's 1964-65 stats are highlighted in a black box below that, followed by a short biographical write-up in English and French. These write-ups offer some interesting facts and colorful descriptions. Bill Hay's card (#62), for example, indicates that he has a degree in Geology from Colorado College, while Ted Green (#98) is described as a "crude toughie" and Gary Bergman (#107) is deemed a "baldish backliner."
A trivia question about the player is located in a large puck design at the bottom of the back. Collectors were encouraged to rub a coin over a blank area to uncover the answer. Copyright information (T.C.G.) can be found in the bottom left corner, while the bottom right emphasizes that these cards were "PRINTED IN CANADA."
Burrell says the 1965 Topps Hockey cards were distributed in four-card, five-cent wax packs with gum, cello packs and likely in vending boxes. There were no inserts.
"The interesting thing about the wrappers is that there were two different kinds: a five-cent version and no five-cent version," pointed out Burrell.
Burrell also notes that the wrappers offered collectors the opportunity to send away for a regulation-sized puck, which seems fitting given the design of these cards. Burrell notes that 33 wax packs sold for $43,172 in April 2004.
The renowned hobby expert hasn't seen uncut sheets for this set, so he's not certain if the cards were issued in one or two series. Eleven cards (see accompanying list) are routinely identified as double-prints, but Burrell cautions against accepting this assertion until uncut sheets are uncovered.
Rumored 1965 Topps Hockey Double-Prints
#8 Claude Provost
#34 Murray Oliver
#53 Billy Harris
#64 Dennis Hull
#70 Bobby Rousseau
#76 Yvan Cournoyer
#77 Johnny Bower
#96 Milt Schmidt
#100 Bob Woytowich
#108 Gordie Howe
#113 Denis DeJordy
The cards are grouped together by team, but each club has two separate segments within the set. The sequence of the six teams (Montreal, Toronto, New York, Boston, Detroit, Chicago) is repeated in the first and second halves of the set. Twenty cards each are devoted to five of the six teams, while the Rangers are represented on 19.
Like the aforementioned "double-prints," cards #122 to #128 are widely considered short-prints. Burrell also cautions against accepting this without more evidence. What we do know is that these cards (#122 to #128) were not included on the second checklist.
Card #122 celebrates Gordie Howe becoming the first NHL player to tally 600 career goals, while cards #123 to #128 are team cards which showcase black-and-white team photos on their fronts. Four of the team cards list the players by row followed by a short franchise history on their backs, but the Red Wings card offers only the players' last names (not which row they're in) at the top and the Montreal card presents wording in French and English.
Joe Henninger, who owns the No. 1 registry set, says the Rangers team card (#127) is tough to find in top condition.
"That card always seems to have real thin borders compared some of the other team cards," he said. "So it's hard to find a well-centered example."
The veteran collector adds that the Red Wings team card (#125) is also elusive in pristine grade.
"It seems like the top border on the Red Wings card is always really thin," he said.
Just 10 and 14 examples of the Rangers and Red Wings cards respectively have received grades of PSA NM-MT 8 or higher.
A coach's card for each team can be found at the beginning of one of the two team segments in the set. The pasteboard of Montreal Canadiens coach Toe Blake is the set's first card, and due to the wear and tear associated with being on top of collectors' piles, it's difficult to track down in top condition. There has yet to be an example grade above PSA 8. One of the 18 PSA 8s sold for $640 on eBay in June 2012.
The Cournoyer (#76) is one of the most coveted Hall of Famer rookies in this set. It's interesting to note, however, that his first name is misspelled "Yvon" on his card. The sole PSA GEM-MT 10 Cournoyer fetched $3,268.98 on eBay in December 2011.
But it's the Phil Esposito rookie (#116) that commands the most in this offering. This 700-goal scorer was the outspoken co-captain of the Canadian squad that beat the Russians in the 1972 Summit Series. Of the 264 Esposito cards submitted, there have been nine PSA MINT 9s and 84 PSA 8s. One PSA 9 garnered $3,850 on eBay in July 2012.
Summit Series hero Paul Henderson also made his cardboard debut in this set. Almost every Canadian can tell you that it was Henderson who tallied the series-winning goal against the Russians. To the chagrin of many Canadians, Henderson has yet to be elected to the Hockey Hall of Fame.
"The Henderson card carries some historical significance because he scored the goal in 1972," said Boutzis. "And that's another card that's been difficult to find in high grade. I had a [PSA NM] 7 for the longest time, but there are only 22 [PSA] 8s and only three graded higher than a [PSA] 8."
Henninger says the Ken Hodge rookie (#65) is likely the most elusive rookie in this set to track down in high grade.
"The Hodge card is really, really tough and it also sells well. There's only one PSA 9," he said. "Centering issues are a problem, but it's also hard to find a nice one that hasn't been creased."
This set boasts cards of 35 Hall of Famers, including pasteboards of Gump Worsley (#2), Jean Beliveau (#6), Terry Sawchuk (#12), Glenn Hall (#55), Bobby Hull (#59), Stan Mikita (#60), Johnny Bower (#77) and two Gordie Howe cards.
"The set was released during a time period when you still had many great stars from the 1950s around and you also had the new crop of stars coming in," said Katz.
Henninger identifies the Worsley (#2) as a "sleeper card."
"That card has a lot of centering problems," said Henninger. "I'd be curious to learn where that one is on the sheet. There are only 14 PSA 8s. It's also condition sensitive because it was near the top of [collector] piles."
Hobbyists say the regular Howe single (#108) is not particularly difficult to find in PSA 8 or better condition. There are three PSA 9s and 56 PSA 8s. One PSA 9 sold for $1,175 on eBay in August 2008. And despite its "short-print" status, the second Mr. Hockey pasteboard (#122), which employs the same photo as his regular card, is not that elusive in high grade either. There are three PSA 9s and 47 PSA 8s. One PSA 8 fetched $775 on eBay in June 2013.
There exist several PSA 8 examples of this card comments Henninger. "So one has to wonder how short-printed it was."
The Howe tribute card does, however, provide insight as to when these cards were released. Howe didn't score his 600th goal until November 27, 1965, so it's obvious that at least some of these cards weren't distributed until after that date. Unfortunately, while the front was updated to celebrate this feat, the back of the tribute card is the same as card #108, which indicates that Howe has 595 goals in the biographical write-up.
With just 34 submissions, the Doug Barkley (#43) is the lowest population card in this set.
"That's a difficult card," said Henninger. "There aren't even a lot of [PSA] 7s of that card. That card has centering issues."
Aside from the Cournoyer card, two other players' names are spelled wrong in this offering. Garry Peters' first name is misspelled "Gary" on his single (#28), while Poul Popiel's name is listed as "Paul" on his pasteboard (#40).
These errors add another level of intrigue to this unheralded set that may or may not have been released in two series and may or may not have single- and double-prints. But what we know for sure is that this set does boast a tremendous crop of rookies and Hall of Famers.
"This set has so many different positives to it. I just think it might be a little underappreciated given the fact that it's sandwiched between two very significant issues," said Katz.
Boutzis agrees.
"It's deep with rookies. I find it to be a very elegant set through its simplicity. I really like the set and I think that maybe it just needs more exposure," he said. "Maybe that will help it blossom out from the shadows of the Tall Boys and the Bobby Orr [1966 Topps] set."
View the set in the PSA Set Registry.
---
Please feel free to contact Kevin Glew at [email protected] if you have any additional information or comments. Thanks to Bobby Burrell (http://vintagehockeycollector.com/) for sharing his resources for this article and to Heritage Auctions for providing scans. Please note that the Population Report figures quoted and Set Registry rankings reported are those as of August 2013.