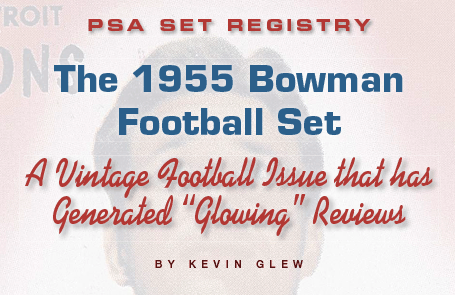 They saved their best for last.
At least, that's what some gridiron enthusiasts contend about the 1955 Bowman Football set, which was the company's final offering before it was purchased by Topps.
"I just think that it's the finest looking design of any of the Bowman sets," said Jim Nahigian, who owns the No. 5 Current Finest, 1955 Bowman Football set on the PSA Set Registry. "I know many who love the 1952 set would argue with me, but for me, the design of the 1955 set is just really spectacular. I love the colors and the silhouettes."
John Jelaco, who has assembled the registry's No. 4 Current Finest, 1955 Bowman Football set, savors this set for similar reasons.
"The design of the 1955 set was unique because they made it look like the players were sort of animated; they had this glow to them," he said.
This "glow" and the "silhouettes" that Jelaco and Nahigian mention are the distinctive white auras that radiate from the players on these 2-1/2" by 3-3/4" pasteboards. The white-bordered card fronts also showcase the team logo, team name, player name and position.
"I like colorful cards and these are colorful," said Mike Thomas, webmaster of www.vintagefootballgallery.com. "They have the team logos on them, which I always like. And within the teams, the cards are color coordinated. It was a well-thought-out set."
Thomas notes that the background colors on the card fronts are the same for each team member. For example, all of the backgrounds on Pittsburgh Steelers cards are blue.
The vertical card backs exhibit blue text on gray stock. The card number is displayed inside a football icon on the upper left, while the team, player name and position are housed in a red block at the top. Player vitals (e.g., age, height, weight, etc.) and biographical information cover the mid-portion of the backs, followed by the player's 1954 stats or a sketch of a play.
At 160 cards, this was Bowman's largest gridiron set. Seven of these cards were included in each five-cent pack with a stick of gum. There were also one-card, penny packs.
Unlike the 1954 Bowman Football set, there's no discernible team sequence. Each of the 12 NFL teams are featured fairly equally in the set. The Philadelphia Eagles are the most represented with 17 cards, while Baltimore Colts players appear on the fewest number of pasteboards (11).
Largely due to a find of over 250 unopened boxes of 1954 and 1955 Bowman Football cards by Alan "Mr. Mint" Rosen in Paris, Tennessee, in 1987, the 1955 Bowman cards are relatively plentiful in high grade compared to some of the earlier Bowman gridiron issues.
Although Thomas hasn't seen a sheet of 1955 Bowman Football cards, he believes they followed the same pattern as the other Bowman pigskin offerings from the same era. He has constructed the virtual sheets for this series on his website.
He believes the 1955 cards were likely printed on five, 32-card sheets (with four rows of eight cards on each sheet). However, in examining some badly miscut Bowman football cards from the same era, he says there's a possibility that these cards were printed on 64-card sheets, with the same 32 cards highlighted twice.
Also, if these sheets follow the same pattern as their Bowman contemporaries, the cards were sequenced in numerical order on the sheets. For example, the first row of the first sheet would include cards #1 to #8 from left to right. Hobbyists seem to agree that cards #65 to #160 (or the cards on sheets three to five) are more difficult to track down than the lower numbers.
"Those cards [#65 to #160] are much tougher," noted Bill Miller, who owns the registry's No. 2 Current Finest, 1955 Bowman Football set. "There are plenty of the low numbers, and consequently, they are nowhere near as expensive as the high numbers."
Thomas says the cards on the final 32-card sheet (#129 to #160) are the most elusive, and the PSA Population Report statistics generally back up his assertion.
The most common theory as to why the higher number cards are tougher to track down is that Bowman experienced softer than anticipated sales and decided to decrease production of the latter sheets.
"I just don't think a lot of the cards above #64 were marketed strongly," said Nahigian.
It's also important to remember that in 1955, Topps issued its first real challenge to Bowman's football card monopoly by unveiling its now legendary Topps All-American set. This iconic, 100-card offering featured college greats from several eras and was aggressively marketed. Topps offered nine cards in their five-cent packs versus Bowman's seven.
"The thing about the Topps set is that it features so many Hall of Famers," said Miller. "And back then, college football was by far more popular than pro football. It wasn't until 1958, 1959 or 1960 that pro football started to take off."
Some hobbyists insist that the Topps All-American set was the deathblow to Bowman, which was officially purchased by Topps in January 1956.
But Bowman certainly went out on a high note. Not only was the design of their final football set captivating, but it offered a strong rookie crop that included Hall of Famers Mike McCormack (#2), Len Ford (#14), John Henry Johnson (#42), Jim Ringo (#70), Bob St. Clair (#101) and Frank Gatski (#119). Notable NFLers Alan Ameche (#8), Pat Summerall (#52) and Bob Toneff (#143) also made their cardboard debuts in this set.
"Most of the rookies are sort of easy to find," noted Thomas. "St. Clair and Ringo are kind of tough, but the other rookies I see a lot."
Jelaco shares similar observations.
"The Jim Ringo in a high grade is always a tough one," he said.
"I think the Ringo is the most coveted rookie because he was a Packer," added Miller, "but the St. Clair is also very difficult. I think it's probably more difficult [to find in high-grade] than Ringo."
Of the 279 Ringo cards evaluated, there has been two PSA MINT 9s, two PSA NM-MT+ 8.5s and 35 PSA NM-MT 8s. One PSA 8 garnered $1,285 on eBay in November 2012.
"The key in this set for me is the Bob St. Clair because it's the only card that I don't have in [PSA] 8," noted Dick Sprigle, who owns the registry's No. 8 Current Finest, 1955 Bowman Football set.
There are three PSA 9 St. Clair examples, but just 19 PSA 8s. One of the PSA 9s fetched $3,800 on eBay in July 2008.
On top of St. Clair and Ringo, more than two dozen other Hall of Famers are also part of this issue, including Frank Gifford (#7), George Blanda (#62), Bobby Layne (#71), Y.A. Tittle (#72), Tom Landry (#152) and Chuck Bednarik (#158).
The Landry (#152) is often regarded as the set's most important card.
"Landry is such an iconic figure," said Sprigle. "He lasted a lot longer in the public eye than most of the other players in this set."
Jelaco and Miller both note that the Landry card is tough to track down in top condition. This card is the last card on the right of the third row of the final print sheet – an edge-sheet position that generally makes cards vulnerable to flaws.
"There are frequently some print imperfections on that card," said Miller.
There are just two PSA 9 Landry cards, and a PSA 8 fetched $537 on eBay in November 2012.
Jelaco says the first card (Doak Walker) and last card (L.G. Dupre) are also elusive in top condition.
"There hasn't been a single example of the Dupre that has graded higher than a PSA 8 and there are only 24 [PSA] 8s," said Jelaco.
One PSA 8 sold for $299 on eBay in March 2013.
But it's two commons that hobbyists generally identify as the most evasive singles in this issue. Located on the left edge of the second row of the final print sheet, the Kyle Rote (#137), like the Landry, is in a position that traditionally makes cards susceptible to condition woes. With just 12 examples that have graded PSA 8 or higher, this is the most difficult card to uncover in pristine condition.
"I've seen a few almost perfect Kyle Rote cards, but they grade only about a [PSA EX] 5 or a [PSA EX-MT] 6 because of a pull in the upper left corner," said Miller.
Nahigian has had a similar experience with this card.
"I don't think I've seen a Kyle Rote [PSA] 8 come up anywhere in the last two years," he said.
The Mike Jarmoluk (#151) is the other elusive common. This is the second card from the right in the third row of the final print sheet.
"I would tell you that the Jarmoluk (#151) is the toughest card," said Miller. "Rote is a [New York] Giant, so maybe that's why his card sells for more, but the Jarmoluk is a particularly difficult card. I think it's the paper wrinkles on the back that make it so difficult."
Of the 142 Jarmoluks submitted, there has been only one PSA 9 example graded to date. One PSA 8 sold for $305 on eBay in October 2012.
Several uncorrected errors can also be spotted in this issue, including a mistake on the aforementioned Rote card that indicates that his longest gain was "1.8 yards" when it should be 18 yards. Among the other blunders are the first word in the biographical paragraph on the Hugh Taylor card (#6) which should be "Bones" and Len Szafaryn (#86) is mistakenly identified as "Ben" on the front of his card.
Bowman made the same error on Emlen Tunnell's 1955 pasteboard (#136) as they did on his 1954 single (his last name was printed without a second l), and Bob Toneff's last name was incorrectly spelled "Toneoff" on his card (#143).
Miller says paper wrinkles on the backs and corner damage are the most common condition issues with these cards. Nahigian, who co-owns two of the best 1955 Topps All-American registry sets ever assembled, says the 1955 Bowman set might be even tougher to assemble in PSA 8 condition than its vaunted Topps rival.
Jelaco agrees.
"I think the Bowman set was actually harder than the Topps set in high grade," he said. "I was able to fill out my Topps set a lot quicker than I was my Bowman set."
But even a widely lauded design and an impressive selection of Hall of Famers and rookies couldn't save Bowman from being swallowed up by Topps. In the 58 years since its release, this final Bowman offering has been overshadowed by its legendary Topps counterpart. Nevertheless, the 1955 Bowman Football set is still a fine series, one that has led some hobbyists to conclude that the company saved their best design for their last set.
"I think this set will forever be a pretty strong football set," said Nahigian. "It's Bowman's last set, so that in itself adds a certain amount of lore to it. I'm a design guy. I spent my life in a field that involved a lot of design and art, and I have a strong appreciation for the layout of the graphics and the colorfulness of this set. I think its unique design will keep the set in demand."
View the set in the PSA Set Registry.
---
Please feel free to contact Kevin Glew at [email protected] if you have any additional information or comments. A special thanks to Mike Thomas for sharing information from his website: http://www.footballcardgallery.com/ and for providing scans. Please note that the Population Report figures and Set Registry rankings are those as of August 2013.
---
Copyright © 2020 PSA – A Division of Collectors Universe. Nasdaq: CLCT. All rights reserved.