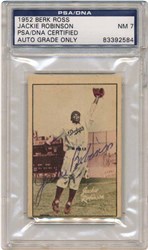 Clean Sweep's current auction is now open for bidding and offers autographs from Washington to Lincoln to JFK, Beethoven to The Beatles. The premier item in the auction is an incredible 1918 Incentive Agreement signed by Babe Ruth at the time and the infamous Red Sox owner Harry Frazee. You'll also find some of the best single baseball cards Clean Sweep has offered and unusually deep selections from all of the major sports and baseball memorabilia.
Due to the number of significant Presidential, historical and entertainment autographs, these categories open the auction. There is a George Washington Ship Passport Document for slaves, a handwritten Abraham Lincoln letter, an FDR letter to Fiorello LaGuardia, a Truman letter with incredible Douglas MacArthur content and a superb JFK/RFK signed piece. Historical items include two Martin Luther King letters and a General Custer signed check. For quality entertainment autograph collectors, we have a stunning 1963 Beatles signed hotel register with Ringo Starr using his real name, a Beethoven signature, two Marilyn Monroe signed pieces and much more.
Sports comes next, with the aforementioned key Babe Ruth item, a Ty Cobb letter with Home Run Baker content, Abner Doubleday, Walter Johnson and Babe Ruth signed letters. There are three stunning Roberto Clemente single signed items, a superb Rookie Mickey Mantle autograph, many great team signed sheets and signed programs.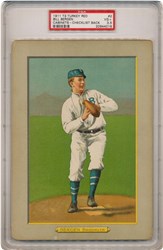 Baseball cards pack quite a punch here. You'll find our usual selection of sets and lots but the single cards in this auction are really special. To start, there are many quality 19th Century cards, including a Newsboy Cabinet Fuller in a 4.5, a W600 Joe McGinnity cabinet and an incredible quality Goodwin Round Album set in the original binder. Also included are collector grade D304s of Ty Cobb and Christy Mathewson, an E100 Buck Weaver, an incredibly rare T215 Red Cross Ty Cobb, a broken set of Mint and Gem Mint 1913 National Game cards, six stunning PSA 7 and PSA 7.5 1932 U.S. Caramels and all four Babe Ruths from the 1933 Goudey set, all but one in a PSA 5 holder! As if that was not enough, there is a 1949 Bowman Satchel Paige in an 8, a run of 1952 Topps in 7s with a terrific 3 Mantle that looks great for its grade, a run of 1960s Topps Mantles in 8s and some very high grade 1970 Topps cards, including a Willie McCovey 10.
Boxing collectors will see some tremendous Ali items, including two vintage 1960s Cassius Clay signed photos, one from the 1960 Olympics. Football collectors will see several Mayo cards, a clean run of sets from 1951 – 1968, Championship tickets including a Super Bowl II, a 1966 Packers signed football and rare USFL contracts of HOFers.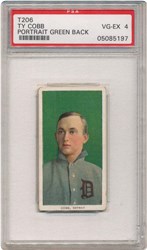 For bat collectors, we have professional model bats from Joe DiMaggio, an amazing Ray Knight 1986 World Series gamers, a 1920s Freddie Lindstrom, Eddie Mathews and Meusel. You'll find some exciting baseball memorabilia as well. Highlights include an 1880s Dark Town bank, season passes for Charles Comiskey (1909) and Mickey Mantle (1974), a great letter to Joe Jackson from his lawyer regarding the Black Sox scandal, a a 1952 Yankees World Series run and a Dwight Gooden 1986 Mets jersey.
Baseballs conclude the auction with a bang. Offered are single signed balls from Kiki Cuyler, Jimmie Foxx, a rare vintage Hank Greenberg, a high grade Roger Maris and a Hack Wilson. Multi-signed balls include a stunning Ruth, Foxx, Simmons ball signed on separate panels, a 1951 ball with a Rookie Mantle and more.
Team balls include a simply incredible 1918 Spring Training signed baseball with a fairly bold Christy Mathewson signature, as well as Ty Cobb, Hughie Jennings and Hal Chase. Including many World Championship balls, very high quality vintage team balls with seemingly endless highlights. To bid, visit www.csauctions.com. Auction closes October 2.
We want to thank our many loyal consignors for making this auction possible. In particular, we had our best National Convention show ever in terms of purchases and consignments, again none of which would be possible without our loyal consignors and suppliers.
For more information, stop by www.csauctions.com.