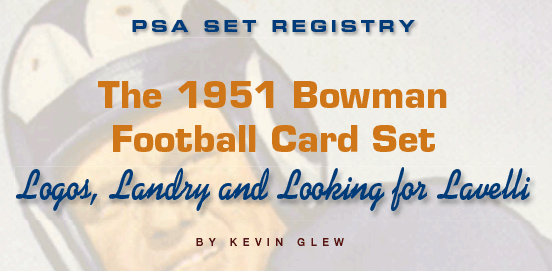 John Woodring says the title of an article on the 1951 Bowman Football set should be "Who owns the PSA [MINT] 9 Dante Lavelli?"
The veteran hobbyist, who owns the top 1951 Bowman Football set on the PSA Set Registry, has been searching for this card for several years.
"There's only one PSA 9 and I don't know who has it," said Woodring. "But I know there's a [PSA] 9 out there, and it has to turn up somewhere. That's my great unanswered question with this set: Who has the Dante Lavelli? And why is he not selling it?"
Likely the first card on the left edge of a sheet, the Lavelli is extremely difficult to uncover in pristine condition. There has been just one PSA 9 and 12 PSA NM-MT 8s.
The legendary Cleveland Brown's card is one of three singles – along with Weldon Humble (#1) and Jack Lininger (#135) – that Woodring needs to complete his set. His ultimate goal is to acquire every card in the 144-card offering in PSA 9.
"There are some cards that don't have a PSA 9 example yet," he said. "I don't think it's possible that I will complete it in [PSA] 9s, but I may get close. I think I'm up to 107 or 108 of them in PSA 9."
Overshadowed by the colorful and rookie-laden 1950 and 1952 Bowman issues, the 1951 offering is generally a supplementary set in gridiron collections.
Veteran hobbyist Joe Mancino, who owns the registry's No. 11 Current Finest set, probably represents the average football collector when it comes to this set. He says he finished his set because he wants to have the full run of Bowman issues from that era.
"The 1951 Bowman set is not my priority, but I completed it pretty quickly," he said. "I do like the fact that there are a lot of Hall of Famers in there. I got my original set for such a good price, and I was able to upgrade it and turn it into a set of all [PSA NM] 7s."
At 2-1/16" by 3-1/8" each, the 1951 Bowman Football cards are larger than those in its popular predecessor. Like the 1950 offering, however, the card fronts showcase colored-in black-and-white photos. The player's name is presented in a nameplate near the card bottom.
Mike Thomas, a set registry enthusiast and the webmaster of http://www.footballcardgallery.com, points out that this is the first Bowman issue to flaunt team logos on the card fronts.
"I have always liked the logos," said Mancino. "I think they add color to the photos."
The player's name and the word "FOOTBALL" are featured in red on the card backs, while the vital stats (age, height, weight, etc.), biographical information, card number and copyright data are printed in blue text.
Released in one- and five-cent packs with gum, these cards were likely printed on four, 36-card sheets (four rows of nine cards each), says Thomas. The savvy hobbyist has yet to uncover a 1951 Bowman sheet, but he has seen sheets of the 1950 and 1952 Bowman sets. And because the 1951 Bowman issue has the same number of cards as the 1950 and 1952 Bowman sets, Thomas believes that the 1951 cards probably followed the same sheet format.
Thomas notes that 36 cards were likely printed on each of the four sheets in numerical order (just as they were with the 1950 and 1952 sets). In other words, the first sheet contained cards #1 to #36, the second #37 to #72 and so forth. Based on his experience and his analysis of PSA Population Report statistics, Thomas also believes that the fourth sheet (which boasted cards #109 to #144) may have been produced in smaller quantities than the others.
Prior to the 1951 NFL season, the Baltimore Colts suspended operations, so 12 teams are featured in this set. The set begins with three Cleveland Browns players followed by three Los Angeles Rams – not coincidentally, these two teams met in the previous NFL Championship Game. Three cards from each of the remaining 10 teams follow in this sequence:
Cleveland Browns
Los Angeles Rams
New York Yanks
Philadelphia Eagles
Chicago Bears
Green Bay Packers
New York Giants
Pittsburgh Steelers
Detroit Lions
Chicago Cardinals
San Francisco 49ers
Washington Redskins
Three cards from each of these teams – in this order – are repeated through the first 72 cards. In the third batch of 36 cards (#73 to #108), however, the order of the Lions (#100 to #102) and Cardinals (#97 to #99) is reversed. And there are also sequencing inconsistencies in the final 36 cards (#109 to #144). That batch showcases New York Giants on cards #127 and #128, followed by two Steelers on #129 and #130 and then another Giants single (#131). Then there are four Lions cards (#132 to #135), four Cardinals (#136 to #139), two 49ers (#140, #141) and three Redskins.
"When you start collecting something like this set, you start looking at things like the differences in the way the cards were produced," said Woodring. "For example, there is nothing striking about the photos for some of the teams, but for the Los Angeles Rams, they're all quite striking. "
Though it doesn't boast as many top-flight rookies as the 1950 or 1952 issues, this set still offers the mainstream cardboard debuts of six Hall of Famers: Norm Van Brocklin (#4), Tom Landry (#20), Arnie Weinmeister (#21), Lou Creekmur (#62), Emlen Tunnell (#91) and Ernie Stautner (#96).
The Van Brocklin commands big bucks in high grade. One of the four PSA 9 examples fetched $3,751 on eBay in October 2011.
"Landry made his bones as a coach," noted Mancino. "That's why he's in the Hall of Fame. He's not in there as a player, so I would say Van Brocklin is the more significant card. But because Landry has the New York and Dallas connections, I think the large fanbase makes him more popular."
Woodring expresses similar sentiments.
"The Landry is the top rookie, but it isn't really that hard to get," he said.
There are two PSA GEM-MT 10 Landry cards and one sold for $16,286.30 in a Mile High Card Company auction in October 2010.
This set also boasts the second-year cards of Otto Graham (#2), Tom Fears (#6), Y.A. Tittle (#32), Lou Groza (#75), Elroy "Crazy Legs" Hirsch (#76), Tony Canadeo (#90), Joe Perry (#105), Marion Motley (#109) and Jim Finks (#130).
The set's first and last cards – Humble (#1) and Bill Dudley (#144) – were not only subjected to the wear and tear of being on the top and bottom of collector piles, they were most likely located in edge positions on their respective sheets. These positions traditionally make cards more vulnerable to condition flaws.
"I passed on the [PSA 9] Humble card twice," said Woodring, who still needs it for his registry set. "I don't know why. I think at the time there was something else that I wanted and I thought the Humble would be relatively easy."
Most likely positioned on the top left corner of the first sheet, the Humble has just two PSA 9 examples, one of which fetched $3,362.60 in a Memory Lane auction in February 2010.
The Dudley, on the other hand, is probably located on the bottom right corner of the final sheet. The sole PSA 9 copy garnered $3,367.20 in a Memory Lane auction in February 2010.
Not surprisingly, the three cards – Lavelli (#73), Dick Wildung (#126) and Fran Polsfoot (#136) – that are most difficult to uncover in PSA 8 condition or better appear to be located in edge sheet positions.
With just 12 PSA 8s and nothing grading higher, the Wildung, which appears to be the last card on the right in the second row of the fourth sheet, is the most evasive in flawless form. One of the PSA 8s sold for $300 on eBay in December 2011.
Printed on relatively firm stock, these cards are durable, but they're sometimes hampered by print lines and centering woes.
"Finding them in fairly good condition was difficult, which is why it has taken me 12 years to get where I am on the registry," said Woodring.
Thomas points out that there are also two uncorrected error cards in this issue. Card #11 mistakenly identifies Al Wistert as "Whitey," when that's actually his brother Francis's nickname. Al Wistert's nickname was "Ox."
Thomas also notes that Ventan Yablonski's first name is mispelled "Venton" on his card (#138). Collectors also often mistake the William Walsh featured on card #23 for the Bill Walsh that coached the 49ers to three Super Bowl titles in the '80s.
As the popularity of vintage football cards continues to grow, the prices for high-grade singles from the 1951 Bowman Football set should climb. This is not to say, however, that Woodring has any plans to sell his collection.
"I've already committed to giving the set to my son, and he's already committed to giving it to his son," he said.
But he's not likely to pass it on until he finds that elusive PSA 9 Lavelli.
---
Please feel free to contact Kevin Glew at [email protected] if you have any additional information or comments. A special thanks to Mike Thomas for sharing information from his website: http://www.footballcardgallery.com/. Please note that the Population Report figures and Set Registry rankings are those as of December 2012.