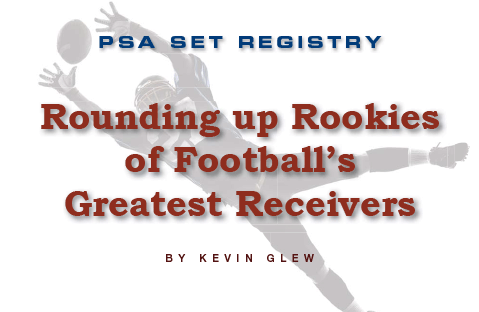 Prior to this year's Super Bowl, Randy Moss told the media that he felt he was the greatest receiver of all-time.
When asked about Moss's boast, Jerry Rice referenced his statistics and three Super Bowl rings, but he refused to be drawn into a debate. Not surprisingly, Terrell Owens chimed in with his two cents, deeming Rice the "No. 1" receiver of all-time and himself as "1A."
Part of the fun of being a fan is participating in these types of debates. It's safe to say that Rice is the consensus pick as top receiver, but there are those that feel the nod should go to legendary Green Bay Packers receiver Don Hutson, who revolutionized the position in the 1930s and 1940s.
"I think Hutson is probably the greatest of all-time, simply because in his time he was so much more dominant than everybody else," said Jay Groat, who owns the No. 4 Current Finest, All-Time Football Receivers set on the PSA Set Registry. "Jerry Rice was great in modern times, but he had two great quarterbacks [Joe Montana and Steve Young]."
Frank Massaro, who owns the No. 2 Current Finest, All-Time Receivers set on the PSA Set Registry, appreciates Hutson's accomplishments, but he still ranks Rice as the greatest.
"Jerry Rice wasn't 6-6 or 6-8 or anything like that. He didn't out-jump people. He wasn't the fastest guy on the field, but you rarely ever saw him get caught from behind," explained Massaro. "He had great hands. He ran great routes. Some people say his success was a product of the West Coast offense with Montana, but I think Jerry Rice is one of those players that you could take and put on any team and he was bound to be successful."
The admiration collectors have for these elite ball catchers explains why more than four dozen hobbyists are pursuing the All-Time Receivers Set on the PSA Set Registry.
Comprised of 30 standout receivers - 18 of which are in the Pro Football Hall of Fame - this set was initiated by registry enthusiasts. Receivers do not have to be retired to be included. And to add a card to the set, a player must first be nominated, and then the majority of the set registrants must vote in favor of adding them; registrants must also agree on what card should represent the player.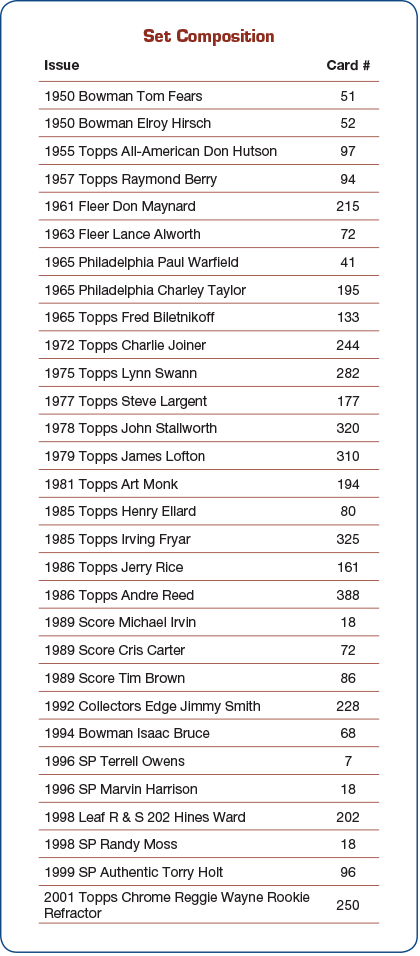 So for these collectors, what receiver rookies are the most difficult to track down in high grade is a more important question than who is the greatest receiver of all-time? Here's a rundown of some of the toughest rookies to find in top condition for the All-Time Receivers registry set:
Vintage Rookies
1950 Bowman Tom Fears #51
A big play receiver for the Los Angeles Rams from 1948 to 1956, Fears led the in receptions during his first three seasons and finished his career with 400 catches and 38 touchdowns. His most famous reception was his game-winning catch in the fourth quarter of the 1951 Championship Game.
Massaro says Fears' 1950 Bowman rookie (#51) is often marred by toning and corner wear.
"There are 10 that are graded [PSA MINT] 9 and there are no [PSA GEM-MT] 10s," said Massaro. "And the [PSA] 9s are very, very difficult to find."
A PSA 9 sold for $767 in a Love of the Game auction in October 2012.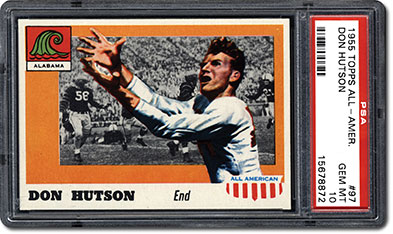 1955 Topps All-American Don Hutson #97
Deemed the first modern receiver, this lanky trailblazer dominated his position while suiting up for the Green Bay Packers from 1935 to 1945. When he retired, he held 18 Football records and he still owns the marks for most seasons leading the league in pass receptions (8) and most touchdowns in Packers history (99).
"His records, especially when you consider the era he played in, were Ruthian," said veteran football card collector Joe Mancino.
Hutson's 1955 Topps All-American rookie (#97) is a short-print that's difficult to find well-centered. Of the 539 submitted to PSA, there have been two PSA 10s and 14 PSA 9s. One of the PSA 9s fetched $2,643.75 in a Robert Edward Auctions sale in May 2011.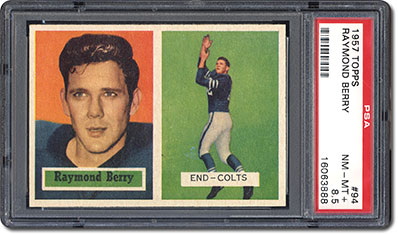 1957 Topps Raymond Berry #94
This six-time Pro Bowler starred with the Baltimore Colts from 1955 to 1967. A key member of two title-winning teams, the sure-handed Berry only fumbled once in his 13-year pro career and finished with 68 touchdowns. In his most memorable performance, he set a then championship-game record with 12 receptions in the 1958 title match.
Berry's 1957 Topps rookie (#94) is a tough high-number that's often plagued by centering issues.
"The Berry, as far as scarcity [in grades higher than PSA 8], is easily the hardest card in this registry set," said Groat.
The sole PSA 9 (there has yet to be a PSA 10) sold for $7,300 on eBay in September 2012.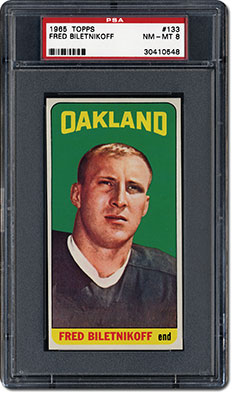 1965 Topps Fred Biletnikoff #133
Between 1965 and 1978, this Super Bowl XI MVP scored 76 touchdowns for the Oakland Raiders. Armed with deceptive speed and reliable hands, he was a consistent offensive threat, recording 40 or more catches in 10 straight seasons. His rookie is a short-print in the 1965 Topps Tall Boy issue.
"The 1965 Tall Boys are considered one of the elite sets in the football card hobby," said Groat. "To find a nice Biletnikoff is pretty hard. They can be off-center a little bit, but the problem is really the corners because the cards are so big. When they came out, no one had anything to put them in."
There are just two PSA 9 examples (no PSA 10s), one of which commanded $5,250 on eBay in March 2012.
Modern Rookies
1979 Topps James Lofton #310
After being selected by the Packers in the first round of the 1978 draft, the speedy Lofton recorded 50 or more receptions in nine of his 16 NFL seasons and became the first NFLer to score a touchdown in the 1970s, 1980s and 1990s. The eight-time Pro Bowler finished with 75 touchdowns in a career that also included stops in Los Angeles, Buffalo and Philadelphia.
"The 1979 Topps Lofton rookie is a tough modern card," said Massaro. "There are only four graded above [PSA] 9. That card has print issues, and there are also issues with it being off-center. So that's a very tough card to find in a [PSA] 10."
One PSA 10 sold for $2,327.99 on eBay in January 2013.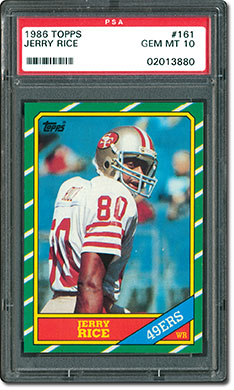 1986 Topps Jerry Rice #161
The general consensus is that this 13-time Pro Bowler is the greatest NFL receiver ever.
"Jerry Rice could do it all," said Mancino. "He had great hands and a great ability to make yards after the catch. He was a clutch player and he was durable. He rarely missed time with injuries."
Rice tops the all-time list amongst receivers in numerous categories, including receiving touchdowns (197) and yards (22,985). The San Francisco 49ers legend also has three Super Bowl rings. His 1986 Topps rookie (#161) was printed in large quantities, but its green borders make it prone to chipping.
"It's pretty difficult to get a really nice Jerry Rice rookie," noted Groat. "But you can find them if you're willing to pay the price. It's kind of like the Derek Jeter rookie in baseball. Everybody wants one."
Out of 14,521 Rice rookies submitted to PSA, just 49 have been deemed PSA 10s. One PSA 10 garnered $4,026.05 on eBay in October 2012.
1998 SP Authentic Randy Moss #18
He's not the most likeable receiver, but during his prime, his combination of size, speed and catching abilities made him almost unstoppable. His recent mediocrity has tarnished an otherwise magnificent career that has seen him named to seven Pro Bowls, smash the single-season record for most TD receptions (23 in 2007) and become the only receiver to average at least one receiving touchdown per game in four different seasons (1998, 2003, 2004 and 2007).
If you find Moss's 1998 SP Authentic rookie, it will likely be in high-grade. However, with just 2,000 produced, it's not easy to track down. One of the 48 PSA 10s sold for $500 on eBay in March 2013.
2001 Topps Chrome Reggie Wayne Rookie Refractor #250
Moss and Wayne are the only two active receivers in the All-Time Receivers registry set. Wayne has been selected to six Pro Bowls and has recorded 78 touchdowns in 12 NFL seasons with the Indianapolis Colts. He also led the NFL in receiving yards in 2007 and was a key member of the Colts team that won Super Bowl XLI.
With just 999 produced, Wayne's 2001 Topps Chrome rookie refractor (#250) has the smallest print run of any card in the All-Time Receivers registry set. Only 21 have been graded by PSA and there has been just one PSA 10.
View the set in the PSA Set Registry.
---
Please feel free to contact Kevin Glew at [email protected] if you have any additional information or comments. Thanks to Mile High Card Company for providing scans. Please note that the Population Report figures quoted and Set Registry rankings reported are those as of July 2013.
---
Copyright © 2020 PSA – A Division of Collectors Universe. Nasdaq: CLCT. All rights reserved.