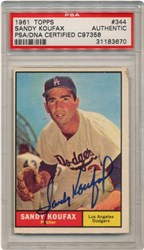 Clean Sweep's current auction is our affordable all sports autograph and memorabilia-only auction. Nearly all items have a retail value of $500 or less and come with very low minimum bids. Day one of the auction starts with autographed cards. There are many tougher singles from the 1950s and 1960s, as well as a solid run of HOFers. For more modern collectors, we have the scarce Upper Deck Mickey Mantle insert card and the 7-card Joe DiMaggio signed set.
Signed 8x10 photos come next, always a strong category in these auctions. Lots of fresh material here, including three different Mickey Mantles and four different Ted Williams. Auction has many new 1930s Yankee contracts and a good selection of signed album pages, 3x5s, cuts & GPCs going back to the 1920s. These section include many true rarities and a good selection of HOFers and former star players. There's also a big run of signed jerseys, the best we have ever offered. There are also many terrific signed large prints and framed displays including a great Koufax, Mantle and Williams among others.
You'll find high quality team sheets from 1940 and also some better signed Black/White plaques including a Paul Waner. Day one ends with a run of signed bats, including two Aarons, a Jeter, a multi-signed Mantle and many fine signed mini-bats.
Day two begins with basketball. You'll find a Michael Jordan signed display, a signed pair of Horace Grant signed shoes and several Bill Russell signed items. Boxing comes next, and includes six different Ali signed items and many vintage autographs.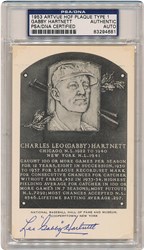 Football is always a key part of these auctions, and this is the best offering Clean Sweep has ever had. Find the covers of superb Baltimore Colts program and ticket collection offered over several auctions. A remarkably dedicated collector obtained nearly every Colts program from 1948 – 1960, and amazingly enough, has a ticket for almost every game as well! A collector of football programs from this great era in football history will have a field day here. In addition to the Colts programs, there are many better signed footballs, full size helmets signed by Jim Brown and Joe Namath, and a run of tougher signed Goal Lines. We also have many signed cards and photographs, and replica Super Bowl Trophies signed by Troy Aikman and Jerry Rice. Football concludes with several larger lot of autographs.
For collectors of baseball memorabilia, you'll see many new game used and collector bats, a run of Hartland Statues and many better tickets. There is a superb 1914 Minor League original panoramic photo, a scarce Mickey Mantle Fedtro Megaphone in the original box and much more. Baseball publications come next. We have a run of World Series programs going back to 1938, and many higher grade yearbooks from the 1950s and 1960s.
Autographed baseballs close out the auction. Find hundreds of new baseballs here, including many tougher deceased players that hardly ever come to market and our usual world class selection of HOFers. Several better Old Timers balls can be found in the multi-signed balls section. Team balls go back to 1942, with several higher grade team balls from the 1950s and 1960s, a rare 1948 PCL All Star Game signed ball with Billy Martin and Casey Stengel pre-Yankees, a great 1956 Yankees Old Timers Day ball and many pristine signed balls from the 1980s through 2009.
For more information visit http://www.csauctions.com and bid today! Auction Ends August 7 and 8.