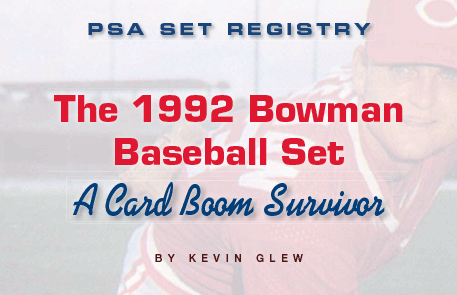 Call them the survivors of the late 1980s and early 1990s baseball card boom.
While most sets from this era are dead to collectors, the 1989 Upper Deck, 1990 Leaf and 1992 Bowman offerings continue to have a pulse.
The Upper Deck and Leaf sets were discussed in previous SMR articles, leaving the 1992 Bowman set as the "sole survivor" to be examined.
With cards printed on UV coated glossy stock, the 1992 Bowman set reintroduced the brand as a premium product. Most credit this transformation as the reason Bowman cards remain popular today.
"At the time it came out, it was a departure from the normal Bowman sets. When Topps relaunched the Bowman brand back in 1989, it was just kind of a bland set. In 1992, they really upgraded it," said PSA Set Registry enthusiast, Jeff Brownell, a few years ago.
The 1992 singles were available in wax packs (15 cards), jumbo packs (23 cards) and retail carton packs (80 cards).
Card fronts showcase action and portrait shots surrounded by ample white borders, as well as the player's name and the Bowman logo. Some of the photos capture up-and-coming prospects in street clothes.
"I love the look of it. I love the big borders on it. For some reason, it just makes it a nicer looking card," said Gary Keasler, who owns the No. 2 set on the registry. "There are a hundred cards in the set where guys aren't even wearing a baseball uniform. It's pretty cool to know that you're seeing a kid who showed up right out of high school to get his picture taken."
Brannen Brock, who owns the registry's top set, shares similar sentiments.
"I find it to be an interesting set just from the offbeat photographs that are on the cards," he said in a past interview. "Can you imagine Manny Ramirez taking another photograph like that on a baseball card? It's kind of funny, in that respect, that they're not these traditional baseball card poses."
The card backs boast player head shots, biographical information and the player's 1991 stats against opposing teams.
Also featured in the 705-card set are 45 gold foil singles. Depicting Team USA graduates, rookies and various stars, these foils were inserted at a rate of one per wax pack, two per jumbo and five per carton. Eighteen of them are short prints that were reportedly manufactured in half the quantity of the other foils. Short prints singles include stars like Frank Thomas (#551), Paul Molitor (#645), Joe Carter (#667) and Barry Larkin (#694) and rookies John Jaha (#542) and Matt Stairs (#602). The gold borders on these make them susceptible to scratches.
"The weird little border around them certainly can be more difficult, but then again, I think people were a lot more careful with these cards because they were believed to be more special than the others," said Keasler.
Impressive player selection is the set's biggest drawing card. With the most desirable rookie cards of three sure-fire Hall of Famers – Trevor Hoffman (#11), Mariano Rivera (#302) and Mike Piazza (#461) – and another possible Cooperstowner – Carlos Delgado (#127) – this issue boasts plenty of star power. And if not for failed drug tests, Manny Ramirez's rookie card (#532) would also be coveted by Hall of Fame collectors.
Other rookies that are part of the set are Derek Lowe (#98), Troy Percival (#290), Garret Anderson (#298), Matt Stairs (#434), Brian Jordan (#464), Mike Hampton (#638) and Cliff Floyd (#678). Also featured are sought-after sophomore singles of Ivan Rodriguez (#1), Chipper Jones (#28), Pedro Martinez (#82), Jeff Bagwell (#200) and Jim Thome (#460).
Rivera's rookie card is now the cornerstone of the set. Generally considered the greatest closer of all-time, Rivera is that rare reliever whose cards have captured the interest of collectors. The fact that there are just 798 PSA 10 Riveras – nearly half as many as Piazza – also adds to the card's appeal. A PSA 10 copy fetched $158.05 on eBay in July 2011.
"Early on, even when [Rivera] was having success in the mid-1990s, that card wasn't particularly valuable. But I think as his career has progressed and he has achieved a high degree of success as a bullpen stopper, that became a more attractive card," said Brownell.
Of all the high-profile rookies, however, Delgado is the most elusive in PSA 10. While more than 10% of the Piazza and Rivera submissions have been deemed PSA 10s, only 7.9 % of the Delgados have received that grade.
"All I know is that of the four [Delgados] I owned, none were gradable," said Keasler. And although he hasn't seen a common condition issue with this particular card, Keasler does share that the biggest reason why most of the cards in this set fail to obtain high grades is centering – and this may be the case with the Delgado.
Brock agrees.
"I think its centering issues with that card," he said.
Another tough single to uncover in flawless form is Ken Griffey Jr. (#100). Of the 1,022 sent in, there have been just 91 PSA 10s (about 9%). Bad centering is generally the culprit on the Griffeys as well.
Aside from the elusive stars, there are a number of cards with few graded examples. The Roberto Petagine (#31) common, for example, has only been graded a total of 11 times, as it is notoriously difficult to find with decent centering says Keasley. No Petagine card from this issue has graded above PSA NM-MT 8.
"The Petagine card will be the one that nobody will ever obtain in a [PSA] 10 – unless I had 20 cards that are different from everybody else's. But I sent in two and I got [PSA] 8s on both of them," said Keasler.
Brock concurs.
"It's very difficult to find it centered," he said. "I'm not even sending my [Petagines] in. I haven't seen one that I thought would even get remotely close to a [PSA MINT] 9."
Aside from centering issues, Brock adds that these cards are also vulnerable to nicks coming right out of packs.
"I've opened a ton of packs where the side edge (the right-hand edge) is nicked all the way through the pack," he said.
These condition issues and the number of cards in the set help explain why this set hasn't been completed on the PSA Registry. Brock's No. 1 set is 98.30% complete.
"I can't think of a stronger [early 1990s] set, as far as rookies and Hall of Famers go, and I think it's still the most popular 1992 set," said Keasler.
View the set in the PSA Set Registry.
---
Please feel free to contact Kevin Glew at [email protected] if you have any additional information or comments. Thank you to 4 Sharp Corners who provided pictures for this article. Please note that the Population Report figures quoted and Set Registry rankings are those as of June 2013.
---
Copyright © 2020 PSA – A Division of Collectors Universe. Nasdaq: CLCT. All rights reserved.