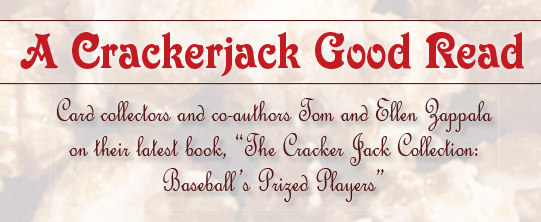 In the summer of 1914, with the world embroiled in a war that would ultimately lead to the engagement of the United States, Americans found solace from the bloody combat playing out on European battlefields by immersing themselves in the far more genteel confrontations being waged on the nation's baseball fields.
That season began with most baseball fans captivated by the exploits of the National League's oldest player, a 40-year-old Pittsburgh Pirates shortstop by the name of Honus Wagner, who became the second player in history to connect for 3,000 hits. It was also the season in which a 19-year-old Boston Red Sox pitcher by the name of Babe Ruth made his Major League debut.
Today, serious baseball card collectors may not be aware that 1914 also saw a St. Louis couple welcome the birth of a son they named Harry, who would go on to change his last name from Carabina to Carey. Nor may they know that Giuseppe and Rosalia DiMaggio, who had emigrated from Italy to Martinez, California, were celebrating the birth of their eighth child, Joseph.
However, what knowledgeable card collectors are aware of is another 1914 birth – that of a card offering that would go on to become one of the most treasured and desired in the hobby: Cracker Jack cards.
IN THE BEGINNING...
While the combining of popcorn and peanuts drizzled with molasses-based syrup had originally been concocted by brothers Frederick and Louis Rueckheim to be sold at the Chicago World's Fair in 1893, the following three years saw the recipe tweaked and the quality of the product improved. By 1896, with the treat honed into the one we know today, an approving sampler told the brothers, in the parlance of the era, that he thought their mixture of sweet-candy, popped-corn and salty-peanuts was "crackerjack!"
Adopting the name "Cracker Jack" for their tasty treat, the brothers ultimately partnered with Henry Eckstein, a man who specialized in creative packaging. Producing, packaging and distributing Cracker Jack as the Rueckheim Bros. & Eckstein Company, 1908 saw the brothers and their partner begifted with one of the greatest freebies in the history of publicity.
"BUY ME SOME PEANUTS AND CRACKER JACK... "
Jack Norworth, a singer, songwriter and vaudeville performer, who had written such Tin Pan Alley standards as "Shine on Harvest Moon" and "Meet Me In Apple Blossom Time," was riding a New York City subway train when he noticed a sign that read: "Ballgame Today at the Polo Grounds." Although Norworth himself wasn't much of a baseball fan and, in fact, had never even attended a game, he was well-aware of the love Americans harbored for the National Pastime. Inspired by the sign, he began jotting down some baseball-related lyrics.
Pleased with the way his words quickly came together, he passed them on to composer Albert Von Tilzer who provided the music for a song that was first sung by Norworth's wife, Nora Bayes, and would go on to become a 1908 Victor Records hit for The Haydn Quartet – "Take Me Out to the Ballgame."
While there is no record of the song having ever been sung during a Major League Baseball game prior to the mid-1930s, the robust sales of records, sheet music and piano rolls, made the song, with the line "Buy me some peanuts and Cracker Jack," one of the most popular tunes of the early 20th century.
THE GENESIS OF "PRIZED" CARDS
With sales on the upswing, thanks to the popularity of the song, as well as the enjoyable product itself, 1912 saw Cracker Jack begin to offer something more than just a delectable snack. Along with the crunchy candy, each box of Cracker Jack included a small novelty item referred to as a "prize." Offering treasures such as tiny toys, temporary tattoos and decoder rings, in 1914 the company produced the first Cracker Jack baseball cards (also known as the E145 set) that featured players from both Major Leagues as well as those from the short-lived Federal League.
As amazing as it is for many to believe, Cracker Jack baseball cards actually predate the 1918 creation of the Cracker Jack character, Sailor Jack, who was modeled after the Rueckheim brothers' nephew, Robert, who died of pneumonia at the age of eight, shortly after the character was registered as the snack's trademark. Along with Sailor Jack, the Cracker Jack logo also included a dog, Bingo, who was based on a real-life stray named Russell which Henry Eckstein had adopted the prior year.
A TASTY TOME
While the aforementioned may be a tasty little offering of trivia on the treat we've all come to know by its catchphrase "candy-coated-popcorn-peanuts-and-a-prize," it is a mere iota of information compared to that which has been researched and complied by the husband and wife team of Tom and Ellen Zappala for their latest book, The Cracker Jack Collection: Baseball's Prized Players (Peter E. Randall Publisher, 2013).
The Massachusetts couple, who three years ago gave the hobby the award-winning book The T206 Collection: The Players & Their Stories (Peter E. Randall Publisher, 2010), has released their latest tome to coincide with the 100th anniversary of the Cracker Jack card issue. Like their first book, the passionate card-collecting Zappalas provide a plethora of profiles on the players who are featured in the legendary offering.
Tom, a businessman in the Greater Boston area who co-hosts a popular talk radio show broadcast in northern Massachusetts and southern New Hampshire, is the owner of ATS Communications, a multimedia and consulting company that handles publicity and personal appearances for several authors and a variety of artists in the entertainment field. He is a passionate collector of vintage baseball and boxing memorabilia whose love of the things he collects is only eclipsed by the enjoyment he gets from spending time with his children and grandchildren – and the occasional Grey Goose Martini garnished with two baseball-sized olives.
Ellen, who was the publisher of a group of six newspapers in Massachusetts and New Hampshire for many years and served as the president of the New England Press Association, currently serves as the president of ATS Communications and worked closely with former welterweight champion Tony DeMarco on his autobiography, Nardo: Memoirs of a Boxing Champion (Legas Publishing, 2011).
Adding to the star power of the Zappalas, their latest book also includes significant contributions by Professional Sports Authenticator (PSA) and PSA/DNA President Joe Orlando. A renowned expert on sportscards and memorabilia, Orlando is the editor of Sports Market Report and has authored numerous articles for Collectors Universe, Inc. along with his books, which includes Collecting Sports Legends: The Ultimate Hobby Guide (2008).
Rounding out the roster of the team that brought the Zappalas' new book to fruition are syndicated newspaper and magazine columnist John Molori, a 25-plus year veteran broadcast, print and Internet writer and reporter who is the recipient of a Cable Ace Award and a New England Emmy Award; and Jim Davis, one of the world's foremost authorities on Cracker Jack prize collecting and a former board member of the Cracker Jack Collectors Association.
CATCHING UP WITH THE ZAPPALAS
Sports Market Report recently caught up with the Zappalas to gain further insight on their new book. Clearly pleased with their creation and the valuable benefits they believe it will offer to the hobby, Tom says it was one of the most enjoyable undertakings in which he has ever been involved.
TOM ZAPPALA (TZ): Everything about this book just fell into place perfectly. The timing is perfect, being as that it coincides with the 100th anniversary of the Cracker Jack collection, and we were very fortunate to have received the help of some wonderful people with great pedigrees. We're very happy with the way it turned out and are excited to see how it will be received. Since the success of our T206 book, there has been a lot of buzz about this book. In fact, because of the great response we received on the T206 book, we decided to structure this book in much the same way.
SPORTS MARKET REPORT (SMR): Of all the offerings you could have chosen from for your second book on sportscards, what made you select the Cracker Jack cards?
TZ: The Cracker Jack cards really resonate with people like no other cards. Of course collectors love them, but take the person who is not a card collector. They would have no idea what you were talking about if you said that you collect T206s. But you can tell anybody that you collect Cracker Jack cards, and right away, they know what you're talking about. The Cracker Jack [brand name], the prizes and the cards are a part of the fabric of America and the National Pastime. There are very few, if any, products that are as closely associated with baseball than Cracker Jack – maybe beer, peanuts or hot dogs, but that would be it.
SMR: We are well-aware, from having done a story on you when your T206 book was released, that you have a deep love and appreciation for cards and their historical significance. What is it about the Cracker Jack cards that you find to be so attractive?
TZ: To me, the most exciting thing about these cards isn't even the cards themselves. It's the stories of the men pictured on the cards. In doing this book, we have seen the best Cracker Jack card collections in existence, and while they are stunning and beautiful, for me and Ellen, we are more intrigued by the stories behind the players that make up the collection.
We zero in on this in the book because it is their fascinating stories that make up the amazing history behind the game of baseball. The men pictured on these cards were a part of the foundation on which today's modern game was built upon – the Ty Cobbs, the Christy Mathewsons, the Walter Johnsons and the many others whose names are not so immediately recognizable, who worked other jobs and had fascinating lives beyond playing baseball.
SMR: You said you used the structure of your first book as a template for this one. For those who are not familiar with your T206 book, how would you describe what this book offers?
TZ: We cover the complete history of the Cracker Jack offerings. The first chapter was written by Jim Davis, who is the country's foremost authority and historian on Cracker Jack cards. That chapter provides the foundation; it gives a great historical look at the company, the product, the brand, the prizes and the evolution of Cracker Jack.
The next part of the book was done by Ellen and me with help from John Molori who writes for ESPN.com and Boston Baseball magazine. With his help, we wrote narratives on every player featured in the collection.
Then, Joe Orlando really gets into the history of the cards themselves. We were so fortunate to have had Joe work with us and lend his expertise to this book. He delves into the history of Cracker Jack cards. He points out the difference between the 1914 and 1915 cards, and he shares a great story about the collection's card that never was.
SMR: Well, you can't leave us hanging like that. Tell us about the card that never was!
TZ: You'll have to get the book! I'm just kidding. Okay, let me tell you a little about it just to whet your appetite. While we were working on the book, Joe pointed out that Babe Ruth was in his rookie year during the period, and yet, there is no Babe Ruth card in the series. If there had been a Ruth card in the Cracker Jack issue, it would have been his rookie card.
What would that have meant to the hobby? For whatever reason, there never was a Cracker Jack Babe Ruth rookie card. So, with that said, while that card never existed, it doesn't stop Joe from addressing the "what if it did."
SMR: I think you can be assured that our reader's appetite has been duly whetted. Ellen, jump in here and tell us a bit more about how you structured the book.
ELLEN ZAPPALA (EZ): As Tom said, we profile each player, and we decided to organize the book by the positions they played. I think one of the most intriguing parts of the book – something readers will really love – is that as we broke the players out by position we also decided to name a Cracker Jack All-Star Team.
SMR: Wow. That, perhaps, has the potential to be controversial.
TZ: That's exactly what I hope it will become. Here's what we did: Ellen, John and I each picked our own All-Star Team. It had nothing to do with the value or toughness of a particular card. Shoeless Joe Jackson's card is the toughest and most desirable in the collection. Did he make our All- Star team? Well, to find out, you will have to get the book.
Naming our All-Stars had nothing to do with the cards and everything to do with the players. The criterion was based strictly on the stats and talent of each player. We looked at the stats of every player, in every position, and formulated a subjective opinion of who we thought would be the best.
So yes, we will be interested to see if people agree with us or disagree with us. I'm really hoping some readers will take issue with our opinion and that it will open up a dialogue.
SMR: Having had the opportunity to read the book, we would be remiss if we did not comment on how great it is to see such magnificent examples of Cracker Jack memorabilia. Where did you find such beautiful examples?
TZ: No doubt; this book is filled with some phenomenal images of some beautiful cards. That happened because Ellen and I were granted the great privilege of being invited into the home of Harriet Joyce, who is known as "The Queen of Cracker Jack," to see her collection. Harriet is the world's foremost Cracker Jack collector. She lives in Florida and her home is like a museum.
She gave us carte blanche to select anything we wanted, and then she had everything we picked out shipped up to us to be photographed for the book. What that added to the book is immeasurable because many of these things have never been photographed before.
The photographs and layout are just fantastic. They were all done by Tony Dube who is an award-winning photographer and the president of White Point Imaging.
SMR: It's interesting that, as card collectors yourselves, you made the decision to focus on the players more than structuring this book as a collector's guide.
TZ: Well, like you say, we both collect various pre-war baseball cards and memorabilia, and when we decided to do this book on Cracker Jack cards, we started to collect them. So, bottom line, we love the cards and, just like any serious collector, have great appreciation for their population, condition, grades and toughness.
But I also have a deep passion for baseball history. I love learning about the men who made the game. The stories about their personal lives and of how they lived just fascinates me, and I believe it fascinates other people, whether they are a collector or not, and even if they are a baseball fan or not.
SMR: Tell us about how you researched the players?
TZ: That was a lot of fun. We talked to their relatives and learned great stuff about so many of these players that has never been published before. One of the collection's common players was a guy by the name of Possum Whitted. He was a pretty consistent player but never a great player. Your average baseball fan probably would not recognize his name.
So we started digging into his life, mostly to find out how he got his nickname. I finally tracked down his granddaughter who told me he was called Possum because he was a very quiet and retiring person. He was a very solitary man who had a very docile personality unless he was disturbed. He was also a strong swimmer and nocturnal. He loved to stay up late at night. So, everyone called him Possum.
Now to me, that's a great story in itself, but as I talked to his granddaughter and dug deeper into his background, I learned he had been a World War I war hero who saved a soldier's life. That's the kind of thing I love to learn about and share.
SMR: Here's a question for both of you: What was your process in writing the book? How did you decide who would handle what?
TZ: We both have strengths and weaknesses. My strength is in baseball history. I just love digging into a player's history and delving into their statistics. After I compiled all that information, I would transform it into a narrative and then hand it off to Ellen.
She was the publisher of six newspapers for 30 years, so she knows how to edit and fact check. She would locate my mistakes and then we would go over things together. When we were both happy with it, we'd send it on to the publisher who would do another edit and then send it back to us. So as far as process, I do all the research and churn out a mushy story, and then Ellen makes my mush into prose.
EZ: When it comes to doing a book like this, Tom and I have a very high-level of respect for one another. That comes from having worked together on our previous books.
TZ: That's true. I have a great respect for what Ellen does, and over the last few years, I have developed a far deeper understanding and greater respect for what she has done throughout her career – the strengths she has acquired. She just impressed the hell out of me on numerous occasions. It was extremely eye-opening to see what she does.
SMR: It's always interesting to hear from folks like you – admirers and collectors of vintage cards – regarding why we have such a passion and respect for these little old pieces of printed cardboard. Can you share your thoughts on this?
TZ: Well, for me, there is no difference between a beautiful high-grade vintage baseball card and a great piece of art. Both can be great investments. In fact, there has been a hell of an incredible return realized for those who have invested in cards over the years.
Then, from an aesthetic standpoint, they were beautifully crafted – the images, the layout and the design. On top of that, they are a piece of Americana – a piece of the history of our nation that links us to a time when things were, or at least seemed to be, simpler and more fun.
There's no magic, science or mystery as to why we love these cards. There's nothing more to it beyond pure love.
EZ: That's it. I love the images and what they do to make me wonder about the men pictured on the cards – who they were, how they lived and what became of them. In producing this book, we wanted to give people the opportunity to get to know these men and learn what they contributed to the National Pastime. That was what was really important to us.
---
"The Cracker Jack Collection: Baseball's Prized Players" will be officially launched at the National Sports Collectors Convention in Chicago in July. Both Tom and Ellen Zappala will be in Chicago during the National. They will be at the PSA and PSA/DNA booth to meet people and sign copies of their book. For more information or to order a copy of "The Cracker Jack Collection: Baseball's Prized Players," visit www.crackerjackplayers.com.