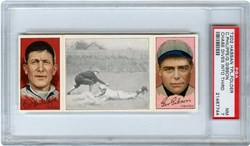 Denver, Colorado's Small Traditions LLC marked its tenth consecutive Monthly Masterpieces Plus auction of sports cards, memorabilia, and print art with a two-session event that concluded late Saturday night and generated a record 10,000 bids. That's no typo. Small Traditions conducts monthly internet auctions with just $1 starting bids and no reserves. The $1 starting bid strategy engages multiple bidders early in the auction process and then encourages multiple bids in order to bring items to their market values, hence the 10,000 bids.
Small Traditions' latest monthly auction also set firm records for total lots, total bidders, and total sales. With 1,200 items and over 1,000 registered users, the company's monthly sales nearly doubled its previous record. "It was a lot of work," says company founder, Dave Thorn. "And we've got a lot of shipping to do this week," laughed Thorn. "But I think we realized what we're capable of this month, in terms of capacity, and we've also identified some areas for improvement that we'll incorporate when we want to take our monthly auctions to the next level."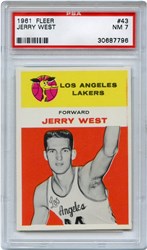 True to its name, Small Traditions has no plans to compete with auction industry giants. Thorn instead identifies his company as a sort of "Mom and Pop" shop, characterized by expertise and close customer relationships. "We are willing to do things that other companies are not," says Thorn. This month, for example, the company completely redesigned its website with a creative "Pirates takeover" theme to accommodate a large Pittsburgh Pirates collection dating back over 100 years, and the company is currently seeking additional team and player themed collections for similar projects. There were no six figure T206 Honus Wagner cards in the Pirates sale, but the effort did not go unnoticed. Jay Wolt, owner of Quality Cards, says Small Traditions is "rock steady" and that he enjoys the company's free shipping policy on single graded card lots. "I like the little guys," says Wolt. "They try harder."
Indeed, in addition to its site takeovers for themed collections, Small Traditions offers a number of other perks in order to enhance user experience and to help establish its place in the competitive sports collectibles market. Small Traditions runs multiple blog sites, such as blog.smalltraditions.com, where Thorn writes "How To" articles about the hobby. At JeterCards.com, he catalogs and describes Derek Jeter cards, and he is currently developing a similar blog project at RuthCards.com. Small Traditions is also an enthusiastic user of social media, generating nearly 1,000 likes on both Facebook and Twitter in under 6 months. In the half-century old tradition of The Topps Company's wax pack redemption programs, Thorn attributes his company's success on social media to its many giveaway promotions, which include daily $100 card giveaways on Twitter and monthly $1,000 collection giveaways on Facebook. "We try to engage our users on every level, not just with sales," he says. "And so instead of sending out generic emails announcing our auctions, we'll send emails with links to new blog articles and compelling giveaways, and then, of course, a link to the current auction."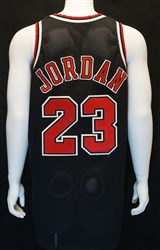 When Thorn started his company, Thorn's first thought was to create a marketplace off of eBay for modern cards, a niche that most other auction houses avoid. "Modern cards can be very confusing," says Thorn. "And most vintage collectors dislike them for one reason or another." But with companies like Topps and Panini experiencing record sales in the $100s of millions, Thorn may be on to something. Not only did he recognize and take advantage of this niche market opportunity, but he is also committed to helping to promote the hobby on all levels, both vintage and modern, and so Small Traditions is one of the only auctions where you will see a 1959 Topps Hank Aaron card alongside a 2009 Hank Aaron Game-Used Jersey card, or Bryce Harper cards alongside those of Mickey Mantle. "One of my greatest pleasures," says Thorn, "is turning vintage collectors on to newer cards." He says he understands that they are very different products, but he doesn't understand why a long-time baseball collector wouldn't want to collect Mike Trout or Derek Jeter, who's got something like 330 different rookie cards, with some that exist in fewer quantities than the T206 Honus Wagner.
Small Traditions' most compelling perk, however, is its free grading offer on cards valued above $200. Free grading is certainly something that no other company is doing, and it makes sense because grading is a fine and sometimes frustrating process that requires a good deal of expertise, from handling cards, to knowing what cards to grade, to knowing what grades the cards should receive. "Of course, everyone wants their cards to grade high," says Thorn, a former college English teacher who thinks his customers and other collectors should be as educated as possible. "But it's a much finer science than most people realize, and a lot of dealers out there will take advantage of a seller's lack of knowledge, not letting the seller know what he or she really has." Thorn's solution? His company will pay to grade his customers' cards and then work in consultation with the customers so that they understand their grades before selling off their cards.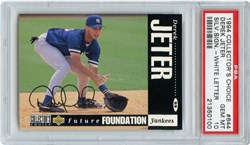 Small Traditions pays its consignors 100% of an item's final bid price, but it charges a 15% buyers premium on each sale, which their buyers pay on top of their final bids. This formula motivates the company to ensure that consignors' cards have earned the grades they deserve, especially since a graded card's value increases so dramatically at the higher end of the grading spectrum. For this reason, Small Traditions will pay to review or even to re-grade a card multiple times until Thorn and his consignor are comfortable that the card has been graded properly, and this, too, is something most other companies will not do. So far, the formula has proven to be a win-win scenario for Thorn and his growing number of consignors. To join them, or for more information, call 303.832.1975 or write [email protected].