WEST BERLIN, NJ - JULY 8, 2013 - The Holy Grail of trading cards is unquestionably the Honus Wagner T206, but the rarest of all T206 cards is a version of Ty Cobb's card featuring the Hall of Fame outfielder on the front and the Ty Cobb Tobacco company advertised on the reverse. One of about a dozen known examples of the card is up for bid in the 2013 Goldin Auctions Summer Spectacular, at www.GoldinAuctions.com.
Through July 8, the card has already received 10 bids and is listed at $58,984. To see the listing or place a bid on Lot #3, Click Here.
"While we would never diminish the aura and desirability of 'The Holy Grail' of Baseball card collecting, we do feel compelled to point out the relative scarcity of a Ty Cobb T206 with the Ty Cobb Tobacco company back," said Ken Goldin Founder of Goldin Auctions. While there are an estimated 50 examples of the famed Wagner card, to date, we are only aware of about a dozen such Cobb cards."
The history of the card can be traced to the F.R. Penn tobacco company, a small, obscure tobacco company which produced tin tobacco. They approached Cobb, a fine businessman with the idea of his own brand of tobacco appropriately titled "Ty Cobb -- "King of the Smoking Tobacco World," and this advertising slogan adorned the reverse of the new cards. This loose tobacco was sold in tins, and into each of these tins was "plugged" a Ty Cobb baseball card. These cards were similar to the regular T206 version of a few years earlier, except for the reverse and a slight glossy surface to the front.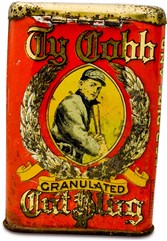 In addition to the rare card, Goldin Acutions is also offering a similarly rare Ty Cobb tobacco tin. The scarcity of the Ty Cobb tin is commensurate with its "companion piece," the T206 Ty Cobb with Ty Cobb reverse baseball card. These tins are highly sought after by both baseball and tobacco tin collectors. Through July 8, the tin is currently listed at $10,982. To see the listing or place a bid on Lot #4, Click Here.
The 2013 Goldin Auctions Summer Spectacular presents more than 1,150 lots of rare and unique sports, historic and Americana memorabilia from some of the biggest stars including Kobe Bryant, Derek Jeter, Mike Tyson, Jackie Robinson and more. Among the highlights are: six lots from the family of Kobe Bryant including two high school game worn jerseys, a pair of 2000 Lakers championship rings and Kobe's 2000 NBA All Star Game ring; a Jackie Robinson game-used bat from his 1949 MVP season; more than 20 items from "Iron" Mike Tyson; and a Derek Jeter collection of more than 30 incredible items.
About Goldin Auctions
Sports memorabilia impresario Ken Goldin has sold more than $600 million in memorabilia from many of the biggest names in sports, history and pop culture and was the pioneer of using the medium of television to sell sports memorabilia. Earlier this year, Goldin Auctions sold a Honus Wagner T206 card for a public sale record $2.1 million. Goldin Auctions strives to break new ground and offer collectors the best in collectible treasures up for auction in the marketplace. All game worn or autographed items come with team, player, league or additional LOA from industry leading authenticators; and collectors can bid with confidence that their proxy/ceiling bids remain confidential. For more information, visit www.GoldinAuctions.com.