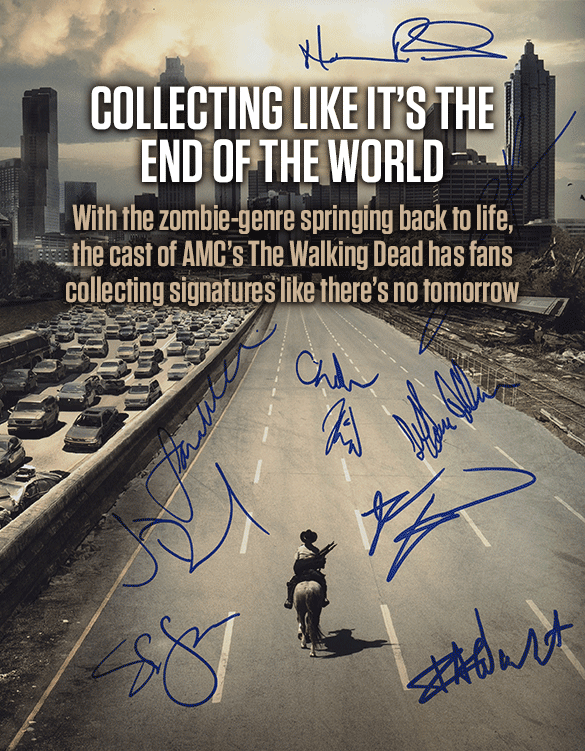 You just can't keep a good zombie down.
Having first surfaced in European folklore during the latter part of the 19th century, zombies made their way to American soil in the late-1920s via The Magic Island, a novel authored by William Seabrook in 1929 that has been credited with introducing the word "zombi" (sic) into the American lexicon. Periodically appearing in various other forms of literature and entertainment in the years following the release of The Magic Island, zombies first took to the silver screen in 1931, when brothers Victor and Edward Halperin co-produced and directed White Zombie, which starred horror heavyweight Bela Lugosi.
In 1943, zombies again invaded American theaters thanks to producer Val Lewton's film I Walked With a Zombie, and then, with the exception of a few campy cameos here and there, they died off until 1988, when producer Wes Craven resurrected them in The Serpent and the Rainbow.
Between the zombies of Lewton and Craven came the film that brought the "undead" to the forefront of popular culture – director George A. Romero's 1968 classic, Night of the Living Dead.
Having been inspired by Richard Matheson's 1954 novel, I Am Legend, about a plague that ravages futuristic Los Angeles, it may come as a surprise to many (other than the true zombiephiles), who believe Romero is the progenitor of the modern zombie, that the word "zombie" is never used in Night of the Living Dead.
While Romero's unnamed "living dead" may not have actually carried the moniker, fans tagged the creatures as "zombies," and as the genre creepily crept into more books, films, comic books, television shows and video games, the name and persona that stemmed from the creatures of Night of the Living Dead has become the archetype for the modern-day zombie.
THEY'RE BA-ACK
While zombies have never completely found restful peace since first appearing on the pop culture scene, their popularity has ebbed and flowed like the ocean tides of an apocalypse. That tide is today flowing strong with the zombie-genre resonating with a wide demographic of fans who rarely find agreement in their entertainment choices.
This is evidenced by the widely anticipated film, World War Z, an apocalyptic horror film directed by Marc Forster. Written by Matthew Michael Carnahan and based on Max Brooks' novel of the same name, the film stars Brad Pitt as Gerry Lane, a worker at the United Nations, who is on a frantic search to stop a zombie outbreak that is crippling countries worldwide. Originally slated to be released in December 2012, rewrites and additional days of principle photography pushed the release date back to this June.
Another tell-tale sign that Americans can't get enough of those loveable zombies is the huge popularity of AMC's series, The Walking Dead. Not to be confused with the similarly named 1963 Warner Bros. film, which starred Boris Karloff and was more of a Dr. Frankenstein-type story, AMC's The Walking Dead is a pure zombie thriller – in the zombiest of ways.
Inspired by a monthly black-and-white comic book that recounts the travels of a group of survivors living in a zombie-filled post-apocalyptic world created by writer Robert Kirkman and artist Tony Moore, The Walking Dead was adapted to television and premiered in 2010, seven years after it was first published by Image Comics.
Similarly, The Walking Dead television series chronicles a small group of survivors led by a former sheriff's deputy, Rick Grimes, played by Andrew Lincoln, who are living in and around what is left of Atlanta in the aftermath of the apocalypse. Constantly striving to protect themselves from the hordes of predatory zombies, known as "walkers" or "biters," who devour anything that falls into their grasp, the survivors struggle to cope with the deaths of their members, deal with the changing dynamic of their group, survive the hostile environment of a collapsed society and fight off other human survivors who, in some cases, are predatory themselves.
Filmed on location in Georgia, The Walking Dead has attracted a loyal following of fans, attained strong Nielsen ratings that have set records for a cable series, garnered award nominations from the Writers Guild of America and the Golden Globes and won the Eisner Award for Best Continuing Series at San Diego's 2010 Comic-Con International.
With a cast comprised of Lincoln, Jon Bernthal, Sarah Wayne Callies, Laurie Holden, Jeffrey DeMunn, Steven Yeun, Chandler Riggs, Norman Reedus, Lauren Cohan, Danai Gurira, Michael Rooker, David Morrissey, Melissa McBride and Scott Wilson, AMC has announced that they have ordered a fourth season of The Walking Dead which will begin airing in the fall.
IN THE ZOMBIES' GRASP
Jeff Hoover, who is in his late-40s and works as a morning news producer at Chicago's WGN television station, says the show really scares him. "It's pure fantasy, and yet, there is a part of me that believes that if the world were to come to an end like this, it could happen," says Hoover. "This is the only television show that has ever given me nightmares. But I still watch religiously. I think about it when I find my garage light on at 4:30 a.m. when I leave for work. Something triggered it to turn on! It has to be a walker! I put my car keys in a ball in my fist and get prepared to stab a walker in the head. Why torment myself like this? Because I love the show. It is such a great story and premise, and I guess I like to be scared."
Jim Hornbuckle, who works in corporate recycling and lives in Orlando, is in his early-50s and the father of three children. "I've been a sci-fi fan since I was a kid," says Hornbuckle. "But I've never really been into zombies. My oldest daughter, who is in her 20s, was the one who introduced me to The Walking Dead. I began watching it, really got into it and now my wife and my other two younger kids are also fans."
Like many fans, Hornbuckle says that after falling into the zombies' grasp during the first season, the show's second season left a bit to be desired. "It was slow and boring. The writing really went downhill and the plots were weak," he opines. "I even felt some of the production values and make-up began to get sloppy during the second season. But the overall concept and characters kept me with it, and by the time they got halfway through the second season, it began to pick up again. By the third season, it was really good."
The show also resonates with Lenny Wanser. A tour guide for a major Hollywood studio, who is in his late-20s, Wanser says he has been a lifelong sci-fi and horror fan, although that was not what initially led him to become interested in The Walking Dead.
"When I first heard of The Walking Dead, I didn't know what it was about, but I knew that Frank Darabont was the show's creator and producer," says Wanser. "I'm a huge Stephen King fan and I really like the work Darabont has produced with King. He worked on The Green Mile and The Shawshank Redemption, so when I heard his name associated with The Walking Dead, I was very interested. To be honest, I didn't even know it was based on the comic book, but when I found out it was about zombies, that made me even more interested."
According to Wanser, who has been a loyal fan since the debut episode, some fans were disappointed with the beginning of season two. "Season one had been very action packed –establishing the characters and getting the plot situated," he says. "From what I have heard, they also had a bigger budget for the first season. By season two, AMC was really focused on their huge hit, Mad Men, and I think that Breaking Bad and The Walking Dead had their budgets cut to give the money to Mad Men."
"A smaller budget meant there was less gore and fewer special effects," explains Wanser, "so season two mostly took place on Hershel's farm. I know some people thought it plodded along because they all just stayed on the farm during the beginning of that season. I myself didn't mind that. I thought it was a good opportunity to see the characters and their relationships develop. I think that time on the farm gave viewers a better understanding of the challenges and turmoil that exists between the characters."
When it comes to the character he has claimed as his favorite, Wanser says, hands down, it is Daryl Dixon, who is played by Norman Reedus. "Being as that I'm African-American, it may come as a surprise that Daryl is my favorite character," Wanser reasons. "Daryl and his brother Merle, who is played by Michael Rooker, are two racist characters that grew up with an abusive and racist dad."
"As time has gone by, I have really enjoyed watching Daryl's growth as a character – seeing how he has changed. He has come to see that the world – or at least what is left of the world – is very different than the one his racist dad tried to beat into him. So for me, Daryl is the show's most important character."
Claiming that while he is an unabashed zombie fan, the walkers and biters are not really what keeps him tuned in. "The reason I watch has more to do with the characters and their struggles to stay alive – their determination to do whatever it takes to protect their family and their means of survival against other groups and the zombies," Wanser explains.
"For me," Wanser adds, "the show is about redemption, and I've always been drawn to shows in which the characters are seeking redemption in one way or another. That's why I was a huge fan of Lost. I like shows in which the characters try to make things right while they still have the time. So the redemption element, plus the Stephen King-vibe and the zombies all make for the perfect combination. It has something for everyone and covers a lot more than just the typical zombie-genre."
COLLECTING THE CAST
Another fan who has been captivated by The Walking Dead is PSA/DNA's principal authenticator and go-to guy on entertainment, historical and sports autographs. A long-time autograph collector himself, who boasts a collection of over 100,000 in-person signatures, the lead authenticator is a renowned expert in autograph authentication.
Sports Market Report recently sat down with the autograph expert, who, along with authenticating and certifying signed material for The Walking Dead, is himself a dedicated collector of cast-signed photos. Clearly as hooked as Hoover, Hornbuckle and Wanser, we began our chat with the PSA/DNA expert by asking him why he has become such a fan of the show.
PSA/DNA: It's just a great show. The whole apocalyptic, doom-and-gloom, fight for survival premise is pretty interesting and cool. When I first heard about the show, I didn't really give it much thought. But then I downloaded the entire first season and loved it. I was totally hooked. I was really looking forward to the second season, but it did get off to a rough start. You had to be a real fan to stick with it because it was pretty slow at times. But it turned out great, and then I really enjoyed the third season.
SPORTS MARKET REPORT (SMR): What is it that attracts you to the show?
PSA/DNA: I have really loved the character development. It's easy to rally around the characters, although you almost hate to associate with them too closely because you never know who is going to be killed off next. I also love the concept of the show, although I'm not a guy who usually gets into gory, bloody zombie stuff at all. I am a sci-fi geek, but zombies are not really my thing.
There's just something about this show that has grabbed me – the human survival element and always wondering what the group's next step is going to be. So I got hooked, and then, once I really got into the show and had the opportunity to meet the cast members and get their signatures, it made it even more enjoyable. Now I'm totally attached to it and would never miss an episode. I even watch them a second and third time to see what I may have missed. I guess that's what true fandom is about.
SMR: So for you, true fandom means getting the cast members' autographs?
PSA/DNA: When I really get into a television show or movie, I want to collect the signatures of the cast members. I started doing that with this show about a year and a half ago – getting as much stuff as I could.
SMR: How have you acquired your Walking Dead signed items?
PSA/DNA: I only collect in-person autographs, either ones that I have obtained myself or, in some cases, that I get from friends. I've gotten a lot of stuff in and around Hollywood over the last year or so. They did the premiere for season three at Universal Studios and I was there – waiting for them to pass by as they walked the red carpet.
SMR: Have you found most of the cast members to be accommodating to fans?
PSA/DNA: They are not just accommodating, they are amazing. When I was at the premiere at Universal Studios, Norman Reedus walked the whole route through the crowd before he went in to do the press photos and interviews. Then, when he was finished, he came back out to where the fans were and went through the crowd again. He must have signed for about 40 minutes. He was taking pictures with fans and talking on their phones. I also remember Sarah Wayne Callies doing the same thing. I have found the entire cast to be a great group of people. They are very accessible and big on fan interaction.
SMR: Is there any one cast member who tends to be the best with fans?
PSA/DNA: That would be Norman Reedus. As I mentioned, he is very fan-friendly and signs like crazy.
SMR: Are any of them a bit more difficult to get to sign?
PSA/DNA: This is one show in which there is no bad signer. The creator, Robert Kirkman, is great; the producers are great; even the make-up guy, Greg Nicotera, is wonderful. They are just all very accessible and accommodating. It's a cast and crew that you can tell enjoys interacting with fans – more than I have seen with any other show.
Will that last? I don't know. If the show goes on another two or three seasons and gets even bigger, well, that's usually when things change. But for now, they are all the best. Out of all of them, Chandler Riggs, who plays the son, is probably the most difficult. I would say that's just because of his age. I have noticed that he doesn't interact with fans as much as the other cast members, but I don't think there's anything to that other than that he's a kid.
SMR: For fans who would like to collect signatures from The Walking Dead cast/crew, how would you suggest they go about that?
PSA/DNA: With the exception of Andrew Lincoln, they all do the autograph show circuit, so they are out there. Norman Reedus, Laurie Holden, Jon Bernthal and Chandler Riggs all do autograph shows or cons [conventions] throughout the United States and England.
SMR: What about by mail?
PSA/DNA: I myself don't make requests through the mail, so I don't have any firsthand knowledge on that [method of obtaining autographs]. However, I have heard that Andrew Lincoln, Laurie Holden, Jon Bernthal and Steven Yeun all answer their mail. But I don't really know much more than just what I have heard.
SMR: They shoot the show on location in Georgia. Have you heard anything about how accessible the cast is during production?
PSA/DNA: I've heard it's pretty decent. Obviously the sets are locked down, but if they are shooting in a specific area, there's always a way to find them. I've seen plenty of photos of fans who have taken pictures with cast members, so that indicates they are accessible.
SMR: Steve, take off your fan hat and put on your professional hat. When a show gets as popular as The Walking Dead, PSA/DNA usually starts getting a lot of material to authenticate. Has that happened?
PSA/DNA: Yes. We've been getting a lot of signed memorabilia from the show. We mostly get cast-signed photos and single-signed photos. The majority of material we get in is from Andrew Lincoln, Norman Reedus and Laurie Holden, who are the more popular cast members. We have also received swords that have been signed by Danai Gurira, who plays Michonne.
SMR: Tell us about the quality of the material you are seeing.
PSA/DNA: Well, the way most of the cast signs reminds me of the signatures of hockey players – just scribbles. That's the only downside [laughs]. They are really accommodating, but most of their autographs lack eye appeal. If you get them at a show, where you can get wrist bands for them to sign a poster or something, it is usually a more relaxed situation. They are sitting down and taking their time, so you will usually get a better signature than if you were in a crowd of fans trying to get them as they are walking down a red carpet.
SMR: Are scrawled signatures more difficult to authenticate?
PSA/DNA: They can be. But personally, I have become really familiar with how each cast member signs – or scribbles. In a way, believe it or not, it can sometimes be harder to forge a scrawled signature because the scribble is done very fast and in a very distinctive way. When someone signs very fast, it can be so distinctive that it is very difficult for someone to replicate the look in a fast sweeping motion.
There was another show I collected right from the beginning – Sons of Anarchy. Collecting signatures from the cast members of that show has been interesting – in terms of seeing the evolution of their signatures over the last two or three years. They all started out doing these nice neat signatures, but then, as the show grew in popularity and the demand went up, that changed. You see that happen with popular shows. When they have hundreds of fans trying to get them to sign everywhere they show up, you see the quality of their signatures greatly deteriorate.
SMR: Do any of The Walking Dead cast members sign their character's name along with their signature?
PSA/DNA: I think you would really have to ask them to sign a character name along with their signature, and at events, because of the push of the fans and the volume they are signing, they just aren't doing that. I have seen quite a bit of stuff come in that does include character names, so they are doing it – but I'm sure that is happening at a show, where they have the time.
SMR: Unfortunately, when a show gets very popular, bad material starts showing up. Have you seen any bad stuff cross your desk?
PSA/DNA: We have had some bad stuff come in, mostly of Andrew Lincoln. I've also seen a few cast pieces that have been bad.
SMR: What advice or precautions would you give to fans looking to purchase signed material from the show?
PSA/DNA: As with everything, I always tell people to make sure they are only buying something that has been certified by PSA/DNA. When it comes to this particular show, we are mostly certifying cast photos – 11 by 14s and 16 by 20s. They are the ones that are the most popular with the autograph chasers who, if they are smart, get their stuff certified by us. That makes a big difference for both sellers and buyers alike. Sellers get the best price they can get for the material, and buyers are able to purchase something that they can be confident about.
When it comes to this show, there is plenty of good material out there because the cast members are so accommodating. That, of course, doesn't mean everything is real. It's the same with any signed item. You have to do your homework, be confident with whom you are dealing with and make sure that what you are buying has been certified by PSA/DNA.
SMR: After searching online and talking to people who've attended recent conventions, it seems there is a wide range of prices being asked for The Walking Dead signed material. How does someone know what is a fair price to pay?
PSA/DNA: Signed material from this show has held its demand and value fairly well over the past year. I've seen full-cast-signed photos go from $1,600 to as low as $400. That has a lot to do with timing. You see the interest spike in September, October and November – when a season begins and there is a lot of hype about the show. Then, it tends to go into flux during the summer. So if you are a buyer, the summer is a great time to be on the lookout for things. The material is still popular, but when the show is on hiatus, collectors aren't thinking about it as much. So this is a good time to find stuff at a good price.
That said, there is a wide range of prices when it comes to cast-signed photos. So remember, as with anything, a really low price, especially something that is much lower than what most things are going for, should be a red flag. What's the old saying, about something being too good to be true? A really low price almost always indicates bad material. Sure, you can get a great deal or bargain once in awhile. But the people who are out there chasing these stars, taking the time to get in-person signatures and spending the money to get the piece certified are not inclined to sell the stuff cheaply. If you want a good piece signed by the cast, I would highly recommend that you don't look in the bargain basement section and you make sure it is certified by PSA/DNA.